Best Muscle Cars
Hot Rod And Muscle Car Books
By
|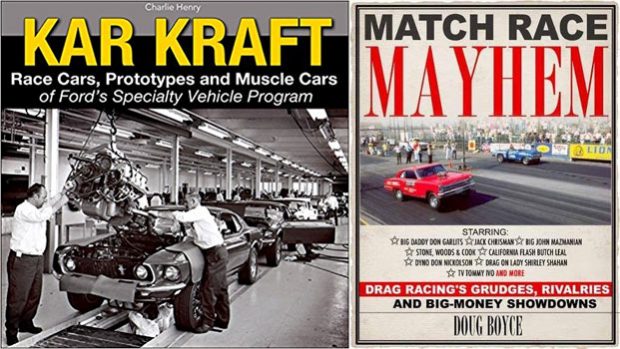 By Mark Weisseg
Yes, I am talking about books that have pages that you turn. Libraries are becoming extinct and I am worried. I was brought up to go to the library to do research and to get books to read.
Today, libraries are not busy. The internet has changed everything and it's bad. Too many people turn to the internet and search for an answer. Then, they believe everything they read. Without any foundation at times.
There is a solution if you really want facts, photos and correct information. I am speaking only of the fast muscle car business. I am speaking of CarTech.com. To be upfront CarTech sends me books and cd's to review. I read the material and then I write a review for fast muscle car. I accept no money. That is a fact. I have not always been kind, but I am honest. That is what you expect. Today, I received two Cd's to review and I will. Once I review them I will write about them and post my thoughts. The latest are – Kar Kraft by Charles Henry. It's his look into the race cars, Prototypes and Muscle Cars. The second – Match Race Mayheim by Doug Boyce.
They both arrived in Cd form for my honest review. I am looking forward to the read even though I have not adjusted to the CD or DVD versions. Car tech has high standards from what I have seen. They put forth materials to you the consumer in order that you relive how our hobby become a way of life. Every topic seems to be available for your viewing pleasure.
I hope you will go to the CarTech web site and search for what you are interested in. Whether it is in book form( my favorite) or the DVD form the CarTech folks have it all. In the meantime get going and search for what inspires you. The reason CarTech puts out books in DVD form is they know not everyone has the space for many books and or some prefer the new technology. Either way you have no excuse not to get what you have an interest in. They make great gifts of course as well.
Let's review why CarTech is so important to your knowledge bank. TV is a easy way to watch and learn. However, a thirty minute car show has less than twenty two minutes of actual show. How in the world are you going to learn anything in depth in twenty two minutes? You cannot of course.
TV only hits the high points at the thirty thousand foot level. The chance of you actually learning a "how to" or better yet what really happened are really slim. Only the printed material written by people who were there or actually did something of value is how you learn. And if you don't want to increase your knowledge that is fine. Be entertained by an author who has been vetted.
He or she was there, or the author offers his or her knowledge base in facts- not how good they look on TV. Our hobby is an interesting one. We provide for adults and young people from every walk of life. Whether you can spring for a eight hundred thousand dollar car or a ten thousand dollar car we have your material. You are welcomed across the world as a welcome guest of the hobby. All opinions are welcomed but facts are facts. Without facts we would become an opinion based media outlet and become biased. Our hobby welcomes every make and model of our classics. If you love a Chevy – that's fine. Love a Mopar or a Ford? You are more than welcome as well.
So, I want you to do two very important things. One, check out fastmusclecar.com for readers rides. Two, check into what CarTech has to offer for your personal library. If you have any love of the classics then you will quickly understand how these two forums will make you love our hobby even more. Now, get to it.
More Muscle Cars For Sale – http://fastmusclecar.com/muscle-car-for-sale/
Donate To Fast Muscle Car
We spend a lot of time bringing you muscle car content. If you would like to donate something to help us keep going, that would be fantastic.