Best Muscle Cars
A Guide to Muscle Cars in the UK for Americans
By
|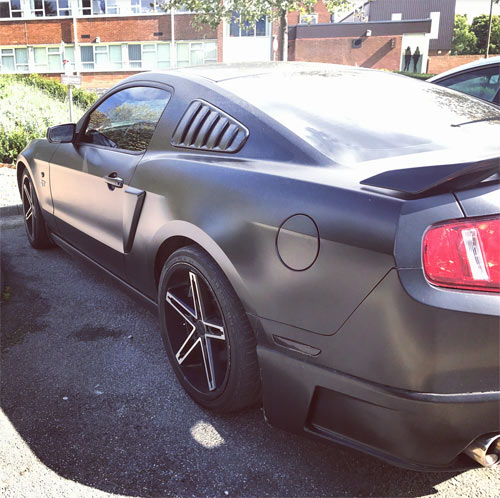 America is home of the muscle car. The very first muscle car can be traced back to 1949 when Oldsmobile debuted its Rocket 88 model, which dominated the NASCAR circuit the year after and kick-started the muscle car trend. This was a car with a V8 engine and lightweight body, introducing and defining muscle cars.
Since then the trend has grown worldwide, crossing borders and regions, to the point that there is a big muscle car love in the UK. For any Americans coming to live or visit the UK with a passion for muscle cars, this guide explains all the possibilities.
Buying Muscle Cars in the UK
There are many popular muscle cars which can be bought in the UK. Second hand, classic models can be found with a bit of searching online, at car auctions and in other listings. If you want a brand-new muscle car though, one of the most iconic ones is now available in the UK.
For the first time in around 50 years, the Ford Mustang is available to buy in the UK for the very first time. Into its sixth generation with a 5.0-litre, V8 engine, it's a powerful beast. Other options such as the Chevrolet Camaro SS can also be bought new in the UK without having to import.
Importing from Abroad
If there's a specific piece of American muscle you want to take round the UK's wonderful country roads and motorways, then importing is always a possibility. It will take a bit longer and cost more overall, but the UK has good trading ties with the USA and strong transportation for arranging such imports.
Especially when importing or buying any second-hand muscle car, taking out a vehicle check is highly advisable. This will ensure that there is nothing wrong with the car, such as it previously having been written off, stolen, mileage discrepancies or any other problems. It would be incredibly costly and time consuming to import a damaged car otherwise.
Muscle Car Clubs
Car clubs are loved across the UK, with owner's clubs for almost every type of vehicle; from tractors and steam engines to supercars. Muscle cars are no different and there are plenty to choose from, such as the American Auto Club UK and Mopar Muscle Association.
Most of these muscle car clubs will put on and attend car related events, have local meets and offer services for help and advice regarding your car. These can be a great way to meet people with a similar interest in muscle cars.
American Car Events
Various American car events are held throughout the year, celebrating everything from classics to modern muscle cars and more. Brands Hatch held its American Speedfest in June, Tatton park had its Stars and Stripes American Car Show, while Stonham Barns has its own American Car Meet in October. Every year at the Santa Pod Raceway there's the Mopar Euro Nationals as well, so bear in mind all these dates and more for the coming 12 months.
There's plenty going on for muscle car lovers in the UK and it's easy to find and buy both new and second hand models by following some of the tips in this guide.
Donate To Fast Muscle Car
We spend a lot of time bringing you muscle car content. If you would like to donate something to help us keep going, that would be fantastic.