Best Muscle Cars
Great Engines Of The Past
By
|
Great Engines Of The Past
Some time ago we wrote about the best muscle car engines of all time , so we thought it will be a good idea to highlight a few of them and why they still resonate today.
usually it's a 'Hemi' or 'Cobra Jet' that comes to mind, but there are many out there that were tweaked  and tuned to their max and made a great platform for anyone's creativity.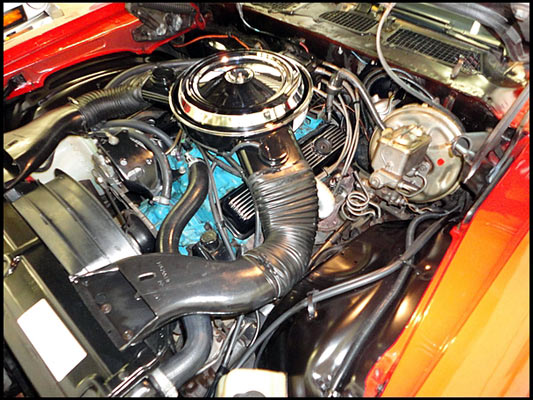 1972-79 L-82 Chevy 350
'Why can't we make a 10L engine?', reply – 'we think we are running out of oil Sir, so start to think about something a little smaller…….'
Fast forward to 2015, then shouldn't we have run out years ago??
Anyway, with these restrictions in the 70s, a slight rethink was needed by engine manufacturers.
The Chevy L-82 learn a lot of lessons from its predecessor the LT-1. if it was to survive the decade and beyond, it not only had to meet the new criteria, but still be credible to the people.
'The 1973–1974 L82 was a "performance" version of the 350 that still used the casting number 624 76cc chamber "2.02" heads but with a Rochester Quadra-jet 4bbl carburetor and dual-plane aluminum intake manifold, the earlier L46 350 hp 350 hydraulic-lifter cam, and 9:1 compression forged-aluminum pistons producing 250 bhp (`71 was the first year for SAE net hp rating, as installed in the vehicle with accessories and mufflers) and 285 lb-ft of torque. Its cast-aluminum LT-1 valvecovers were painted crinkle-black contrasting with the aluminum manifold and distributor housing. It was down to 205 bhp and 255 lb-ft of torque for 1975. It produced 210 bhp in the Corvette for 1976-1977. The 1978 L82 recovered somewhat, producing 220 bhp and 260 lb-ft in the Corvette and in 1979 it produced 225 bhp in the Corvette. In 1980, its final year, it produced a peak of 230 bhp.[6] This engine was also available on the Chevrolet Camaro.' – http://en.wikipedia.org/wiki/Chevrolet_small-block_engine
The L-82 became a better all-rounder than its predecessors, with no maintenance hydraulic cam, better compression ratios for unleaded fuel, let alone mid-range torque and the LT-1 was used as a platform to be built upon, which really was essential – a V8 that doesn't produce more than 200 hp, has been severely neutered.
Click for More Muscle Cars – http://fastmusclecar.com/muscle-car-for-sale/
Donate To Fast Muscle Car
We spend a lot of time bringing you muscle car content. If you would like to donate something to help us keep going, that would be fantastic.