Best Muscle Cars
Ford Mustang Cobra Jet Will be An EV Racer
By
|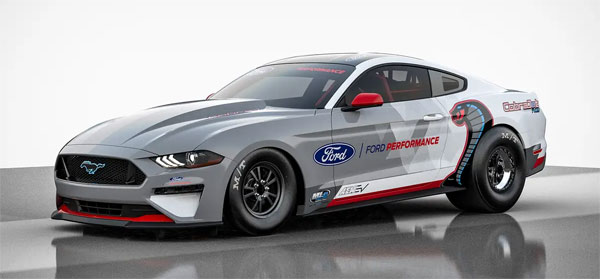 By Dave Ashton
It only seems like two minutes ago that the Ford Mustang Cobra Jet was celebrating its 50th anniversary. This limited run vehicle has generally been considered one of the most potent from Ford, harking back to the 1960's and always with some sort of V8 engine to match. However, for its latest incarnation the Cobra Jet dragster will come in the form of a 1,400 horsepower electric vehicle.
The original versions from the 1960's housed an FE 428ci. V8 engine with all the trimmings, but now the blue Oval company have opted for all electric power to produce the 1,100 pound-feet of torque. As the vehicle is optimized for straight-line power, Ford say this new prototype can do a quarter-mile at 170 mph in the low eight second range. Very respectable figures when compared to the internal combustion engine, but can it be the best of current EV racers? More on this point below.
Ford also say that although this is an electric vehicle, it's still honoring the original Cobra Jet as stated in their press release.
'This project was a challenge for all of us at Ford Performance, but a challenge we loved jumping into," said Mark Rushbrook, Global Director, Ford Performance Motorsports. "We saw the Cobra Jet 1400 project as an opportunity to start developing electric powertrains in a race car package that we already had a lot of experience with, so we had performance benchmarks we wanted to match and beat right now. This has been a fantastic project to work on, and we hope the first of many coming from our team at Ford Performance Motorsports.'
Although an all electric drag vehicle from one of the largest pony/muscle car makers may polarize opinions, it's completely understandable why Ford has taken this route. EV's are known for having instant torque straight off the line, with more initial launch force than an internal combustion engine. Roughly speaking, after around three quarters of a mile, an internal combustion engine car may catch up, but over the quarter mile distance, EV vehicles could tip the balance. Plus, with all that electronic wizardry going on under the hood in an EV, power can be more accurately measured and managed.
When the Cobra Jet 1400 starts throwing out official times, it's then a contender against other EV racers. According to the National Electric Drag Racing Association, the current quarter mile record is held by an all-electric vehicle – 6.940 seconds at 201.37 mph with the 355 Volt 'Rocket' achieved at Virginia Motorsports Park, May 4, 2012. For the 8th mile time, this belongs to the 396 volts 'Panic in Detroit' Dragster, producing a 4.756 second time at 155.63mph at Houston Motorsports Park, Houston, TX, May 22, 2016.
The Ford Mustang Cobra Jet is also not the first EV vehicle from the company. The Mustang Mach-E crossover launched back in 2019, was the company's answer to the likes of Tesla. Deliveries of the vehicle were expected to start in the fall of 2020, but this could be largely affected by the coronavirus. Which means interested parties will have to wait and see when it comes to actual delivery dates.
As discussed a few times on this website, with each EV pony/muscle car release, some may see this as another nail in the hallowed V8 engine coffin. However, it's unlikely that the V8 engine will ever go away entirely. It may eventually become an ultra-specialist offering, but with so many V8 engine vehicles around, they're not going away any time soon.
The other side of the argument is that electric vehicles are here to stay, so it's best to move with the times than be left behind. This ultimately means that both V8's and EV's will need to coincide. Plus, if there is going to be an E-muscle car, it had better have ridiculous horsepower and torque and the equivalent of 1400HP from the Mustang Cobra Jet is a good start.
Donate To Fast Muscle Car
We spend a lot of time bringing you muscle car content. If you would like to donate something to help us keep going, that would be fantastic.