Best Muscle Cars
Most Expensive American Cars Ever Sold
By
|
Certain cars have garnered the accolades of race car drivers, championships, and future car collectors and buyers. Most of these cars, however, have price tags to match their popularity.
These cars tend to hold a unique mix of low production volumes, rarity, desirability, aesthetic design, and nostalgia, all of which are considered by auctioneers who are preparing to present a car on the block. It's no surprise that sports cars tend to hold greater value compared to your standard engine saloons or sedans, as seven of the top-ten most expensive American cars are sports cars or roadsters.
While the European market competes heavily with some of the most expensive cars ever sold (we're thinking Ferrari, Aston Martin, and others), the American sports car has also held its own. Ferrari, undoubtedly, holds the record for the sheer number of cars that rank as the most expensive ever sold.
Two classic American sports cars routinely fetch equally high prices, although with a lot less frequency than Ferrari due to their rarity—these two being the iconic Shelby Cobra and the Ford GT40. So, what are the most expensive American cars out there?
1962 Shelby 260 Cobra: US $13,750,000 in August 2016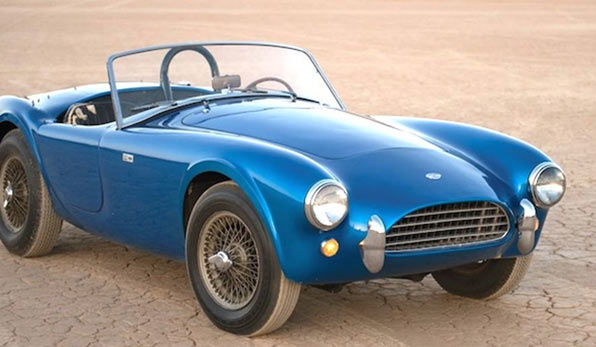 The legendary and very first Shelby Cobra is also the most expensive American car ever sold to date. This classic American beauty with a Ford V8 engine has been caught in the spokes of every car enthusiast's imagination.
Based originally on the British car manufacturer A.C.'s Ace model, it's also where the terms roadster and Spyder originate. Carrol Shelby, the legendary race car driver who once finished a race by taping his shattered elbow to the steering wheel, took the model and ran with it, or, better yet, drove off. Having raced Aston Martins, Ferraris, and Maseratis, Shelby knew what it would take to build a sports car.
After his short racing career of only seven years, Shelby became determined to build the very first American sporting vehicle. He went on to work alongside the Ford Motor Company when he became aware that they were building a lightweight small-block V-8 of 221 cubic inches.
The very first Cobra, with chassis CSX 2000, first arrived in the United States without a motor. Shelby personally picked it up at the Los Angeles airport with a friend and colleague Dean Moon, since Moon had a shop where they could fit in the recently available 260-cubic inch V-8 engine with a Ford gearbox.
According to Moon, the two got drunk and drove it around; when it didn't break, even after all that rough treatment, they knew they had a good car ready for racing. This Cobra was also the only one in existence for five months; today, it serves as a testament to racing history and one of the greatest American engineering achievements ever built—yours for a cool 13 million dollars.
Interestingly enough, there exist several counterfeit versions of the Cobra. An exposé in 1993 revealed how Carroll Shelby sought to "counterfeit" his own cars through a registration loophole.
1968 Ford GT40: $11,000,000 in August 2012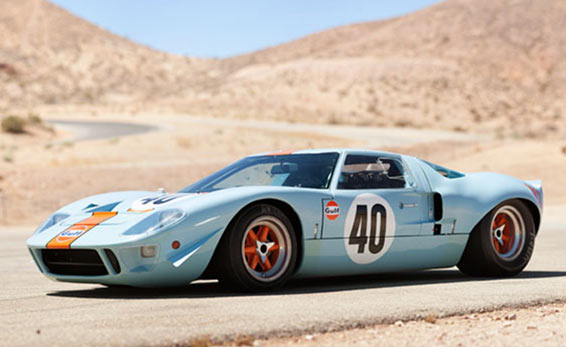 The GT40 is a rarity among American cars. With a slick design, reminiscent of an Italian car that could have been made this year, the Ford GT40 held the record as the most expensive car ever sold when it passed hands at auction in 2012, only surpassed by the Shelby Cobra in 2016.
And for a good reason: The car was Steve McQueen's original Ford GT40 Gulf/Mirage. The car was used during the filming of the classic 1971 racing movie "Le Mans." The classic American vehicle in a sky-blue color with a distinctive orange stripe was uniquely fitted for racing and stunts performed by McQueen himself.
One feat saw the car's left-hand door hacked to accommodate a cameraman, as well as a hole cut out of the roof for a camera mount. The hacked car was eventually restored to its original condition.
1931 Duesenberg J Long-Wheelbase Coupe: $10,340,000 in August 2011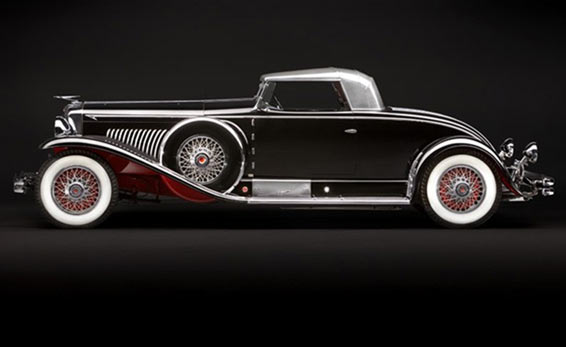 Duesenberg was a car manufacturer originally from Saint Paul, Minnesota, unknown to most. Even so, the car manufacturer holds the title of some of the most expensive American cars ever sold. Unlike the Shelby Cobra and the Ford GT40, Duesenberg was manufacturing vehicles before the common use of the terms roadster or Spyder were in common use.
So, what makes Duesenberg so unique? In 1920, the then prestigious car company wanted to design "the world's finest motor car." By 1928, the company achieved just that—yet, only 500 were ever sold. This particular Duesie was custom built for an elusive millionaire by the name of George Whittell Jr. for a grand price of $17,000 in 1931, which today amounts to about $257,000.
Not many Duesies have survived, but Mr. George maintained his automobile in tip-top shape, with only 12,500 miles displayed on the dash, making this an extremely rare collector's item and the jewel of any collection.
1965 Shelby Daytona Cobra Coupe: $7,685,000 in August 2009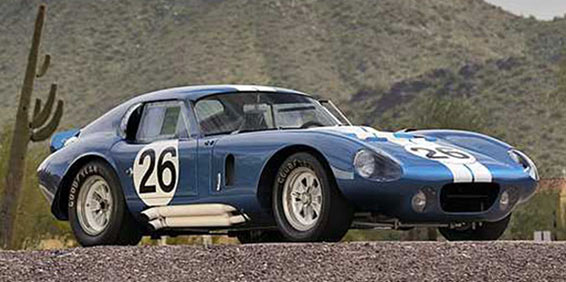 For American racing enthusiasts, this car holds a special place. The cobalt blue sports car with the iconic 26 on the side and on the hood can claim one of the greatest victories in American racing history.
Although originally handmade in Italy, the Shelby Daytona Cobra Coupe is, none the less, an undeniably all-American sports car. This particular Shelby was designed by its American racing team for victory in the FIA's GT class. It was the first American sports car to take on and win against Ferrari on the 4th of July, 1965.
The car was originally thought to possibly fetch between 10-15 million dollars at auction, only amassing about half of that. Perhaps its diminished price was a result of the financial crisis of 2008. Perhaps it can be explained due to a previous North Dakota owner, a gas station proprietor and businessman, who used the car to collect daily receipts on a 300-mile trip between gas stations in the 1980s. Even so, the car bearing chassis number CSX2601 is one for the record books, making a record sale for the year of 2009.
1964 Ford GT40 Prototype: $ 7, 560,000 in April 2014 (GT/104)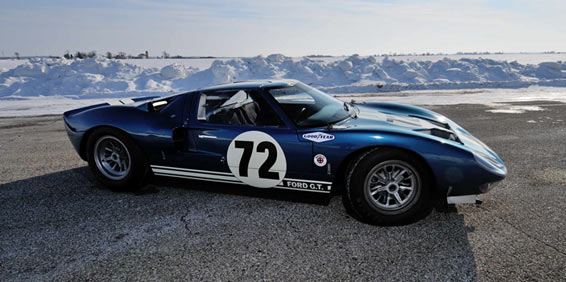 The FT40 Prototype was a result of Carrol Shelby's classic design after he took over for a team originally composed of British designers in 1964. The car's ambitious design was based on Henry Ford II's quest to beat Ferrari, the then all-around champion, which had won the Le Mans race for five consecutive years from 1960 to 1065.
After an attempt to take over Ferrari failed, Ford II, known as the Deuce of Motors, took it on as his personal mission to beat Ferrari. The GT40 went on to win Le Mans in '66, '67, '68 and '69.
Today, the car's image has become so iconic, it features as design inspiration for movies and comics. In many ways, Steve McQueen's Ford GT40 changed the way we came to see sports cars, from a merely moving apparatus (some, albeit, it with custom luxuries), to futurist, luxury machines on the big screen.
Donate To Fast Muscle Car
We spend a lot of time bringing you muscle car content. If you would like to donate something to help us keep going, that would be fantastic.
Most Expensive American Cars Ever Sold

,