Muscle Cars
Electric Chevrolet COPO Camaro Up For Auction
By
|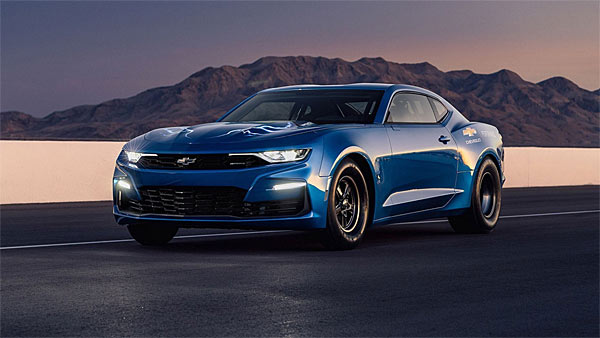 By Dave Ashton
Last year at SEMA, Chevrolet unveiled a unique vehicle in the form of a Camaro Electric dragster, the eCOPO. A testbed and proof of concept for a drag racer which could perform a quarter-mile in 9.51 seconds at 140mph. Now the vehicle is coming up for auction at Russo and Steele during Monterey Car Week.
The vehicle is sure to attract attention, even if it's on the basis of its just a one-off build and can apparently pop a wheelie on command. The other interesting bit to note is that Chevrolet don't directly own the vehicle, but rather Hancock and Lane Racing, who developed the car.
In any case, the stats. of this ECOPO are interesting. The car produces the equivalent power of 700 horsepower and 600 pound-feet of torque, through two motors and four 200-volt batteries, placed around the car for better weight distribution. One batteries is located where the rear seats should be, another over the rear axle and the last one in place of the spare tire. In all other departments the Camaro is pretty much standard along with the Turbo 400 transmission.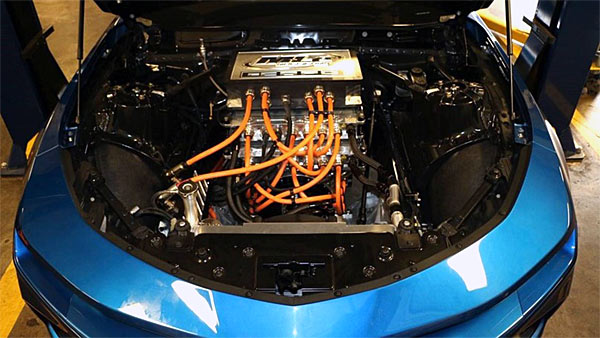 The car also has some unique additions, such as the hood graphics, eCOPO badging and support and training thrown into the mix.
The development of the car was apparently as a test for a possible publicly available electric crate motor. Thus, all the other standard equipment throughout the vehicle. If this crate motor ever sees the light of day, is another question. An interesting proposition if we are given the eventual option of an LS swap or an electric version.
As for possible prices, a used 2019 COPO Camaro can go for around $150,000, but some estimates have said the car is possibly worth up to $425,000 to $525,000 on a good day.
A One-off and test vehicle this Camaro may be, but it also brings up much debate as to the future of the mighty V8 and for muscle cars in general. Electric power is slowly seeping its way into not just roadgoing vehicles, but also sports. Not the happiest of news for petrol heads, but as discussed many times, if the wave of electric is coming, it's better to be ahead of the pack, than left behind.
This means that this Camaro gives us a glimpse of what future muscle and pony cars could be. Think of it this way – if we were all given the assignment of taking the best bits and the essence of what makes a muscle car great and produce an electric version, what would we come up with? Would we facepalm the idea as sacrilege or see what's possible? Both views are legitimate, but I'd rather see a world with a world-class electric muscle car, than see it being resigned to the history books as a breed.
Donate To Fast Muscle Car
We spend a lot of time bringing you muscle car content. If you would like to donate something to help us keep going, that would be fantastic.