Video
Dodge Challenger SRT Demon Vs SRT Hellcat Drag Race
By
|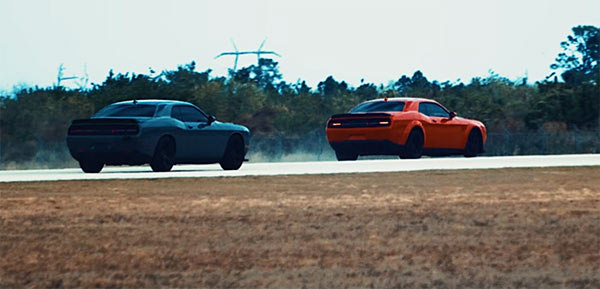 By Dave Ashton
Most drag race matchups we see featuring the Challenger SRT Demon or Challenger SRT Hellcat are usually up against competing brands. It's not hard to see why, as these modern muscle cars have to constantly prove they not only have the power but also the performance in a modern automotive landscape.
But what about a direct matchup? For those familiar with both vehicles, the message from the video states what we are all thinking, 'We already know how the story ends, but I still wanted to see it from my own eyes.' Power levels are completely different on both vehicles, but let's see what each of them has to offer.
The Dodge Challenger SRT Hellcat has a 6.2-liter V8 engine and 2.4-liter supercharger, producing 707hp and 650 lb.ft. of torque. This equates to a 0-60mph time of 3.6 seconds and a quarter-mile time of 10.85 seconds at 126.18 mph. The Dodge Demon has the same basic 6.2-liter V8 engine at its heart but with a 2.7L supercharger, producing 808 hp and 770 lb.ft. of torque on 91 octane gasoline and 840 hp on 100 octane gasoline. 0-60mph times for the Demon are 2.3 seconds and the quarter mile in 9.65 seconds. The Demon also weighs less than the Hellcat by 215 lbs at 4,254 lbs. The race was over a half mile on an un-prep'ed airfield, with both cars being automatics.
Spoilers here, but they are all worth mentioning. The Hellcat ran the half mile at 156.35mph and the Demon at 164.23mph. 8 mph difference may not seem much as the presenter points out, but this is theoretically faster than the Lamborghini Aventador, Huracan and Ferrari 458 for example. Ok, those supercars may have more abilities in other area, but as pointed out, it's still great figures for a car costing quarter of the price. The Demon is a limited edition model, but you can get close with the new Challenger Redeye.
The takeaway message from this video reiterates the point that the Demon, Hellcat and the Redeye are more than anything value for money, something rarely spoke about at these performance levels. There are faster cars, more agile vehicles, but you are also paying a lot more money for them along with their exclusivity. So, the Dodge Challenger may sometimes be called up for sticking to its muscle car ways with its engineering, but that also includes the muscle car ethos of producing power and performance which is accessible to the average guy and that can't be beat.
More Muscle Cars For Sale – http://fastmusclecar.com/muscle-car-for-sale/
Donate To Fast Muscle Car
We spend a lot of time bringing you muscle car content. If you would like to donate something to help us keep going, that would be fantastic.
Dodge Challenger SRT Demon Vs SRT Hellcat Drag Race

,