Best Muscle Cars
Details On The 2020 Ford Mustang Shelby GT500 Engine
By
|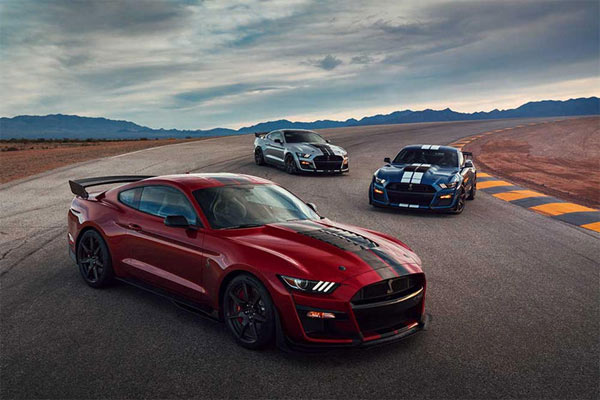 By Dave Ashton
The hotly anticipated 2020 Ford Mustang Shelby GT500 is going to be a significant release for the company. Mustangs are proving their point very well for performance both in America and Europe, along with sales. So the new Halo car needs to be something special. The new GT500 also has to take on the Chevrolet Camaro ZL1 and Dodge Challenger SRT Hellcat in the horsepower wars, along with being the latest and greatest pony car. A battle on a few fronts, now, with the slow drip feeding of information which has also ramped up anticipation, now with more specifics on the engine build.
An article over at Automobile Magazine talks with Patrick Morgan, Ford Performance powertrain manager on more of the inner workings of what is being called the 'Predator' V8.
Overview
One given is that there's going to be over 700+ horses in the new engine. Exactly how many has not been revealed yet, but the new engine is said to be based on the Coyote engine architecture from the GT/Bullitt, with influences from the GT350's Voodoo engine.
A summary of the, pardon the pun, nuts and bolts of the information is below. If you want a more discussion aspect to the information, check out the original article from the link above.
The bore and stroke are the same as the Voodoo.
A 9.5:1 compression ratio.
Possible 2650 Eaton supercharger
A 7500-rpm redline.
Around 12 psi of max boost.
Longer head bolts and deeper columns, with a strengthened block and head.
The head gasket has a fourth active layer.
A bar-plate cooler/low-temp intercooler above the supercharger rotors.
An aluminum viscous damper for the crank damper for handling supercharger loads.
Tremec transmission, definitely an automatic, maybe also a manual.
They have been paying attention to AMG, Corvette, BMW and Audi for their V8s.
Port fuel-injected, not direct injection.
Plenty of food for thought for how the new GT500 is progressing. Some of you may be interested in all the inner workings, while others just want to know how much horsepower and torque this new version will kick out. Clearly, Ford aren't going to let Chevy and Dodge win on horsepower levels, but as the Mustang is now popular across America and Europe, Ford have to get it right for all camps.
Stay tuned for further developments, but in the interim one things for sure, the new GT500 is going to be the best performing version yet.
Donate To Fast Muscle Car
We spend a lot of time bringing you muscle car content. If you would like to donate something to help us keep going, that would be fantastic.