Muscle Car
Car talk: The Great Tire Conspiracy
By
|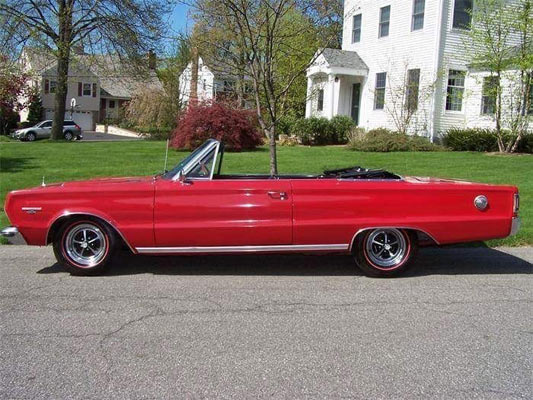 This happens to be one of the cars on my bucket list. The bad part is my bucket list is a 55 gallon drum and I need to decide what to do and soon.
I love the Magnum 500 wheels which I used to incorrectly call Ralleye wheels. A friend straightened me out and thankfully so. I also love the red line tires. Especially now that they are radials but look like bias ply.
I need to go to the way back machine because when I was a young tire salesman we had all bias ply tires and we had just starting to introduce radial tires. The public was very leery at first because like all things the news media made up stories that some tires fell apart, blew up on there own, changed the way the car handled to an unsafe mode and so on. We worked hard to overcome all the bs that was put out there and in time we featured all radial tires with one or two bias ply tires for the real late comers in life. We also held some bias ply tires for folks with trailers as they too heard these wild tales and pictured the pop up camper coming off the hitch and rolling over. In time, that too was a falsehood we came to show the public the truth.
So, everyone switches to radial tires and loves the ride and handling and all the worry was soon forgotten. So, now you can understand why some of us that were around for the old switch from bias ply to radials laugh that tire makers now make radials look like bias ply. How weird is that?
Only the real old cars and trucks use bias ply tires to be correct anymore at shows or auctions. I mean if you have a 29 Duesenburg you need to go to a source that sells that type of tire. But, for the 66 Coronet one can use the radials and have the bias look. I looked into the pricing and for my Road Runner it is about $225.00 per tire. Yep, now that is a lot of money so we will see were this goes as I would love to have four Magnum 500 wheels and four red lines on the Plymouth but do the math and you will see my problem. Especially that I am in the middle of a restoration on my Model A.
More Muscle Cars For Sale – http://fastmusclecar.com/muscle-car-for-sale/
Donate To Fast Muscle Car
We spend a lot of time bringing you muscle car content. If you would like to donate something to help us keep going, that would be fantastic.
Car talk: The Great Tire Conspiracy

,