Best Muscle Cars
Camaro ZL1 vs Sutton Mustang: A British Perspective of 1600bhp
By
|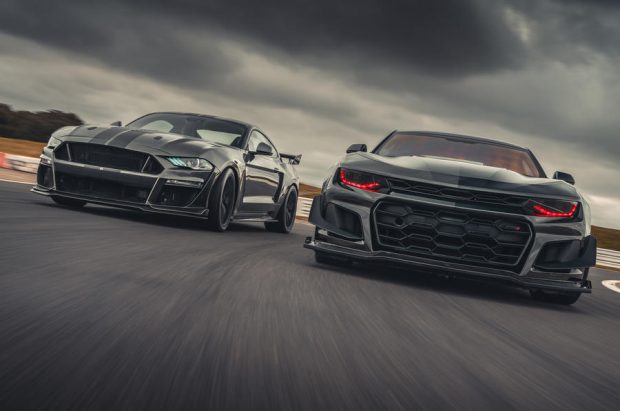 By Dave Ashton
If you reside in the fair Isles of Britain, the average performance car has only a few liters capacity and generally comes from Germany, Italy, or Japan. American muscle cars are usually reserved for the Uberfan or those who want something a bit different. This makes showrooms and part suppliers a bit thin on the ground, but as in the US, an off-the-shelf or tweaked muscle car provides heaps of power and fun for the money.
The guys over at autocar.co.uk recently borrowed a few muscle cars from Clive Sutton, a long-time seller of Americana, based in London, to see what all the fuss was about. For starters, the Ford Mustang CS850GT has 847bhp and 665lb-ft of torque from a Whipple supercharger-powered 5.0-liter V8. This example comes in at £115,000.
The other vehicle on test is a 2018 Chevrolet Camaro ZL1 which only comes in left-hand configuration. This one sports a 6.2-liter V8 with 770bhp and 737lb ft. of torque. The Camaro has the most custom setup, and by the time it's ready for British roads, costs the same as much in pounds as it does in dollars.
By the way, this test isn't to see which has the fastest 0-60mph or quarter-mile time, but rather a general test round a track to feel out the general characteristics.
There's not a definitive winner here, but the main takeaway is the usual message with American muscle cars. Considering the power, they offer a lot of fun for their asking price. The Clive Sutton CS850GT Ford Mustang provides the most wallop at 847bhp but also costs the most at £115,000. The Camaro on the other hand comes in at £75,000(estimated) for 770bhp. Each car is capable of a 3.5sec(estimated) 0-62mph time, with a top speed of 180mph(estimated) from both. In other words, if money was the single deciding factor, the Chevrolet Camaro ZL1 would come out on top.
But if the Mustang or Camaro didn't take your fancy, then there are other options. While the Camaro and Mustang have pony car DNA and are more like traditional sports cars, the Dodge Charger SRT Hellcat follows the muscle car template as near as we can get today. This means a 6.2-liter Hellcat V8 engine, producing 717bhp straight from the factory. For the average Brit, the $74,720 asking price can easily convert to the same in pounds. Still, that's a lot of car for the money.
Ford has another offering in the form of the Mustang Shelby GT500, with 760bhp and 625lb ft. of torque. The price point here is $72,900 (£53,270). Lastly, if you want a vehicle that looks like it can smash through a skyscraper without noticing, the Hennessey Venom 775 Supercharged F-150 has muscle car sensibilities in the shape of a truck. This equates to a 5.0-liter V8 producing 400bhp with torque levels ranging from 410lb. ft. to 685lb. The price for this one is $110,000 (£80,370) with a limited run of only 100 examples.
So, what is the conclusion here? Basically, if you want to splash the cash on something with supercar prices, then maybe an American muscle car can provide you everything you need, with change left over for an everyday driver. You may even have enough money left over to buy one of those battery-powered things to ease your conscience.
Donate To Fast Muscle Car
We spend a lot of time bringing you muscle car content. If you would like to donate something to help us keep going, that would be fantastic.