Readers Rides
Buying A Driver Muscle Car
By
|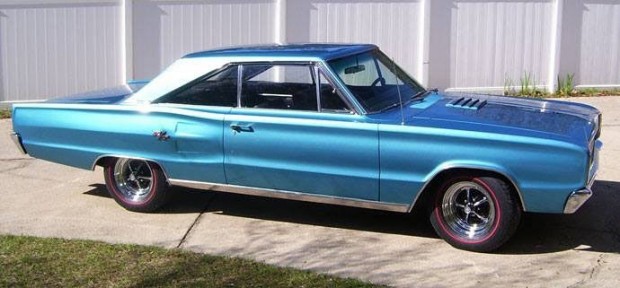 By Mark Weisseg
For a very long time I have wanted a '66 or '67 Dodge Coronet or the Plymouth GTX. Not a 318 or 360, not even a 383 because I have a 383 in my Roadrunner. Nope, I want one with a 440 and I want a driver.
A driver car in my book is a very clean, well kept car. Not in perfect shape or one that if you get caught in the rain will ruin your day. From the looks of this car in the picture it is not a daily driver. The giveaway for me is the beautiful Rallye wheels, red line tires, and drop dead gorgeous paint. This car does not appear to have a scratch on it.
I Recently saw a potential driver up in Michigan. It was a reddish color with a super commando 440 engine for just under 20K.
It was a nice looking car but had some flaws and that is what I was shooting for. I wanted a car this time that I did not need to watch constantly when I am at a show, so that I can walk around without worry and see some other great cars. I wish I could pin it down but something about this body style started it with me.
My brother had a Plymouth Belvedere with similar styling and I loved that car. So, why do I own a show ready Roadrunner rather than a GTX? Easy. At the time I could not find one. Like everything else it seems in the world, the things you are searching for never turn up while you search for them. Women, wine, cars, cigars, houses, vacation deals and so on seem to pop up at the worst time or when you least expect it. Sure enough I bought the RR and I love that car. I wanted one in high school and beyond but could not afford it for many reasons. Today, I have it and could not be happier about it. The Mustang that I bought years ago was also a situation where I stopped looking and gave up, but decided to look one more time in a different part of the country and I hit the jackpot.
Certainly I have not given up on a Hellcat, or a Mustang GT350 but those items take a lot of money and a lot of worry. I want to settle down on a driver car that has the power I desire and the looks without losing sleep over the fact that it is not perfect.
So, rub the tummy of Buddah for me and here is to hope I can swing that daily driver car before dirt is thrown over my box.
For all muscle car parts – http://fastmusclecar.com/muscle-car-parts/
Donate To Fast Muscle Car
We spend a lot of time bringing you muscle car content. If you would like to donate something to help us keep going, that would be fantastic.
Buying A Driver Muscle Car

,