Muscle Cars
The Bubble Top Police Cars Of Old.
By
|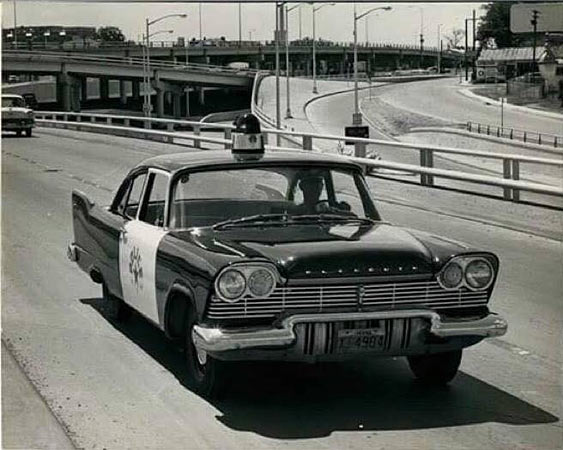 By Mark Weisseg
Yes, we called them bubble tops, gum balls and more but they were the police cars of yesteryear.
I saw some at the last Chicago Auto Show and as I looked at an old Plymouth police car versus a new police car, the differences were astounding. An obvious statement in someways, but knowing both versions of cars it's astounding by today's standards how those Old cars functioned.
That old police car had no computers, no cages and no seat belts! The car looked like a regular Plymouth of the day with an average large V8 engine under the hood. It had a small two way radio and a whip antenna. A whip antenna is a large antenna that whipped around in the wind so they usually clamped them down. A siren that had one tone to it and usually a red light on the roof that went in one direction. Some states used blue lights but not many. The police car we looked at did not even have a spot light. Basic times.
The modern police car in comparison, is light years away. More lights than a Christmas tree, radios, monitors, radar guns, cages, belts, extra guns, special tires, more guns, big special engines, special glass, bumper guards, first aid equipment and much more. When they turned all the emergency lights on, it was like a scene from a science fiction movie. My gosh, on the roof, in the grill, on the bumpers, in the Windows, flashing, circulating, blinking and more. It was just scary watching all those lights. I guess it's all necessary in the world in which we live but it got me thinking about a guy I know close to my house with a barn full of stuff. I was at his place and he had a red bubble top and red police light he bought years ago from a local police department.
I should have bought it. Why? Well, now it reminds me of the Mayberry RFD show and the police department. Or, Car 54 where are you? Police shows that were simple and they always solved crimes right away. Adam 12 used just two red blinking lights.
Don't you wish all our police had a four door Plymouth with a 318 engine, one siren and one red light?
More Muscle Cars For Sale – http://fastmusclecar.com/muscle-car-for-sale/
Donate To Fast Muscle Car
We spend a lot of time bringing you muscle car content. If you would like to donate something to help us keep going, that would be fantastic.
The Bubble Top Police Cars Of Old.

,