Best Muscle Cars
The Best Places To Buy A muscle Car Online
By
|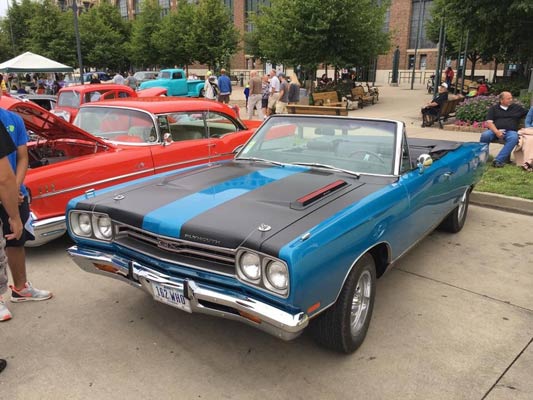 Buying a muscle car vintage or new can be very daunting, especially if you're new to the field.
Here we will try and outline some of the best places you can purchase a muscle car and what to look for.
Some of the best places to buy a muscle car can be simply in your local area. The main reason for this is that you can visit the vehicle and give it an inspection as soon as possible. Even though we have the Internet today, nothing beats seeing a car first hand.
We are obviously going to recommend our own daily finds which we post in our muscle cars for sale section, but there are many places online where you can track down classic or new muscle cars. In our muscle cars for sale section we have outlined things to look for and check, especially with vintage muscle cars. Information and knowledge is key here, so it's always recommended to contact somebody who knows about your specific make and model and the intricacies of what makes a good and bad purchase, ideally somebody you owns or has owned that vehicle in the past. It's the tiny things that can count here like rare options, what can specifically go wrong with each model and now hard it is to source parts.
If you don't know anyone in your area who is knowledgeable on muscle cars, a good idea is to hook up with a local car club and ask for their resident muscle car expert. If you're nice and polite and say you just need somebody to review a car for you, i'm sure they will help. just be careful they don't grab your hard worked find for themselves!
Everything about buying a muscle car really stems from your initial budget. If money is no object, then the big auction houses like Barrett Jackson, Mecum and the like usually feature the rarest vehicles, but you will obviously pay the highest dividends, not always, but generalising, top auctions are for those with the deepest pockets.
Independent dealers are littered around the internet giving various prices for different makes and models. However, Ebay motors is still a great starting point, even if it's just for research and finding out various prices.
Reputable muscle car dealers, which usually sell the best in vintage include places like Vanguard motors, RK Motors if you have deep pockets and Fossil Motors who always seem to have a big inventory. You can check out other generic muscle car listings such as Auto Trader , which have many listings and is great for research and even craigslist if you want to pick up a restoration project, but this can come with many caveats for the money.
The more specific your needs for a muscle car, the more you will have to dig and hunt. If you're interested in just a base model for example, a late 60s Mustang or Camaro, eBay is a good start point. However, if you have a big budget and you want a rare Plymouth Superbird with a Hemi engine and rare options, then you will probably need to visit some of the high-end dealers like listed above or the big auction houses.
There really isn't a one-stop shop for the best muscle cars to buy online, so after you have defined your budget and shortlisted some makes and models, go through the links above and find some example vehicles. From there you can weigh up current prices , along with using the tried and trusted Haggety valuation tool, which will give you a rough idea of current prices and market trends.
The Haggett valuation tool should also be checked out for how much your particular make and model has gone up and down over time. Unless you are dead set on a certain car, it may not be advisable to invest in a vehicle that no body may want in the future. Prices rise and fall for any vehicle, but some stay more stable than others. you can't go wrong with classics such as the Dodge Charger, Dodge Challenger, Plymouth Road Runner, Mustangs and Camaros. Chevrolet, Dodge and Ford are the most common, but you can get a lot for your money if you consider models such as the Mercury Cougar for example.
The world of muscle cars is a fantastic realm and with a bit of research, you too could own one of these magnificent beasts. Shop around, do your research, set a budget and only then start to make a move.
Donate To Fast Muscle Car
We spend a lot of time bringing you muscle car content. If you would like to donate something to help us keep going, that would be fantastic.