Readers Rides
A Tale Of One Man And His Truck..
By
|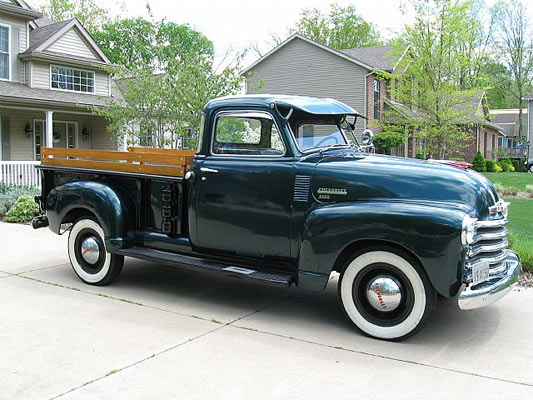 In 2013 I got this terrible bug that I needed to get help for. You see when I was a young boy I had a friend who's father was a fire fighter for the city. My friends father drove this old 50 Chevrolet 3100 truck that was painted orange with a brush. So, now you can see I did not grow up in Beverly Hills or Palm Beach. We were regular folk and darn proud of it.
Now, every once in a while the father would take us crew cut boys for a ride to a hardware store or another similar task. On the way there we would pile in the front and I would watch his Dad shift gears on the column and turn that titanic steering wheel. On the way home my friend and I would sit in the bed and get tossed around like nobody's business. We loved it, his Dad loved it, and the memory stuck with me.
Fast forward to 2013 and I could not shake the bug. I had to have an old Chevy truck or I would die. ( the same phrase I would try on Mom as a youngster for candy). I scoured the Internet and found a 1949 Chevy 3600 truck in a little town in North Dakota. I quickly called the guy and we agreed on the price so I had it shipped. But not to me. You see I was a good mechanic in my day but my older brother was a great mechanic. I will ship it to him and he can get it running.
So, a few weeks later the truck arrived at his house way after sundown. The next morning my brother called me and said, "this thing is a beast". Hmm, I said , "detail me in".
He proceeds to tell me the truck has four flat tires, the engine is locked up, the paint is worn off ( known as patina today) and a laundry list of other problems. I did not care as I knew if anyone could get this rig running and drivable it would be my brother. I just did not understand the human cost, or the joy it would bring some day.
I will not bore you with all the parts this truck consumed or the amount time it took and more importantly how far over budget I went. That is for another day and another article. I will say I stayed focused, my brother stayed on course, and at times I would drive or fly in to see the progress or work three days in a row for 12 hours a day to help.
At last my brother called and said the truck was ready. I had made a decision early on that all I wanted was the engine to start, the steering to be safe and the brakes to stop this monster. I was not interested in a chrome valve cover or a crate motor, or a crushed velour interior. I wanted a truck. A truck that I could take to a show or just drive to the local home repair store. The truck arrived by carrier a few days later in all its glory. Faded paint, faded dash, the wood in the bed rotting away slowly, and lastly, a truck that was my dream.
I started it right away by pulling the choke, pumping the gas pedal a few times and then standing on the starter button on the floor. She roared to life and I felt like a dream came true. I thought of my friend and his father from so many years ago but more importantly thought how lucky I was to have a brother and some other family members help with this dream. So now what?
I drove the truck to the first car cruise of the year with a lot of anticipation. It rattled and squeaked down the road and everyone passed me because I was quick to learn that the gearing made the sweet spot about 45 mph. I parked the beast next to my friends vehicles and got out mentally exhausted. The ride was rough, the steering was like driving a tank, the engine was noisy, it smelled , and yet here I was with my buddies and there late model cool cars.
As the crowds began to drift in I stood next to the truck hoping someone would appreciate my dream. To my astonishment not one person asked anything. Nope, not one. More like two hundred.
I was swamped all night long with people asking questions, taking pictures, mothers asking if there children could get inside and take a picture, and so on.
So much so that at one point I ran to the building just to go to the bathroom and ran back in utter glee. The truck was a hit and I loved the limelight. I honored our farmers because it was a farm truck in North Dakota. I honored my brother, other family members, and friends who joined me in this adventure. The beast was a hit then and it remains so. I get the thumbs up all the time, strangers who normally would not say a word to me now are admiring the truck and telling me stories that there Uncle had one or they learned to drive one just like it or my favorite; we went to the drive in movie in one like this. A drive in movie? Talk about the good old days!
My point here is your ride does not need to be 600 hp, gleaming crystal paint, leather interior with air bags. It does not need to be tubbed, channeled, chopped, laser straight and the dyno results taped to side window. Just follow your heart, dream big, stay close to a budget, enlist help from family and friends and enjoy whatever you have. Don't worry about the other guy because no matter what you have someone will have something better. Do it your way and you will have your own beast.
By Mark Weisseg
More Muscle Cars For Sale – http://fastmusclecar.com/muscle-car-for-sale/
Donate To Fast Muscle Car
We spend a lot of time bringing you muscle car content. If you would like to donate something to help us keep going, that would be fantastic.
A Tale Of One Man And His Truck..

,