Best Muscle Cars
A 2018 Dodge Challenger Demon For $1,000,000.00?!?
By
|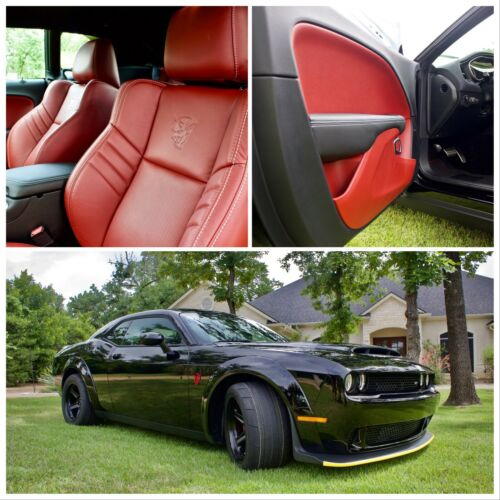 By Dave Ashton
VIN: 2C3CDZH91JH102823
Engine: 6.2L SuperCharged 840hp
Transmission: Automatic
Mileage: 7
Exterior Color: Black
Interior Color: Demonic Red
Price: $1,000,000.00
Skimming through the usual online muscle car listings to see if there's a potential bargain to show you all, a quick check of the current Dodge Demon prices brought up this anomaly. At first it was a doubletake to see if this was a misprint, but checking out the listing directly, the current owner has indeed put the list price as a 'Buy It Now' for a cool $1,000,000.00.
For starters, the current prices for Dodge Demon's which range from the barely seen tarmac to a few thousand miles on the clock, range from roughly $99K to $124k. Most of these listings are in a variety of colors, low mileage and for a limited edition car of only 3000 (with 300 extra going to Canada), it's not like they are scarce or difficult to obtain.
Which begs the question, why such a high pricetag for this one? The listing details gives the usual rundown of why the Dodge Demon is so special. 840 horsepower with 770 ft.lbs. of torque from the 6.2L HEMI Demon V8 engine, the world's fastest quarter-mile production car, a 2.3 seconds 0-60mph time, a 1.8g force acceleration, etc. As for the specifics of the car in question, its simply stated as being brand-new and still wrapped in the original factory plastic. There doesn't seem to be anything above and beyond any of the other Demon listings.
So, is this a fake listing or just someone seeing if there is a Demon fan out there who is willing to pay anything to get hold of one? The description also has a link to a jalopnik article, presumably about the seller Marcos Trevino and how he flips cars to make a decent profit. Some of the images in the article look similar to the car listing, but that's not really much to go off. The other point which triggers the spider senses, is that the seller only has '8' sales to their name, which in general eBay practice means it's not always the most trusted seller.
The listing does have a contact number, but after trying it a few times, no connection. Hmmm, it could be a wrong number or i'm not dialling it correctly.
Either way, if you're really in the market for buying a Dodge Demon, there are far cheaper examples currently for sale. Even if this example had some one off rare feature or even a prototype, it would still be hard pushed to be worth the asking price. In any case, it's worth keeping an eye on this listing to see how it pans out.
For current Dodge Demon owners, they'll all have their fingers crossed that somebody pays way over the odds, so their example(s) shoots up in value. In reality, if this is a genuine listing, it's just one of those examples to see if someone will bite and even if they pay quarter of the listed amount, it's still going to massively bump up the value of other Demons.
Conclusion, if you're in the market for a Dodge Demon, look elsewhere.
Donate To Fast Muscle Car
We spend a lot of time bringing you muscle car content. If you would like to donate something to help us keep going, that would be fantastic.