Best Muscle Cars
2018 Dodge Challenger Demon Negative Reviews. Right or Wrong?
By
|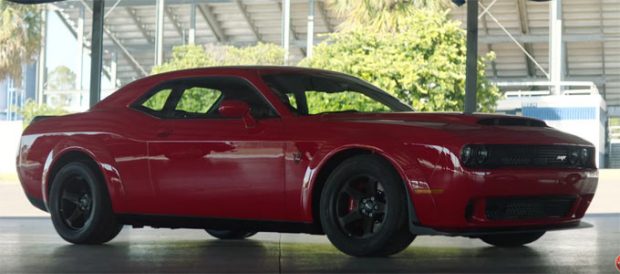 By Dave Ashton
It seems that after all the anticipation and celebration of the 2018 Dodge Challenger Demon, it now seems that the focus has shifted to a potential ban of the vehicle, not just from the dragstrip but also from public roads.
On release the Dodge Demon was celebrating its new moniker of 'world's fastest production car' with firsts in many categories, especially for a muscle car. Now it seems the focus has completely shifted to the supposed National Hot Rod Association (NHRA) potential ban and even talk of it being banned on public roads. Hmmmmm……
No Ban
On the surface it seems that a drag strip ban would be game over for a car such as the Dodge Demon, but if you look at the fine print it's not even a ban, more of a restriction or upholding safety precautions. The Dodge Demon, which can do 0 to 60 mph in 2.3 seconds and a quarter mile in 9.65 seconds will need a NHRA Competition license, full safety gear and roll cage if it is to compete in the nine second arena. Just like any other vehicle in this class.
The Demon has the potential to hit these numbers on the dragstrip, but it's also built for the road. This means that there has to be some adaptions for both arenas with changes to the vehicle, such as tires, fuel and other factors. This means that the sensationalism of the NHRA ban is really just implementing safety precautions.
Is the Demon safe on the public roads?
We reported the other day about an article that said that the Dodge Demon should be banned from public roads . The article we referred to said that the Dodge Demon's speed and acceleration was not suitable for public roads and the vehicle was really the company's misguided corporate choice. Forbes website stated that the Dodge Demon tires were not good for regular roads and would easily wear and were expensive to replace.
In some ways it seems that the quotes are more of a witch hunt for the Dodge Demon than practical application. If the Dodge Demon was to be banned from public roads because of the above factors, you might as well ban any supercar or performance vehicle at the same time. It is basically saying anything over 6-700Hp is too powerful for public roads and drivers cannot be trusted to optimize their vehicles for the road with engine setups, tires and the rest. It's almost like saying the whole performance car community shouldn't be allowed on the roads.
However, demonstrated time and time again, it's how the vehicle is driven and the driver in question that matters. As the Dodge Demon is really being promoted as a drag strip machine, that's where its potential use will predominantly be and with its limited numbers a sighting on the roads will be very rare.
Therefore, I think that the Dodge Demon is a groundbreaking muscle car which has produced firsts in many categories and should be celebrated for those facts alone. Focusing on if it's 'potentially' dangerous due to its power output is too much of a knee-jerk reaction at this stage and saying that the NHRA safety precautions as a ban is really just sensationalizing.
So let's just celebrate this muscle car for what it has achieved and how it's bringing the term 'muscle car' back into the mainstream.
Comment below on what you think of the Dodge Demon.
More Muscle Cars For Sale – http://fastmusclecar.com/muscle-car-for-sale/
Donate To Fast Muscle Car
We spend a lot of time bringing you muscle car content. If you would like to donate something to help us keep going, that would be fantastic.
2018 Dodge Challenger Demon Negative Reviews. Right or Wrong?

,