Muscle Cars
1973 AMC AMX Go-Package: One Of The Rarest
By
|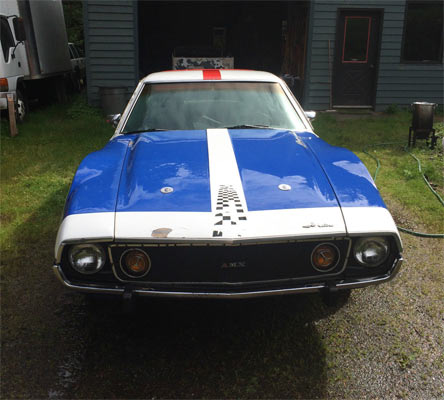 Engine: AMC 360 V8
Transmission: 3 Speed Automatic, Stall Converter, Less than 3K since overhaul
Buy It Now Price: US $8,500.00 (13th Aug. 2015)
I have a nephew who when asked, 'have you heard of AMC' replies by saying, 'yeah, they have some okay TV shows.'…. idiot. ( sorry, but it's just so easy to mock!)
For the rest of us who know that the three characters of AMC once meant some rather tasty muscle cars, will know that the AMC AMX with the 'Go Package' has outlasted nearly every TV show since its creation.
The interior is shot and this is a full restoration job, but for the right AMC enthusiast, this could be a good buy.
Check out the specs on this great looking AMX and see if you think it is worth the money.
'Only about 1200 of the 2,500 remain on the road of these true AMX TransAm Super Cruisers.'
'Rearend: Standard heavy duty, 323 or 355, Very Street-able.'
'Major Problems: Sits in my Garage too much, takes up workspace. Some original equipment now missing. '
'My father owned the car since 1979 and maintained it as all original. He sold the car in 2002 (I was eleven) when deployed during Iraqi Freedom. Car was sold prior to his departure to an Auto Body classic restoration shop. Car won best of show at Juneau DipSticks annual car show in 2004 or 2005. This explains the current Red/White/Blue Paint scheme. Original Color was Tally Ho Green with Gold Striping. Original Rally wheels were removed and not recovered when I repurchased the car in 2012. Current wheels are Cragar SS 5 Spoke.'
'Runs good when ran regularly, otherwise the Holley Carburetor requires adjusting. Automatic choke is disabled, so its a bit cold-natured.
Original Intake is still on the car, but the Motorcraft (Edelbrock style) carb was removed as well as the operation Cowl Induction Air Intake System. Air conditioning system was also removed. All electrical components, wiring, Fuse Panels, and Ignition was recently replaced/repaired. NO ELECTRICAL PROBLEMS. Even the Windshield washer functions. Door handles and windows are somewhat stiff, but will operate well after regular use.
Body: Rust is minimal considering this car is almost 43 years old. You'll likely be using the wire-fed at bottoms of front fenders, but otherwise the Body, Frame, Suspension, Doors, Hood, Trunk and Chrome trim package are good. All Vehicle Glass and front windshield are in great condition. Could certainly use door seals and window felts. Parking Brake works properly. Oh Yes, it has front disc and rear drum brakes (recently inspected/repaired/replaced several brake components for proper operation). Has an extra drivers door.
Paint: I think it Sucks, and would eventually like it repainted the original Dark Metallic green. But, otherwise, the vehicle will look great under numerous paint schemes. You figure it out, or have your wife/girl pick the colors ?
Interior: Definitely needs Fisher plates, and some pizzazz added to the interior. Otherwise it still has a good appeal. Dash pad is near perfect condition, Instrument cluster looks good. Headliner, Visors, and interior light are in good condition. The 2003-2012 Custom Modifier owner removed the console and installed a B&M slap shifter (What a POS !!) ….. removed it almost immediately after re-obtaining Dad's Jav. Retrieved a stack of parts from modifier (Original console and shifter included) I think part of the reason, besides heirloom (Nostalgia) was I felt sorry for the Javelin as it stayed parked at a body shop parking lot deteriorating (again).
I am uncertain what more to add about the current condition of the car. It is very drive-able to whatever destination.'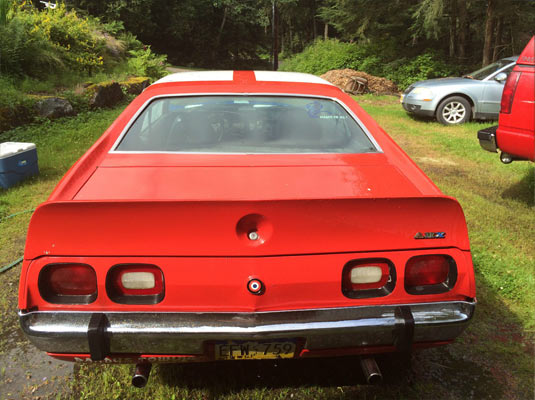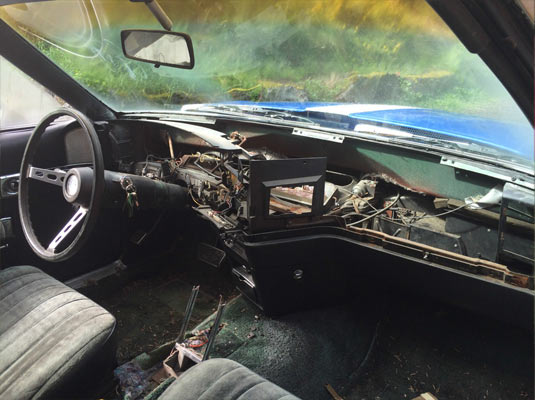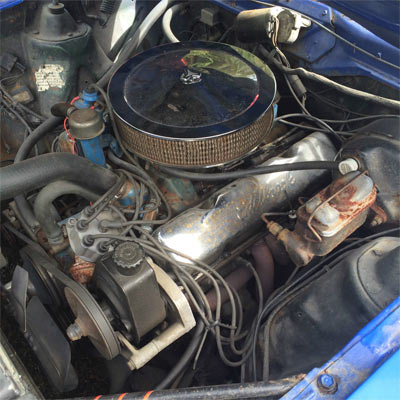 Buy Now On Ebay.
Click for More Muscle Cars For Sale – http://fastmusclecar.com/muscle-car-for-sale/
Donate To Fast Muscle Car
We spend a lot of time bringing you muscle car content. If you would like to donate something to help us keep going, that would be fantastic.