Best Muscle Cars
1969 Plymouth Road Runner Project
By
|
By Dave Ashton
VIN: RM23H9G291998
Engine: 400ci. V8
Transmission: 727 Torqueflite, 3 speed Automatic
Exterior Color: R4 Bright Red
Price: $13,000.00
BUY NOW ON EBAY.
We recently thought it's long overdue for us to have a look at muscle cars floating around on the open market. Mainly to see if there are any bargains out there and the state of the market. In this regard, a quick look online for a popular make and model, that's not too expensive and has the potential to keep going up in value. Thus, we landed on this 1969 Plymouth Road Runner project car.
This isn't a buy and drive away mobile. Its a buy and drive straight into your garage for 6 to 12 months of restoration. This means that if you're not interested in a car which you can restore, then you might as well stop reading now. It just saves time.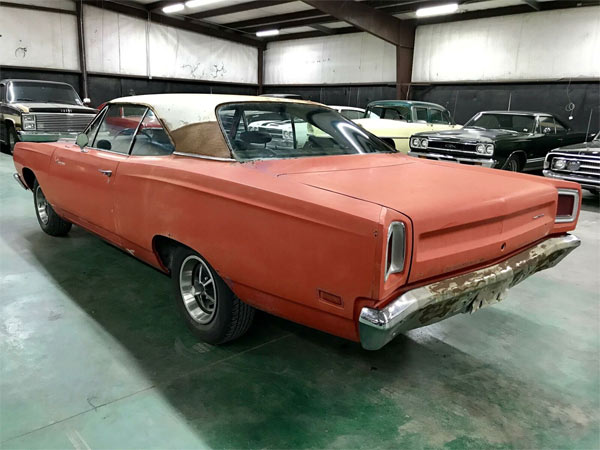 For everybody else, let's have a look at what's on offer. A 1969 Plymouth Road Runner with non-matching powertrain like this one, could fetch around the high $30k+ mark when restored. This one currently has a 400ci. engine, originally a H9G – 383 330HP OR 335HP 1-4BBL, in this case a E63 – 383ci. 4 barrel V8 according to the fender tag. The Road Runner also has a 727 Torqueflite, 3 speed automatic transmission, but it's not specified if original or not. The listing says that the car 'Runs, drives, stops and steers,' which means the engine has some sort of life in it, but will probably need a full strip down to make sure everything is in order.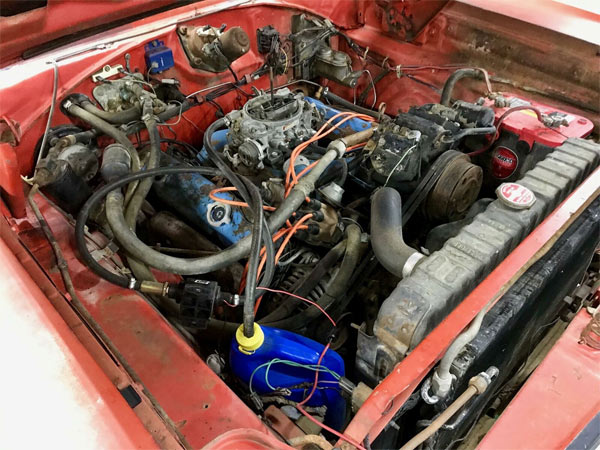 The listing also documents everything from the fender tag. What stands out is the 'A14: Spring Special.' Delving online into the knowledgeable folk on forums, one Mopar site says the 'A14 Road Runner Spring Special package' consists of – 'Vinyl roof, chrome styled road wheels, belt mouldings, performance hood paint, sport stripes, sure-grip differential, Fiberglass belted RWL tires F70-14.' No stripes on this Roadrunner – have they been deleted, new paint job or something else? The forum also says a red Roadrunner with white vinyl top and Spring Special package as in this case, could be rare in some way, but that would need some further research.
Fender tag:
RM23: Plymouth Belvedere, Satellite Medium, Road Runner 2 Door Hardtop
H9G: 383 330HP OR 335HP 1-4BBL 8 CYL 1969 St. Louis, MO, USA
291998: Sequence number
E63: 383 cid 4 barrel V8 H.P. 335hp
D32: Heavy Duty Automatic Transmission
R4: Bright Red Exterior Color
M6S: Trim – Opt. Decor Group, Vinyl Bucket Seats, Pewter/Black
A4: Silver Metallic Int. Door Frames
618: Build Date: June 18
375869: Order number
A14: Spring Special
C16: Console w/Woodgrain Panel
C55: Bucket Seats
H51: Air Conditioning with Heater
M21: Roof drip rail moldings
M31: Belt Moldings
R11: Radio Solid State AM (2 Watts)
V21: Performance Hood Treatment
V6W: Longitudinal Stripes, White
26: 26in Radiator
END: End of Sales Codes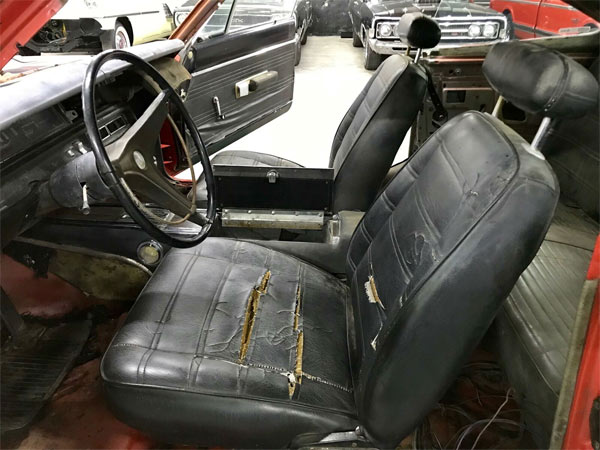 The exterior bodywork looks relatively solid with only surface rust showing in places. The engine bay looks in the same condition. As for the engine, it will need poking around in person to check out it's true condition.
Interior wise, there are no carpets and everything looks very shabby with a few missing door panels and seats that will definitely need reupholstering. Interior shots also show a few rust holes in the bottom of the car which will need addressing. The underside, as you would expect, lots of surface rust, but at least from the supplied images no obvious gaping wounds to patch up.
Is this Roadrunner worth buying? Probably yes, probably no. If you have the means, enthusiasm, resources and skills to restore the car for a reasonable amount then it will be worth it. Outsourcing the complete restoration is another mixed bag. As with any restoration project, there are always problems along the way, which basically need more money spending than first anticipated. A car like this really needs seeing in person, listing what's obviously wrong, then doing a quick total of what all those jobs would cost with parts(smartphone and internet needed). Take that total from current market prices and you have the 'can I be bothered' answer or not. This may sound a little negative, but it's better being being upfront with the work ahead and the costs, as even small restorations can take a lot of time and effort.
One things for sure, Roadrunners are continually going up in value each year, which means there will always be buyers in the future, even if you did nothing to the car. Even so, this Roadrunner definitely has potential and could be a nice little classic if restored by the right hands.
They have another Road Runner for sale here in blue, but with a non working engine going for $11k.
BUY NOW ON EBAY.
Donate To Fast Muscle Car
We spend a lot of time bringing you muscle car content. If you would like to donate something to help us keep going, that would be fantastic.