Muscle Cars
1967 Plymouth Barracuda: 1 of 1, With British Flag??
By
|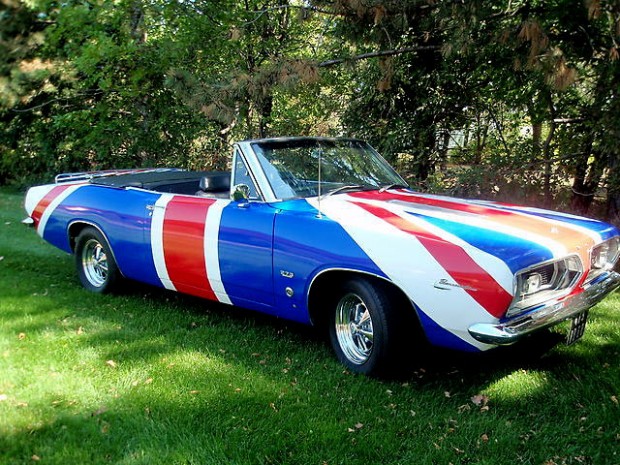 'It will take a while to get used to!' says the video below.
If there is a Cuda to stop you in your tracks, this is the one, just maybe not for the reasons you would have thought of!
Right Hand Drive.
VIN: BH27D72261091.
Transmission: Automatic
Engine: 8 Cylinder, 273 L.
Current bid: US $5,000.00
Before you wade through all the text below, this seems to be a Cuda built for the UK market with right hand drive and is one that has completely slipped through the net, even the Chrysler Corporate Historical Collection were surprised by this one!
A Cuda with a British flag paint job….. not so sure….it just makes it, well, too British for me for what is meant to be an American thoroughbred, but the main attraction about this vehicle is its super rarity.
As a collectors or investment piece this would make a great buy, but could you live with the British flag paint job? ( This is not a British flag bashing exercise, it is a questioning of why you would put any nation's flag completely over a car. It's too obvious a statement.)
A bit like an Austin Healey or E Type Jaguar being made for the US market with a Stars & Stripes paint job. It's like the car is trying too hard to be something else or fit in.
Originally it had 'PP1 red paint in engine compartment' as below, so the flag paint job is an after market thing and seemingly not a full rotisserie paint job if the engine compartment, door jams, and trunk are still the original color.
A true rarity, but for an American muscle car, why oh why didn't GM just put a tiny little British flag somewhere on the car or call it the 'British edition' if they had to, it would have been just as rare, just without a massively distracting British flag.
The irony about this car is it is located in Minneapolis, Minnesota. So, did the car make it to the UK and then come back to US soil or did it never leave??
Then again, if they make another Austin Powers film, here's the car…..maybe.
'One of the Mopars that even Chrysler didn't think existed'
'Built at Hamtrack for the English market.'
'Information obtained from the Mopar Muscle Association (MMA) of Great Britain said that the RHD Barracuda could be purchased in England only from Warwick Wright, a dealership with connection to Chrysler through Rootes. The information that MMA had gathered over the years was that in 1967 there were fastback and notch-back RHD Barracudas with 273 V-8 engines, but no convertibles. For 1968 and 1969 there were fastback, notch-back and convertibles with 318 V-8 engines. I have a copy of a letter from a volunteer at Chrysler Historic which states there were 17 right hand drive Barracuda convertibles built for export in 1968. No information for 1967 or 1969 is included in the letter, but I have heard there were possibly 9 for 1969, but NONE for 1967.'
'A road test review of the Barracuda by Autocar magazine published in August, 1967 also stated Warwick Wright Ltd to be the 'concessionaires' for Chrysler imports direct from the USA. They drove a fastback, and gave mention to a notch-back (i.e., hardtop) and convertible being available in the line. It stated that all would have 4.5 litre (273 ci) engine and automatic transmission, with heavy duty suspension and anti-sway bar for European spec requirements.
Paragraph on the RHD build:
I have tried to puzzle out where all the parts and pieces are from to turn this regular Hamtramck Barracuda into a RHD export. Some of the high points:
– firewall stamped opposite of LHD
– wiper motor on other side so wipers go "backwards", and wiper arms are stamped RHD
– dash is from a Valiant, near as I can tell, because of the square instrument cluster – seems like it would be easy enough to transpose that instrument cluster from the left to the right without any modification
– turn signal lever is on the right
– gas is still on the right, brake on the left
British specs and safety standard requirements:
– Amber / orange lights on the rear trim panel
– Built seat belt delete and had special anchor plates and seat belt with shoulder strap added; plate stating the vehicle meets British standards for seat belt anchorage points screwed onto inner fender wall
– Headrests added and handwritten notation on build sheet
– Outside mirror delete (for left-hand side)
– Radio delete, with a Motorola installed by Warwick Wright, LTD in England
– Heavy duty suspension that would have been with the Formula S package
– 323 sure-grip 7-1/4 rear end
Documentation includes:
– Certicard (no owner's name stamped in)
– Fender tag
– 1 full, nice build sheet and 1 partial
– Tag stating Valiant, Chrysler Co. Detroit, Michigan Made in USA (export tag?)
– Glovebox dealer maintenance card, having the Chrysler Corporation of North America name overlaid with a sticker saying Chrysler International S.A.
– Copy of IBM card and VIN decode from DaimlerChrylser
– Import documents from Manchester, England back to US
– "Galen Registry Letter" with fender tag and broadcast sheet decoding, stating to be 01 of 01 1967 273-2bbl Plymouth Barracuda Convertibles built to specs for Export Order (as well, he told me orally that he did not know of any other right-hand drive Barracuda Convertibles of any engine size)
The car's scheduled production date was 1/26/67. It was a special order car, shipped from manufacture at Hamtrack to Boston Region #18, dealer McNamara Motors, Inc., in West Lebanon, NH on 2/20/67.
The car has its original short block and transmission (all rebuilt). Originally a 273 2bbl (D-code). I've put a factory '67 date coded intake manifold and correct air cleaner and valve covers for a 273 Super Commando 4bbl. I've also added factory '69 340 X-heads. I have the original 2bbl heads, intake and carb. Wearing original issue (not repro) 4" bolt pattern Cragar SS wheels. a small rust spot in front of the right rear tire, otherwise rust free.
rust free trunk and frame, inner fenders.
New top with correct curved glass rear window. New carpet. New windshield. New backup bezels. New bumpers. Excellent original grills. 98% original interior upholstery – 2 seam repairs on the bottom of the driver's seat. Original PP1 red paint in engine compartment, door jams, and trunk. Now wrapped in graphic tribute to its British history.'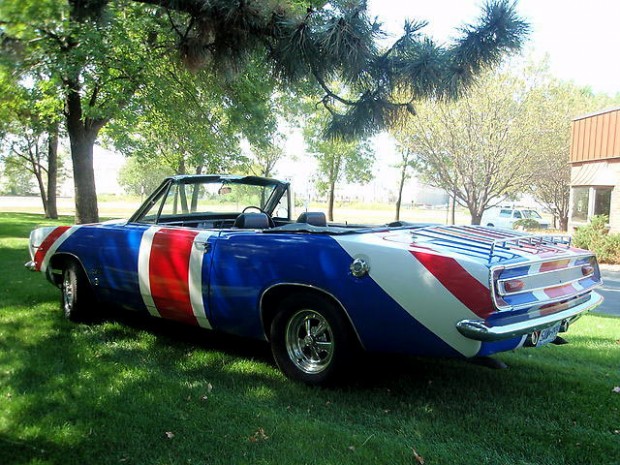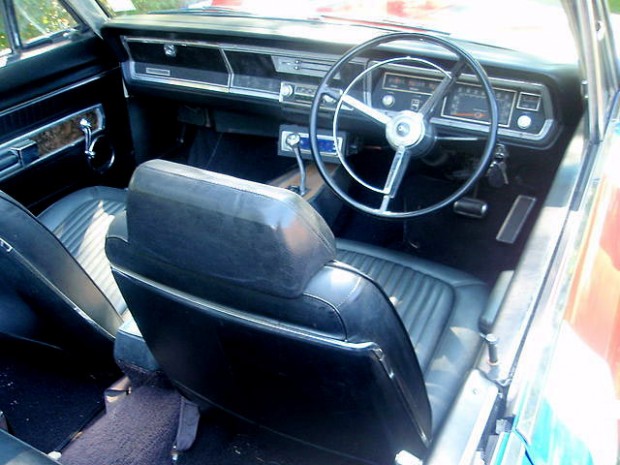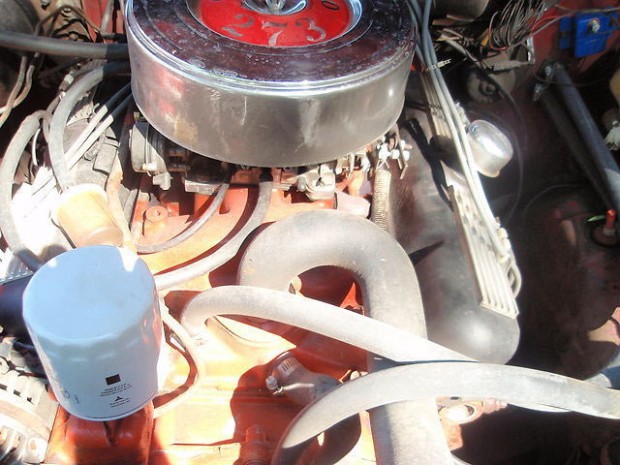 Buy Now On Ebay.
Click for More Muscle Cars For Sale – http://fastmusclecar.com/muscle-car-for-sale/
Donate To Fast Muscle Car
We spend a lot of time bringing you muscle car content. If you would like to donate something to help us keep going, that would be fantastic.