Best Muscle Cars
1961 Chevrolet Corvette Convertible Project Find
By
|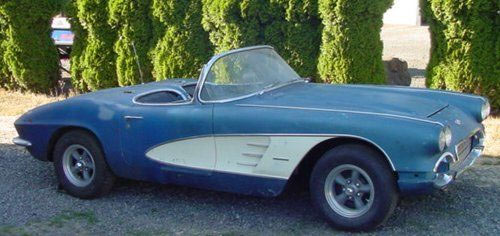 VIN : 10867S109430
Engine: 327/250HP with a Glide
Transmission: 4 speed
Mileage: 104,436
Price: $32,000.00
BUY NOW ON EBAY.
This 1961 Chevrolet Corvette Convertible has been sitting in a car port since 1978 and is now ready to be restored by its next owner. It clearly have some custom work done in the past, such as painted rims, but the rest of the vehicle seems quite solid.
The listing outlines some of the parts that are currently missing and says that the car was originally red and has been painted a few times over the years. The engine itself doesn't run currently, with only the top end of the engine being original – Casting #3782870 , Date L-28-1 (Dec.28th 1961). The engine is a bit of an anomaly with original engines being 283 V8s, so more details are needed here.
The interior as you would expect having been parked up for decades is a bit worse for wear, but still in reasonable condition for how it has being stored. The car is definitely interesting and worthy of a restoration especially with the seller noting quite a lot of details about the vehicle as below. It's not the cheapest 'Vette projects vehicle, but in fully restored state has a load of potential.
Original ad. text –
'Was originally Silver with Red int. factory Dual Quad, two top Car!
This Corvette has been sitting SINCE 1978! Will need anything and everything a car needing a FULL RESTORATION may or may not need!
I do not know a ton about the car, I just bought it from a friend of mine in the Seattle Wa. area. Here is the little history that I got: My friend in the seattle area found this 1961 Corvette sitting under a open sided car port in the general seattle area, factory hardtop and air cleaner was stolen while owner was at work.Was told that the corvette was needing some repairs and it was parked in the carport in 1978, it sat there until 2016-ish.
Anyway, I bought it from my friend around March of this year (2017). Here are a few things I have observed, no front bumpers or front bumper brackets, no grill bar, no jack or jack handle, no spare tire or spare tire board, etc. etc.
look closely at the pictures, basically what you see in the pictures is what you are going to receive. Looks to have only been painted just once, blue now, was SILVER, Mostly black interior (black dyed) was originally RED.
The Coves, now white or ivory appear to have been painted a god awful "heavy metalic Gold" at one time (must have been beautiful! not), but there are NO other signs of that anywhere else on the car. Car is not a virgin as it has a ONE PIECE fiberglass frontend on it, probably installed in the mid 1970's.
I was told that the short block was replace back early in its life (engine does NOT RUN and will NOT turn over by hand & carbs are locked up. (No you can NOT drive it home!) The short block numbers are : Casting #3782870 , Date L-28-1 (Dec.28th 1961)(a early small journal 1962 327 V8), Front pad stamped F0104S (F=Flint, 01=Jan, 04=4th, S=1962 327-250HP with a Glide.). Was told all the top end stuff is supposed to original to the car, has double hump fueler heads, and dual quads.
I personally have not check the top end numbers but it definately has been on there for a LONG TIME. Like I said before car has been sitting since 1978. When I got the car the hood was not attached and was missing some hardware. I bought a new hood release cable and a pair of hood hinges and installed the hood so it would latch for travel/shipping, no hood support. Has all glass, door windows roll up and down, Windshield is cracked!
The frame seams sound, even the rear cross member (they are almost always rusted through in spots) (I took pics of the rear cross member, before I cleaned a area and after I cleaned) frame seams to be very solid! Bolts are scaly and a lot of them will probably need to be cut off or will break off. There is surface rust on almost everything because of the moisture in the air in the seattle area. Top bows seam to be solid, rag is toast. Rag Top HAS NOT BEEN UP SINCE 1978! '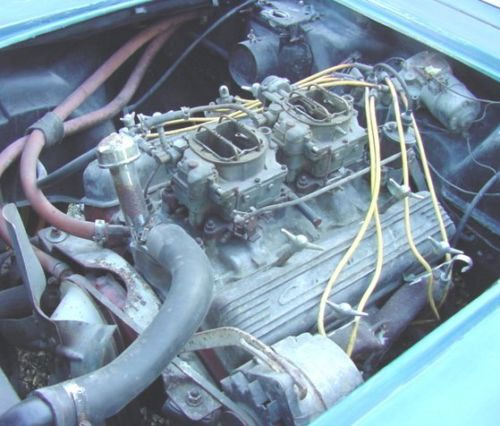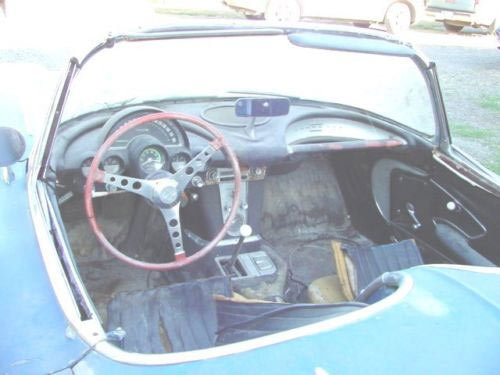 BUY NOW ON EBAY.
More Muscle Cars For Sale – http://fastmusclecar.com/muscle-car-for-sale/
Donate To Fast Muscle Car
We spend a lot of time bringing you muscle car content. If you would like to donate something to help us keep going, that would be fantastic.