Muscle Cars
The Lincoln Mark III: Just A Bit Of Luxury?
By
|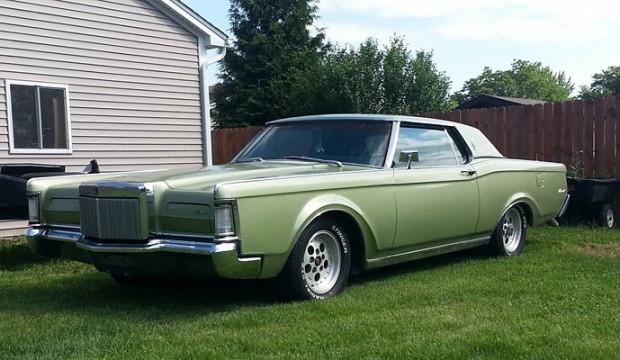 By Mark Weisseg
Here is a classic car I always liked and it is not because of the name, although there is a connection.
These cars were made in the two door and four door version and came with a huge 460 V8 engine and of course a C6 transmission. It was a luxury car not a muscle car.
I guess who ever added the mag wheels to this car wants to believe it is a muscle car but, it isn't.
What the car is or was is a competitor to the Caddy. Those two went at it all the time trying to out do one another. Cadillac was and is a completely different car company. They are no longer trying to get the rich old men or the elderly blue haired women to buy their cars.
Let's focus on the Lincoln. The name and brand has been around it seems forever and right now the brand is hanging on for dear life. Sales are flat and the new 2017 Lincoln might be the last hope for the brand or Ford might call it a day.
I have seen the spy photos of the new Lincoln and it looks amazingly cool. But, the competition in that class is cut throat.
Cars that we never gave notice too are in that arena now trying like mad to get you to buy there fast, luxury cars. Did I say Fast luxury car? You bet I did and that is against everything we knew years ago.
The short history lesson here is cars were produced and sold in classes. Compact, mid size, large, and luxury. If you wanted that luxury car the list generally was Cadillac, Lincoln, Mercedes, and possibly a large Oldsmobile or Buick.
Buick and Pontiac are history now and Cadillac still is luxury where you can buy one off the showroom floor with over 600 hp. Mercedes has there luxury models and also have high horsepower. Lincoln is re-tooling and will bring back the Continental name. The car will be full of luxury items but again have a very fast, muscle car like engine.
It used to be if your Caddy had the 500 cubic inch engine the actual horsepower might have been 225. Same with the Lincoln and the 460 cubic inch engine. Big numbers but low horsepower.
When you stood on the gas pedal you could expect nearly nothing but a slow wind up engine. Today, these luxury cars have amazing speed and agility. They are not geared toward the old fogie guy anymore.
They want that middle aged guy or gal that wants luxury at its finest and the ponies to back it up. Such an amazing change from what we see in our picture.
I owned a 1974 Lincoln Town Car four door. The car must have been 23 feet long or so and when you ride in the back seat the driver seemed like he or she was in another vehicle. Everything was huge and the car was a land yacht of all land yachts. Today and in 2017 please go look at the new Lincoln and you will not even have a clue what the car was at one time.
If sales don't pick up in a few years expect Lincoln to go the way of Mercury and I for one, would be sorry to see such a classic just go away.
What a history and what an interesting story.
For all muscle car parts – http://fastmusclecar.com/muscle-car-parts/
Donate To Fast Muscle Car
We spend a lot of time bringing you muscle car content. If you would like to donate something to help us keep going, that would be fantastic.