Muscle Cars
Fifth Gear's Ford Mustang GT And Chevy Camaro Comparison
By
|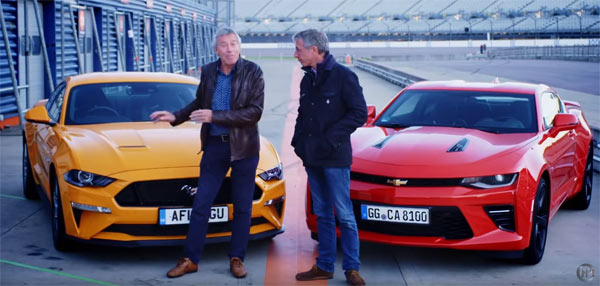 By Dave Ashton
The Ford Mustang and Chevrolet Camaro have been scrapping it out for the title of 'who's the best pony car' since BC times or 'before carburettors,'(sorry, couldn't resist). Both vehicles have seen the automotive landscape change many times over the years, but they both still have a basic formula that simply works in the American V8. But what do the Europeans think of these two vehicles, especially when the rivalry and history of both cars doesn't really count as much over there.
The Ford Mustang GT is widely available in all European countries and even comes with the steering wheel on the other side. The Camaro on the other hand is only available in certain markets.
In this video FifthGear and motoring Svengali Tiff Needell gives an overview of a 2018 Mustang GT with a 5 litre V8 engine putting out 450HP and 0-62mph in 4.2 seconds. The Chevy Camaro has a 6 litre V8 with 453HP and a 0-62mph time of 4.4 seconds. The idea here is to see which will suit European roads and drivers the best.
Both vehicles are now imported into the UK with full manufacturing warranty, meaning that they are a viable choice against the likes of the Porsche 911 Carrara. However, as mentioned at the beginning of the video, both the Mustang and Camaro still carry the historical baggage of being optimised for straight lines and don't have the suspension setup for the more winding roads of Europe. Therefore, in many ways this video isn't just a side-by-side comparison, but dispelling some of the myths associated with modern pony/muscle cars. Basically, why the test is performed around a track and a short slalom course.
The Mustang GT has the optional adaptive suspension, while the Camaro sticks to its basic setup in the video. Both vehicles 'handle surprisingly well' and are 'fast, sexy, good-to-drive vehicles with not much white space between them.' The other good news is just like stateside, you get a lot of horsepower for your money. The Mustang GT comes in at £42,000($54,680) and the Camaro at £39,000($50,774), which for the same amount of power in a BMW M4 would cost you £20,000 more. Power, performance and value for money…..
There's never been a clear winner for which is the best pony car, which is one of the reasons why the comparisons and rivalry will probably go on forever. The good news is that the Europeans now have American V8s as viable, affordable alternatives to the rest of the performance car lineup and not just as one of those 'imports' with the steering wheel on the wrong side. It's definitely working as the Mustang has outsold the Porsche 911 in Germany. Doubly impressive if you think about it as the vehicles will be judged on current worth, rather than nostalgia and back history.
More Muscle Cars For Sale – http://fastmusclecar.com/muscle-car-for-sale/