Muscle Car
The Real Appeal Of Restoring a Classic Muscle Car
By
|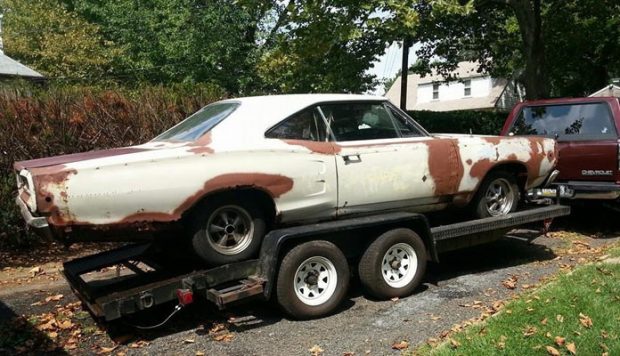 By Mark Weisseg
I really love when I see a fast muscle car on a trailer and it's going home and not to a bone yard. For example this classic hot rod appears that it has found a new home, again.
Clearly over the moons someone with great intent was working on the body to get it right. It's hard to beat rust, so generally today we replace panels. It's more expensive and much more work but it solves the crisis once and for all.
I cannot tell you how much body putty I slapped on cars over the years. This is the only solution in my book. Once it's done correctly it's done.
Everything regarding this car is available today on the aftermarket. All body panels, interiors, crate engines and even the smallest detail like a battery topper. No more half ass work unless it's your intention. Today if we find the car of our dreams we can make it like new again and I mean new again.
It will take more time and more money of course but the finished product will be miles ahead of what was the norm. The real hard part is staying focused in our hurry up world. So many distractions to pull you away. Once you get that issue licked, you must prepare to go over budget. I always do a budget. When the budget is done I add twenty five percent. That's the real world. Or, I am bad at budgeting.
I marvel at the quality of the work performed today. Years ago one could stand back and see waves in the body work or a paint job full of orange peel. Not anymore. We live in a weird time. Young men and women are not drawn to the hobby like us old folks.
We find ourselves at times out on an island by ourselves looking for the volleyball. Maybe it will skip a generation? I don't know but most of us are holding out hope that someone younger than us gets the fever before all of these wonderful cars are a distant memory. I dread to think someone thirty years from now would not have any interest in a Yenko Camaro. Gadzooks, that would really hurt.
More Muscle Cars For Sale – http://fastmusclecar.com/muscle-car-for-sale/
Donate To Fast Muscle Car
We spend a lot of time bringing you muscle car content. If you would like to donate something to help us keep going, that would be fantastic.