Muscle Car
The Ongoing Joys Of Restoring A Muscle Truck
By
|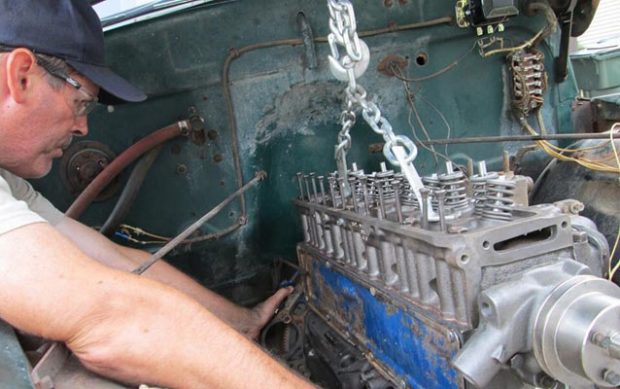 By Mark Weisseg
This weekend we were hard at work on my truck. At this point we had rolled the truck into the driveway and were ready for the big items. I was reinstalling the transmission that was heavy and hard to handle. On my back in the driveway I had removed this four speed box and now it was time to reinstall it. Only this time we slid the trans through the passenger side door and then I bolted her in place. I was the lucky one on my back installing the bolts praying we had this right. After that it was time to install the engine. My older brother shown in the picture was guiding everything into place.
Once dropped in, we had a problem of course. The front engine mount was not fitting correctly so we had to pull the engine back out. After discussing what to do we made adjustments to the rubber mount and got ready for another install.
The day had started about 8am and was in full force at this point. We were lucky as my oldest brother and his wife arrived to assist as well.
The three of us guys were scratching our heads and trying to get this install right the first time. My eldest brother's wife was there to feed us or we would have starved or fell over from exhaustion.
Finally, my two brothers started moving the engine hoist in place as I wiggled underneath to see how we were matching up again. It is very tense when you are at this stage and for me I was very nervous. Not because we were in a bad spot or anything of that nature. My brother shown here in the picture was the job boss and knew this procedure like the back of his hand.
I knew we were going to succeed at some point but we all wanted it right. Once my two brothers lowered the mighty 235 Chevrolet engine in place, I started installing bolts to match everything together. It took some wiggling and maneuvering of the engine hoist but, finally we heard that noise we all wanted to hear. The engine was in place.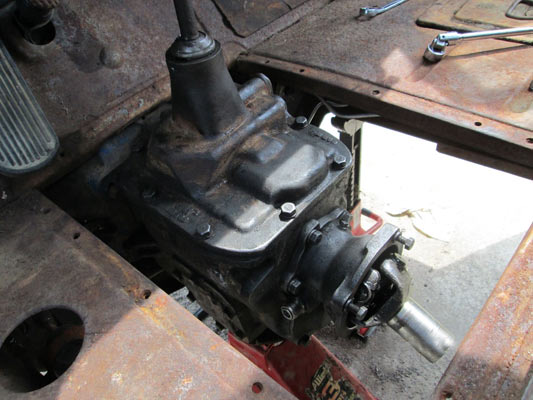 We bolted everything down and rolled the hoist away. Success! But, we were tired. It was a long, hard day but an important task was complete. Three brothers working to make an old truck live again is no easy task.
Also, I had a nephew who did my bench seat and another nephew work on the gas tank and other pieces. It was a great family project and the only big piece missing was our Father. He had passed away but he would have been a great cheerleader in this cause. This was a family affair but my older brother is the guy that pulled the biggest weight. I have over one thousand pictures of him rebuilding this truck.
Every item was detailed and photographed. I had bought an engine crane and a engine block holder. That led to a parts washer, a creeper, and many other items that are still at my brothers shop.
I think about this weekend a lot. It was the weekend when the big items were installed and readied for all the other items to be installed. The project was a big one and only succeeded because of my older brother. But as the day turned to night I can recall sitting on the couch completely exhausted. Everything in my body hurt. We were not youngsters anymore and this heavy duty work beats the daylights out of you. But, as I looked around I saw two brothers, and my sister in law and I realized how very lucky I was. There was so much to do yet and my budget had been passed months ago. I wanted the best products we could find for the truck and spent money like tomorrow did not matter. For those of you that have done these sort of projects you understand.
There were days of insecurity and doubt. This truck was a mess from day one and now we were ever so close. Still, we could not fire it that day as much more on the top side needed to be done. So, for all you guys out there who want to do a project I encourage you to do so. It's hard, yet you will learn a lot about yourself and the ones that assist you along the way. Best of luck.
More Muscle Cars For Sale – http://fastmusclecar.com/muscle-car-for-sale/
Donate To Fast Muscle Car
We spend a lot of time bringing you muscle car content. If you would like to donate something to help us keep going, that would be fantastic.