Muscle Car
The Cost Of Muscle Car Parts
By
|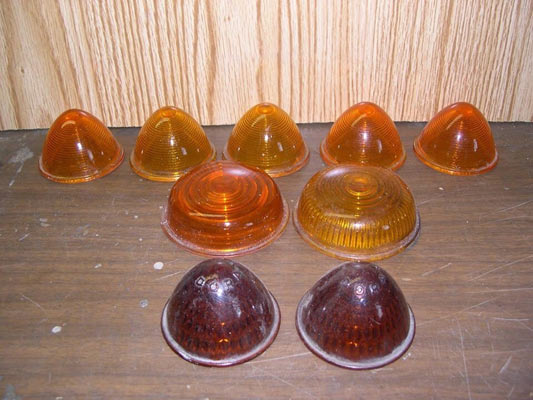 By Mark Weisseg
After numerous restorations and thousands of dollars spent restoring cars, I wanted to discuss with you the cost of part replacement.
When is it a good idea to buy a used part rather than brand new? Sure at times a used part acquired via the bone yard or a web listing is cheaper than a brand new replacement, but is it alright? I used these lenses as examples because they are used and as you can see they are a bit scratched up and worn. They are solid and they work but how picky are you?
If you are rebuilding a 36 Ford, or possibly a 67 Chevelle you may want to go NOS ( new , old, stock) or a reproduction without scratches and such. Certainly when you add up the final parts bill it will not matter if you spent sixteen thousand dollars on parts or 17,000 dollars on parts. It's all about the look and clarity if you are going to be judged professionally or just down at your local car show. I have used parts that were rebuilt or reproductions for years unless I feel the part provides the ultimate security or safety of my vehicle. I never get my cars judged so I lean toward reproductions. So the quality of your replacement parts really depends on your final goal for the vehicle. You really need to decide this point from the start.
Just remember, reproductions at times may not fit one hundred percent perfect everytime. We have seen that on doors, trunks, hoods, and more. Sometimes a small correction must be made or an adjustment to make it fit right. I will say when that happens it really ticks me off because the part is advertised as a reproduction, 100 percent true for your car and then you get it and the holes don't line up.
Certainly if you get your part from a bone yard you may need to spend time cleaning or re preparing the old part for usage but usually the time is well spent. But, reproduction parts can be very expensive for certain cars.
I have a 69 Road Runner and I needed a little plastic piece that runs from the top of the door to the far edge of the dash board. I had a heck of a time finding one. When I did I had to buy them in a pair and they came only in black. So, now this piece that is about one foot long shows up and I had to buy there special primer spray paint along with the B5blue spray paint. Total cost? Just over $200.00. That one hurt.
But, it matches and is correct and that is what I needed to make it right. I guess I could have continued the Internet search and hopefully found one but I had been trying for a few months at that point.
So, you make the call when you need the part. Can you live with a used part that you do not know any history of, or do you need to spring for the new one and let your wallet feel the pain?
All these decisions come down to the end goal of the car and obviously budget, the time when sourcing these parts is a lot easier than in the past.
You may want to check out our muscle car parts page for new or reproduction parts, but a stop off at the boneyard is always a wise idea, even if it is just to see some of the great sights.
More Muscle Cars For Sale – http://fastmusclecar.com/muscle-car-for-sale/
Donate To Fast Muscle Car
We spend a lot of time bringing you muscle car content. If you would like to donate something to help us keep going, that would be fantastic.