Muscle Cars
Barn Finds Are More Common Than You Think.
By
|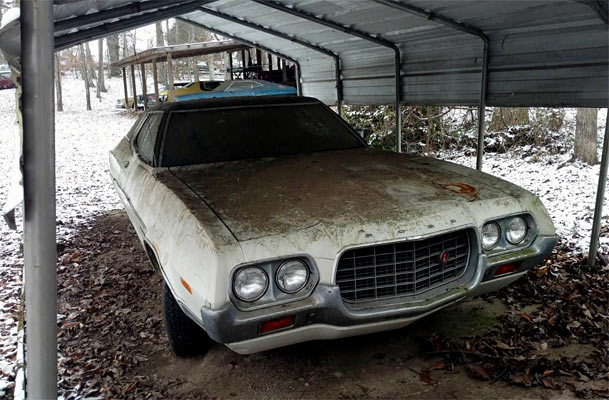 Mark Weisseg
I wanted to remind everyone that barn finds still exist in large numbers.
The issue is the worth of the find.
Usually, the seller wants way too much and thinks the car they have not touched in years is worth a kings ransom. Sometimes it is of course if you find the jewel in the pile, but, normally it's just another old car that someone put aside because they did not want to spend a lot of money to fix it when it broke.
How many garages have you driven by where there are piles of stuff piled on top of a broken car? That is what we live for afterall.
I teach everyone that rides with me to keep there head on a swivel. If you see anything, pull the cord and we will stop and take a look.
I, like you look for any type of car, truck or motorcycle to buy, but it is impossible to get everything. Not enough time or money to do it all. But, don't keep it a secret and not share the good find.
Remember, it's an asking price and nothing is set in stone. When you find this type of deal look around the surroundings. Not everyone is motivated completely by money.
Maybe you see the guy collects old signs, or other automobile items. Trades, barters, or sometimes some cash and some trade.
I had a guy once that wanted one of my old collector telephones. He tried to buy it for years and I would not sell it. Finally, I needed his body man to do some minor work on one of my cars.
My friend said he would take the phone and the money I owed would be minimal. I liked the deal because I have several other phones so one less would not hurt. You never know what kind of deal can be made.
I had a Nash Metropolitan at one time and I met a guy that wanted me to take an engine he had in his garage that was for a Metro.
He wanted to give it to me just to unload it. Sure enough a friend and I went over and picked up the engine to load it in my truck. Doing my head swivel thing I noticed this guy had a trailer, a boat and a Monte Carlo SS. But, the outside of his house was a wreck and he needed gutters and some other work to get things back in shape. I had no need for any of the other things, but I put it in my memory bank and kept his number as he was willing to trade some of his toys for some outside work around the house.
You never know so don't think it's always about cash. People have needs and at times do not know who to call or who to trust. It's a golden opportunity to work out a deal that benefits everyone.
So, keep barn finding and searching. I found two of my vehicles in the past few years that has brought me to people I normally would have never met.
A friend of mine just bought a Plymouth Superbird with very low miles, all through word of mouth. The seller needs money to pay his kids college tuition so everyone benefits.
Except the guy has to give up a Superbird. Man, that had to hurt.
For all muscle car parts – http://fastmusclecar.com/muscle-car-parts/
Donate To Fast Muscle Car
We spend a lot of time bringing you muscle car content. If you would like to donate something to help us keep going, that would be fantastic.
Barn Finds Are More Common Than You Think.

,