Muscle Cars
Some Muscle Cars Are Not What They Seem…
By
|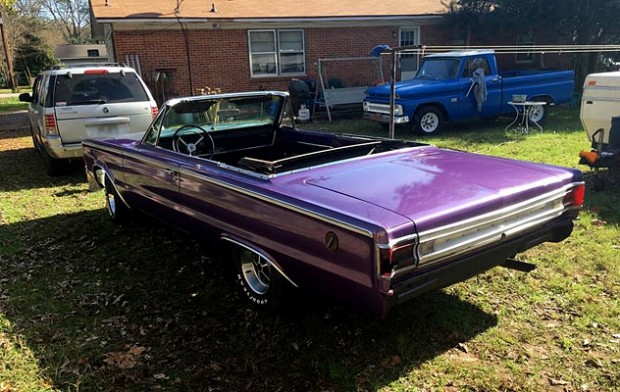 By Mark Weisseg
I looked at this picture at first with much excitement. First I thought this guy really has his you know what together.
I love the old Chevy truck in the yard and of course the Plum Crazy Plymouth GTX if it is a real GTX. I have a gut feeling it isn't but we will discuss that later.
First, the purple did not come on this car when new so the owner took some license with that. I admit I love the convertible look, never owned a true convertible, but came very close last year at Mecum.
The purple Plymouth here has some initial warning flags. Look at the exhaust pipe. There is only one and it sticks out way too far. That is a big yellow flag in that I doubt it had a big block engine. If it did you would see dual exhausts out the back. And, if someone has a car that is a drop top in this era you would hope they would either restore it correctly or leave it be.
I saw this Plymouth and imagined how nice it would be, but the yellow flags have me concerned. I hope that when you buy a classic car you do not rush in, drive it, walk around it, discuss price and drive it home.
Some things make sense while others you will need to ask hard questions and press the owner on why, or how, or when something was done.
I would sure hate to buy this and find out a few months later it is a fake or the car was poorly put back together. I am not here to pass judgement on anyone's lifestyle but when you go to look at what is supposed to be a special car, look at the surroundings. Is the house a dump? Are the ground kept up? How does the seller present himself? If you wheel in to buy a car that has an asking price of 45K and the house looks like it was bombed in World War Two be on guard. How did this guy swing to own this car when the house and grounds are awful. Just keep your guard up.
My purpose today is to ensure that when you look at a car and you get all excited to see it and hope to buy it that you keep your self in check. Again, look around. See everything you can and maybe you can walk around while talking. I use that technique as I want to see if there is anything else I am interested in there and it helps break the ice. Keep your ears open and as I stated before ask hard questions. Who, what, where, how, why, when are just beginner questions.
If you show the seller you know your stuff, he may tell you more than you can imagine. Check numbers, know where to look for numbers and bring dirty clothes so you can crawl around if need be.
Please, use your noodle and do the background work. Be sure it is not a flood car, a stolen car, a car that is misrepresented, and so on.
Remember, it's your money and he wants it.
For all muscle car parts – http://fastmusclecar.com/muscle-car-parts/
Donate To Fast Muscle Car
We spend a lot of time bringing you muscle car content. If you would like to donate something to help us keep going, that would be fantastic.
Some Muscle Cars Are Not What They Seem...

,