Classic Muscle Cars For Sale
Ford Mustang Restomod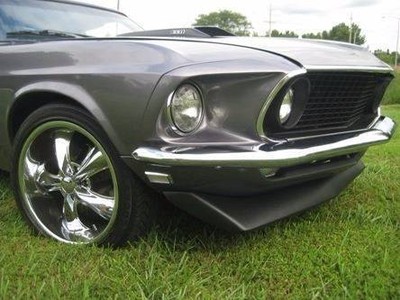 @@@7252973@@@
☎ Call or text "38769" to 816-293-2292 for more information
Vehicle Overview:
VIN:

9F02L1020761

Year:

1969

Exterior Color:

Black

Make:

Ford

Interior Color:

Black

Model:

Mustang

Mileage:

0

Engine:

V8 351

Transmission:

Automatic
Vehicle Description:
1969 Ford Mustang Fastback Anything you can say about this car is an understatement. Equipped with an extremely strong crate 351 Winsor that Dyno'ed 416RWHP believed to be nearly 500HP at the crank. LV2 AOD 1800 Stall 4 Speed Automatic transmission 18x8 Front Foose Wheels 18x9 Rear Foose Wheels Michelin Pilot Sports Pioneer DVD player (pops out of the dash when the car is turned on) We are confident this is one of the most amazing cars we will ever have the honor of owning. The genius that built this vehicle is a mechanical engineer and this has been his project and personal car, for nearly 30 years. Nearly every single nut and bolt was given attention in this amazing restoration and improvement. A shoebox full documentation and receipts. Very well executed six figure restoration, if outsourced entirely would be in excess of $250,000. watch?v=idZtOcK6kFU watch?v=UDQ12Ij8zeQ
Vehicle Warranty:
This vehicle is being sold as is, where is with no warranty, expressed written or implied. The seller shall not be responsible for the correct description, authenticity, genuineness, or defects herein, and makes no warranty in connection therewith. No allowance or set aside will be made on account of any incorrectness, imperfection, defect or damage. Any descriptions or representations are for identification purposes only and are not to be construed as a warranty of any type. It is the responsibility of the buyer to have thoroughly inspected the vehicle, and to have satisfied himself or herself as to the condition and value and to bid based upon that judgement solely. The seller shall and will make every reasonable effort to disclose any known defects associated with this vehicle at the buyer's request prior to the close of sale. Seller assumes no responsibility for any repairs regardless of any oral statements about the vehicle.
About Classic Auto Rod, LLC:
From here in the Midwest, proudly serving our customers from coast to coast! Honest cars transacted with fidelity, honor, integrity and ethics are the #1 priority. You have finally found the place where principals come before profit!
Terms and Conditions:
Payment Options
We accept the following payment methods:
- Cashier's Check/money order
- Loan check from eBay Financing Center
- Cash (in person)
- Personal check (once cleared)
Vehicle Pickup & Shipping
All shipping charges are buyer's responsibility.
General Terms
Congratulations on your decision to purchase a classic vehicle from Classic Auto Rod. Many believe that vintage motor vehicles from the 1950's through 1970's are enjoyable classics from a fun, bygone era. Many also believe that more modern domestic and foreign vehicles are instant classics too. Whichever vehicle you choose to purchase from CAR as a new or returning customer, we hope your experience exceeds your expectations.
Please feel free to inspect the vehicle, classic or otherwise, that you have decided to purchase. It is important to CAR that you inspect the classic vehicle that you have decided to purchase. We encourage you to even hire your own inspector to make an inspection of the vehicle that you are purchasing. If you choose to have an inspector visit our showroom to inspect a vehicle that you are interested in acquiring, we will make every effort to make that vehicle available for inspection at our showroom. These motor vehicles may come from a vintage time period. Chances are, some classics do not drive as smoothly or with the same level of comforts, conveniences or reliability as a new car. However, that can be part of the charm of owning one of these cars. The vehicle that you have chosen to purchase is sold "As-Is" and in its present state of preservation unless CAR agrees in writing to perform specific repairs or improvements. No implied warranty of merchantability or fitness for a particular purpose is given. That's why we encourage you to examine the vehicle to ensure your satisfaction before you purchase your automobile.
Originality Disclaimers: CAR is not the original owner of the vehicle that you are purchasing, so we cannot be certain as to the original options and appearance of this vehicle when it left the factory and delivered to the original selling dealer. Nor can we be certain how this vehicle may have been changed or modified after it left the manufacturer until now. CAR will always show good faith and fair dealing when describing this vehicle. We have made an honest attempt to accurately describe the year, make, model and even some possible options of this vehicle. While we are happy that you choose to examine the vehicle yourself or through your own qualified inspector, CAR cannot and does not guaranty that the engine, transmission, differential, frame or other coded components, colors and finishes or countless other elements are truly original to the classic vehicle that you have agreed to purchase. Much can happen to a vehicle from the time it was purchased by its "original" owner.
The vehicle described in this listing is being sold to you in "AS-IS" and "with all faults" condition, and CAR hereby expressly disclaims all warranties, either express or implied, including any warranty of merchantability or fitness for a particular purpose, and neither assumes nor authorizes any other person to assume for it any liability in connection with the sale of this vehicle.
CAR does not engage in or condone the alteration of a vehicle's odometer reading. However, CAR will not investigate whether a classic or modern vehicle has had its odometer reading altered, or whether such reading is accurate. When CAR acquired the vehicle that you are purchasing, CAR relied on the odometer disclosure provided by the seller. Purchaser understands that CAR has had no control over what may have been done to the odometer by previous owners. CAR will provide the name and other identifiers of the individual or entity from whom CAR purchased the vehicle and to provide purchaser with information as to how he/she may contact the previous owner/s as known by CAR if Purchaser so chooses, and to ascertain from the Department of Revenue the mileage shown on the odometer on any previous transactions concerning the vehicle. CAR may not conduct a search of owners prior to the owner who sold the vehicle to CAR.
CAR may require Purchaser to provide evidence of insurance satisfatory to CAR before CAR will release vehicle to Seller or Seller's agent.
Vehicle must be paid for in full within 3 days of auction end.
Bank Wire shall be the only acceptable means of payment unless specifically agreed to by CAR.
Fees and Taxes
Purchaser shall pay any and all postal/currier charges if applicable, sales taxes and or fees including but not limited to the issuance of any temporary plates and or regulatory fees.
☎ Call or text "38769" to 816-293-2292 for more information
Current Bid : $99950.0
Our classic muscle cars for sale section lists our daily finds of the best muscle cars for sale on line. Just select the make and find your ultimate ride!
Which muscle car is right for you?
There are many reasons why you may want to invest in a muscle car. It could be a vehicle you wanted since childhood, or simply an investment, but with so many cars on the second-hand market, its best to define a few criteria before you start your hunt.
A regular driver or once in a while.
With any classic car, the more miles you put on the clock the more it will potentially depreciate. However, unless it's an expensive investment, these cars are made to be driven so decide which one you want first. A trailer queen is usually just a showpiece, while grocery getters are arguably regular drivers. You may want to show your car in the future at a car show or cruise. If you have this in mind, you will need to spend more money on the vehicle, a restoration or both. Usually, this means spending more than your average runaround.
Do you have the restoration skills?
Because we are dealing with older technology, even the best kept classic will need constant maintenance. If you're going down the restoration route you will need time, money and skill. Like most things in life, you can't do it yourself, you have to pay somebody else to do the work for you. Be honest with yourself from the beginning about this point as it could cost you in the long run. when you are deciding your budget to spend, try to factory in the cost of repair and car parts. You can find links to many classic car part vendors on our car parts page.
Budget
like it or not, your budget and finances will ultimately dictate what type of vehicle you eventually purchase and how much work you can perform on it long-term. Be realistic with a round figure and short list some potential vehicles you like. There's no point wanting a 1969 Dodge Charger R/T 440 with a rare color if you only have the financial resources to buy a mid-70s body shell. Setting a budget is very important as buying one of these vehicles is largely based on emotion with some people buying their dream car without any thought of how much the ongoing costs will be. If possible, take a step back and do some rough calculations. There's no point in buying what is your dream vehicle to get disillusioned in 12 months because costs spiraled out of control. It's much better to save for much longer, than jump in with both feet.
Know your Chevy's from your Mopars
You don't need to know every intricate detail about every make and model, but it's an idea after shortlisting a few makes and models to note what makes them individual for their particular year. Some makes and models differ hugely from one year to the next, while others only have subtle changes. For example, a 1970 Plymouth Barracuda has single headlights, while the 1971 model has dual headlights. You can find a lot of these answers on our website.
Vehicle that are easy to restore, still reasonably priced, with lots of parts available include Dodge Darts, basic Camaros, Mustangs and Chevy Novas. This may change over time, but they do make a good starting point.
Under $10,000
We are at the stage where you can't really buy that much for under $10,000, but there are still some examples out there. An early 2000 Camaro SS with higher mileage can still be bought for under $10,000. You could also include a 1980s Camaro Iroc z. You could possibly also pick up a 1968 Ford Mustang in basic condition, but for under $10,000 you are really stretching things a bit these days.
Under $20,000
As previously mentioned, you can buy a Chevy Nova SS in reasonable condition for just under $20,000. These are solid and simple to work on cars.
Oldsmobile and Mercury's give you a lot for your money at this price point, like a 1969 Oldsmobile Cutlass or even a late 60s Mercury Cougar. At this price point your in the realms of buying vehicles that can be restored, but just like completed vehicles the rarer the make and model, the more you will have to pay. You can also get some reasonable vehicles past 1972, but they don't have the kudos or value of their late 60s and early 70s versions.
Under $30,000
Like other vehicles the more you spend, the more options you have and the better the completed vehicle. You can get a nice 71 Mustang or Camaro in excellent condition or the start of some of the more premium years, such as 1969 models. If you want something like a 1970 Hemi Cuda, we have seen them for as low as $55,000 , but you'll be looking at more like $100,000. A 1969 Plymouth Roadrunner with average mileage can be got for just under $30,000, but it will require some work. 69 Road Runner muscle cars for sale in show condition will be more like a high $50,000.
Insurance
Car insurance is also a factor when it comes to owning a classic. We can't give any specific recommendations, but the likes of Hagerty, Heacock Classic and Grundy are three common insurers. Always make sure that muscle car insurance is one of their offerings and they are knowledgeable about these vehicles.  Questions to ask them are do they  offer agreed value or stated value coverage, do they require professional appraisal, do you have to provide images of the vehicle, are there liability limits, are there mileage limitations, do modifications to the vehicle affect insurance coverage, are there storage restrictions, are there driver restrictions, do they offer roadside assistance, are there any good driver discounts, how are claims submitted and can they provide references specifically for classic insurance. Insurers that are knowledgeable about these areas are the better ones to go for.
Classic Design, New Parts
You could also consider a resto mod which is essentially a classic body with modern parts. They will give you more peace of mind in theory when it comes to the mechanics of the car – new engine, better brakes and suspension. To buy a good example will probably cost you near $50,000, but we have seen examples like a 1966 Mustang with a 302ci 5.0 liter EFI for just under $30,000. You also have the option yourself of buying a donor vehicle and dropping in a crate engine with upgraded parts, but this route can become costly in the long run, especially if you have outsource all the work. Custom tuners and mod shops makes some fantastic restomods with lots of custom features, but the end cost is usually for the person who has the budget to specify exactly what they want from a car.
Each year that goes by the classics go up more in value. A 1969 Dodge Charger R/T with original powertrain in top-notch condition can cost at the beginning of 2017 anything from low $60,000 and upwards. if you want something like a 1971, Plymouth Barracuda, these can range from anything from hi $40,000 to name your price, depending on the rarity of the options. Some of the most rare optioned muscle cars are now stretching to the million-dollar mark and above. This is one of the reasons why all these vehicles from the late 60s to the very early 70s are now jumping up in price each year. A 1971 Hemi Cuda Convertible 4-Speed sold for $3.5 Million at Mecum in 2014 and a 1970 Chevrolet Chevelle SS 427 LS6 for $1.15 Million in 2013 also at Mecum auctions. These are the rarest of the bunch with the rarest options, but it does give you an idea of where the market is heading.
A good resource for finding muscle cars for sale and the current value of vehicles is Hagerty which can give you a rough idea of the value of different makes and models. Then it's a case of just keeping your eye on the listings for a short while to get a handle on current prices. Just like with other vehicles, dealers will cost you more, but you have more peace of mind if anything goes wrong. Private sellers allegedly have cheaper prices, but you have to be far more knowledgeable with what you are looking at, especially with these classic vehicles.
If you are buying a Ford then a vehicle that comes with a Marti Report will give it much more worth to its credibility and originality. For Mopars a Galen Govier recommendation is also a good sign. Broadcast sheets, back history and any other type of paperwork will also add credibility to a vehicle. Ask for the Fender tags, VIN numbers and build records. The more information a seller provides the better.




Classic Muscle Cars For Sale

,