Best Muscle Cars
The World's Weirdest Car Cultures
By
|
For every mainstream following, there will always be offshoot groups who want to do their own individual thing, their own way.
Car culture is just the same and here we have some of the more unique subsets from the wonderful world of automobiles.
Looking from the outside in, these things at first seem like monstrosities, but for the people concerned, their cars are their pride and joy.
Read and behold what we have been missing out on…………
Donks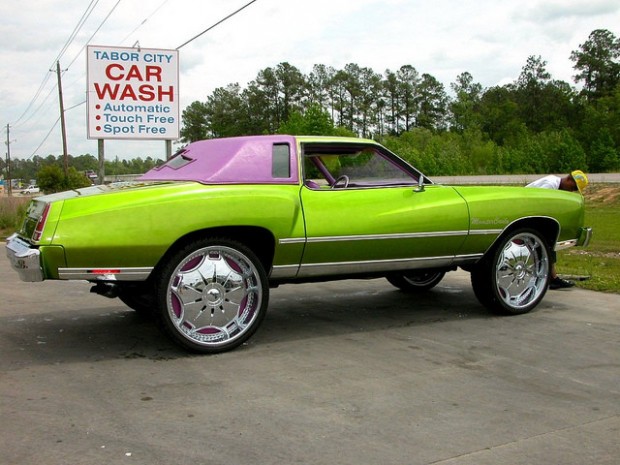 This species of car is also known as high-rises, boxes or bubbles, identified by oversized wheels and the brightest plumage you will ever see.
Started as a show of 'bigger is better' and wealth, the cars in question soon turned into overly sized beasts.
Loud, deep bass is only allowed to be played in these vehicles.
Raggare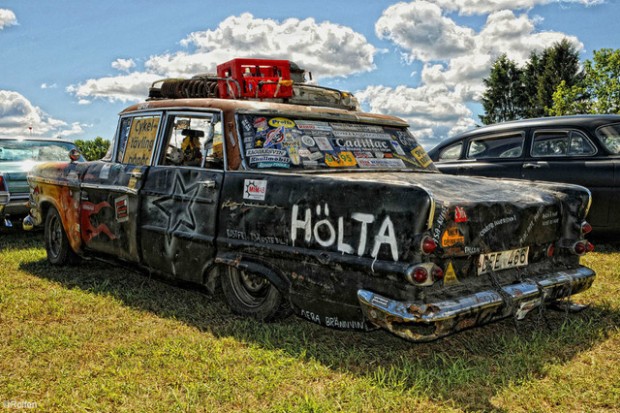 Started in the 50s as greaser culture went to Scandinavia, Raggare is about ratty muscle cars, good old times and lots of mad decals.
You don't even have to have a muscle car, add grunt to any old car, get the look and you maybe accepted.
Spinners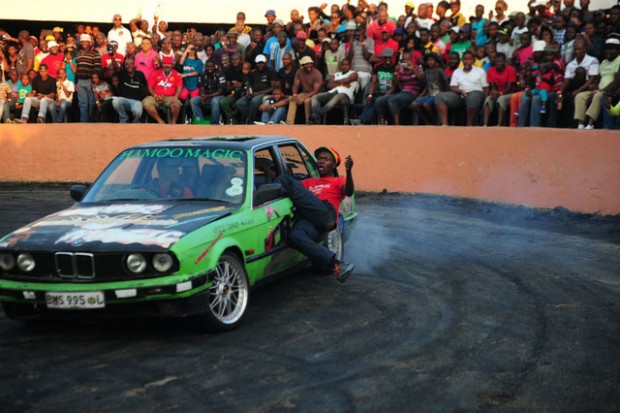 Some like to drift or do burnouts, some like to risk death during their car performances.
Spinning started in the 90s as a gangster ritual in South Africa. When a local gangster was killed his friend would steal a car, drift around the funeral then set it ablaze like a Viking ship, as a mark of respect.
The idea is to spin the car then the driver will get out and do all kinds of showmanship while the car is driverless.
For the best at this, it is truly a sight to behold!
Bosozoku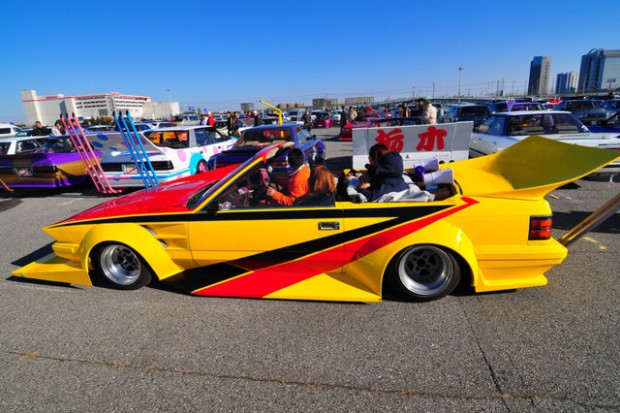 Bosozoku means 'running out of control', a Japanese car pass time originating from gang culture.
The idea is to strap onto the car the most extreme kit which will include huge exhaust pipes, the brightest of paint jobs, huge wheel arches and anything else they can think of to make their cars stand out in their own unique style.
Pig n' Ford racing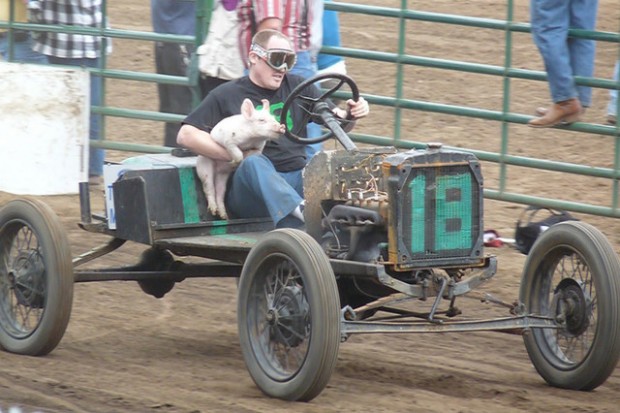 Yep, literally that.
Ingredients:
1 x pig.
1 x Ford.
1 x crowd.
Started at the Tillamook County Fair in Oregon over 90 years ago by two local farmers who were chasing a little piggy in their Ford and decided that it was so much fun, they would hold it at the next county fair.
Competitors must run around the track for one lap, pick up a pig then drive for another lap. The racer who completes three full laps without any pig dropping, is the lord of all they survey.
Could we have some GT500's and GT40s in this please?
Swamp Buggy Racing
These are possibly the maddest looking machines you will ever see.
Huge, self built, water dwelling machines, which have to navigate around a waterlogged oval circuit with submerged ditches.
Rock Bouncing
If you want to see vehicles that can climb up any vertical, this is the sport for you.
The ability to go up any incline, the rockier and more dangerous the better, is the name of the game.
Sand Drag Racing
What do you get when you take a 7000 horsepower funny car, add some dirt paddles, then throw it down a 300 foot sand drenched track? Sand Drag Racing.
Extreme speed and power on the worst surface ever, what's not to enjoy.
Trailer Racing
Now we're talking….
With a seemingly total disregard for any type of health and safety, trailer racing looks like the most fun event to watch or even be in.
The idea is to take one car and one trailer and somehow make it round the track in sort of one-piece by the end of the race.
I think I have just become a new signed up member…………..
Source – https://www.carkeys.co.uk/news/meet-the-world-s-weirdest-car-cultures
Source – http://www.roadandtrack.com/car-culture/a7195/the-10-weirdest-motorsports-on-the-planet/
Click for More Muscle Cars For Sale – http://fastmusclecar.com/muscle-car-for-sale/
Donate To Fast Muscle Car
We spend a lot of time bringing you muscle car content. If you would like to donate something to help us keep going, that would be fantastic.