Muscle Cars
The Fastest Muscle Car Engines Of All Time.
By
|
The Fastest Muscle Car Engines Of All Time.
Update: The list below now features the stats. of the the fastest 'Muscle car' engines as tested a the time of production.
As you can see, not bad stats. for late 60s, early 70s cars!
The debate will always rage over which is the best or fastest engine from the era of muscle cars.
Most engine specs were underrated by manufacturers at the time to keep a low profile and to keep insurance agents guessing for how much they could charge.
Each manufacturer had their own vision for their engines, if it was horse power(ultimate speed) or torque(how quick they could accelerate), each produced engines that are still popular today.
Ford and Mercury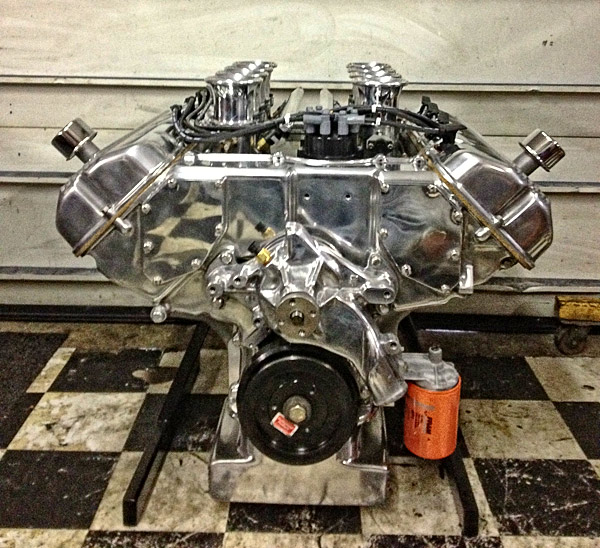 1965 – 427 Cammer.
The idea of the Ford 427 Cammer was to take on the hemi engine from Chrysler.
The 427 Cammer had newly designed heads and hemisphere combustion Chambers, overhead camshafts per cylinder bank, single four barrel carburettor giving 416 brake horsepower/7500rpm, with the dual four barrel – 657 brake horsepower/7500rpm, 550 lb-ft.
The engine wasn't available to the public, but mostly for drag racers, which ultimately sealed its demise after 1965.
The 428 Cobra Jet was released on the 1st April, 1968. based on the standard 4 to 8, including larger valve heads and 427 intake manifold, ram air induction and hood scoop.
Official power was rated at 335hp, but reality was around 410hp. the engine was tested at the time by hot Rod magazine and found to have 0-60 in 5.9 seconds, and a 1/4 mile time of 13.56 seconds @ 106.64 mph.
Three versions were available – and non-Ram Air version and Ram Air version with shaker hood scoop.
The Super Cobra Jet  came with a drag pack option – shaker hood scoop, modified crankshaft, better connecting rods, 3.91:1 or 4.30:1 rear axles and an external oil cooler.
The 428 was replaced in 1970 by the 429 Cobra Jet engine, which had 370 brake horsepower, with this super Cobra Jet option having 11.3:1 compression and 375bhp.
1971 would be the last of the Cobra Jet engines.
1968-1969: 428 Cobra Jet V8 335bhp@5400rpm (est. 410bhp), 440lb-ft@3400rpm.
1970: 429 Cobra Jet V8 370bhp. 429 Super Cobra Jet V8 375bhp.
1971: 429 Cobra Jet V8 370bhp. 429 Super Cobra Jet V8 375bhp, 450lb-ft.
Fitted on Ford Mustangs from 1968 to 1971.
General Motors
In 1961, Chevrolet introduced the 409, a response to Fords 390cid engine. Its 360 bhp @ 5800 rpm, 409 lb-ft @ 3600 rpm, had 11.25 compression, four barrel carburettor and wedge shaped combustion chambers.
In 1962 new cylinder heads and camshaft were installed – 380hp. (1x4bbl): 380 bhp. (2×4 bbl): 409 bhp.
The topline 409 had a Carter AFB four barrel carb., lightweight valve train and 409 hp.
In 1963, the 409 was given a solid lifters, single 4bbl carb @ 400bhp, with 2x4bbl carb @ 425bhp. 340 bhp, 430 lb-ft @ 3200 rpm. 400 bhp. (2×4 bbl): 425 bhp.
1965 saw the last of the 409 engines, to be replaced by the 396 engine.
Installation:
1961 Chevrolet Impala SS.
1962-1965 Chevrolet Impala, Bel Air.
1962-1963 – Pontiac 421 Super Duty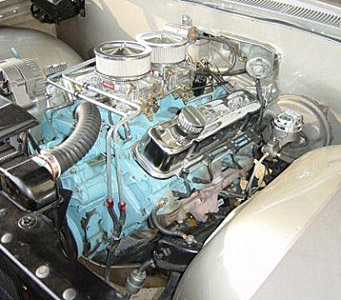 In the early 1960s, Pontiac offered many options under ' Super Duty.'
The 421 V8 to meet new NHRA rules, was an expensive, limited option on fullsize Pontiacs. Fewer than 180 were built for 1962, mostly in Catalinas, with about 16 in the the Grand Prix. The 1962 Super Duty 421 was rumored to be around 460 bhp,
SD 421 405 bhp @ 5600 rpm, 425 lb-ft @ 4400 rpm.
1963, 3 different tuned engines –  12.0:1, 6400 rpm, single four barrel carb at 390 bhp, drag strip version – dual four barrel underrated at 405 bhp. Aluminum exhaust manifolds standard.
A second drag strip version – dual four barrel carb, 13.0:1 compression ratio, 410 bhp.
1962 Pontiac Catalina: Less than 180. 1962 Pontiac Grand Prix: 16.
1963 Pontiacs and Catalinas.

In 1967 a Z/28 option was introdued to the Camaro. The engine was designed for the Club of America Trans Am racing series which had a 305ci limit.
The 302 small block had the 302 block with a short stroke 283 crank. Rated at 290bhp, actual was around 360-400bhp, 427 V8 430bhp@5200rpm, 450lb-ft@4400rpm and worked best at 7500rpm.
1967 Chevrolet Camaro Z/28: 602.
1968 Chevrolet Camaro Z/28: 7,199.
1969 Chevrolet Camaro Z/28: 19,014.
1969 – Chevrolet 427 ZL1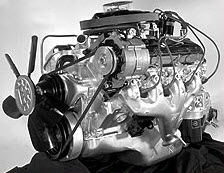 Based on the Chevrolet 427 engine, aluminum heads (a first for Chevrolet).
Chevrolet needed to install 50 engines to qualify the ZL1 Camaro for racing and to be fully street legal.
With headers and slicks, they could turn 11.6s @ 122mph, 430bhp@5200rpm, 450lb-ft@4400rpm.
1966-1969     L36     4-barrel                                          10.25:1     390 hp
1966-1969     L72     4-barrel+solid-lifters                   11.00:1     425 hp
1967-1969     L68     L36 with 3×2-barrel carbs.         10.25:1     400 hp
1967-1969     L71     L72 with 3X2 barrel carbs.          11.00:1     435 hp
1967-1969     L89     L71 + aluminum heads;              11.00:1     435 hp
1967-1969     L88     Racing-spec cam,                         12.50:1     430 hp
1969-1969     ZL1     Ali. block with open chamber    12.00:1     430 hp
1970-1977(?) ZLX     L88-ZL1 hybrid                           12.25:1     430 hp
1969 Chevrolet Camaros: 69.
1969 Chevrolet Corvettes: 2.

1970 – Chevrolet 454 LS6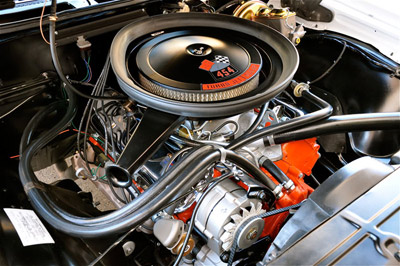 In 1970 General Motors lifted its ban on engines larger than 400cid. Chevrolet did the same and produce the 454cid, the LS5 and LS6.
The LS6 had the LS5 block with 800-cfm holley 4 barrel and 11.25:1 compression, 450bhp@5600rpm, 500lb-ft@3600rpm.
The engine was phased out in 1971 when GM switch to unleaded fuel.
Other features included solid lifters, four-bolt mains, forged steel crank and connecting rods, forged aluminum pistons, and deep-groove accessory pullies.
1970 Chevrolet Chevelle SS454
1970 Chevrolet El Camino SS454

1968-1973 – Buick 400/455 Stage 1.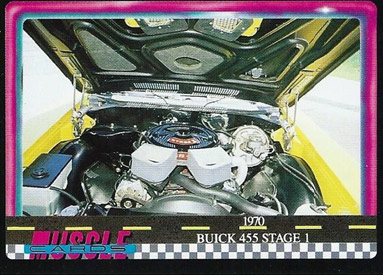 In 1968 the 400 cid engine was given a hotter cam, 11.0:1 compression, better valve springs and an upgraded transmission.
Called the 'Stage 1 Special Package' – 1968-1969: 400 Stage 1 V8 345bhp@5800rpm, 440lb-ft@3200rpm. The rarer Stage 2 boosted output to 360bhp.
1970 saw the 455 ci in its GS model, with bigger valves, better cam, colder air induction through hood scoops. 455 Stage 1 V8 360bhp@4600rpm, 510lb-ft@2800rpm, the highest torque apart from Cadillac's 472 and 500 cid V-8s. the most powerful Buick ever built.
1971 was the beginning of the end of the musclecar era and government regulations on insurance and gasoline meant a drop in compression ratios and power. 455 Stage 1 V8 345bhp@5000rpm, 460lb-ft@3000rpm.
1972 engines had to be rated with all the accessories in place. 455 Stage 1 V8 270 bhp@4400rpm, 390 lb-ft@3000rpm (net).
1973 the 455 Stage 1 was still one of the most powerful engines. it came with standard Posi-Traction limited slip rear end, Upgraded camshaft carburettor. 455 Stage 1 V8 270 bhp@4400rpm, 390 lb-ft@3000rpm (net).

1973-1974 – Pontiac 455 Super Duty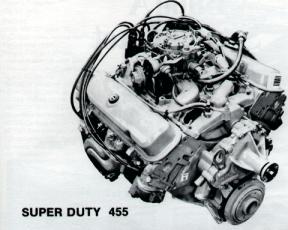 1973 was the introduction of Pontiacs high performance, race ready, hand assembled engine. It had a reinforced what, special camshaft, aluminium pistons and rated at 310 bhp @ 4000 rpm, 390 lb-ft @ 3600 rpm, but more around 370 bhp.
These were expensive to make and thus were phased out by 1974.
1973 Pontiac Firebird Formula 455: 43. 1973 Pontiac Firebird Trans Am: 252 made.
1974 Pontiac Firebird: 943 made.
MOPAR
1962-1965 – 426 Max Wedge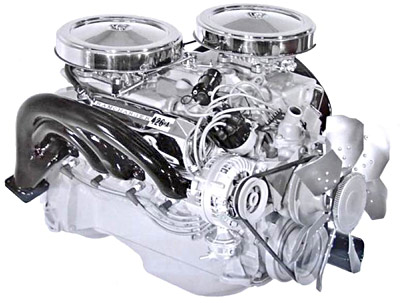 The 426 max wedge was introduced in 1962 on the top-of-the-line Chrysler models, but not in Dodges or Plymouths.
Originally, not the most high-performance engine, but in 1963 426 max wedge stageII change this, with a larger bore of 4.25 inches, resulting in 426 ci.
1963: (Max Wedge – 11.0:1) 415 bhp @ 5600 rpm, 470 lb-ft @ 4400 rpm. (Max Wedge – 13.5:1) 425 bhp @ 5600 rpm, 480 lb-ft @ 4400 rpm. This year it was offered in Plymouths as the 'superstock 426' Banning dodges of the 42 RamCharger. apart from the superstock having a black, 7 blade fan and the Dodge, a chrome 4 blade fan, the engines were the same.
1964: Chrysler introduced the 426 Max Wedge Stage III.(Street Wedge) 365 bhp @ 4800 rpm, 470 lb-ft @ 3200 rpm.
A larger Carter carburettor, a new camshaft with 320 deg rees of overlap, odified combustion chambers,  13.0:1 pistons replaced by 12.5:1 pistons in the higher-compression engine and nd new exhaust manifolds designed for NASCAR racing.
Hammy engines and 64 had limited production, so the Max wedge stayed through 1964.
In 1964, a street version of the 4 to 6 was introduced without most of the Max wedge components. This was done to make the street version daily drive, rather than all the high tuned headaches of the racing version. This version of engine had one four-barrel carburetor mounted on a cast iron intake manifold, regular exhaust manifolds, compression at 10.3:1., 365HP at 4800 rpm with 470 pounds-feet of torque at 3200 rpm.
In 1965 the 365 hp 4 to 6 Street wedge was discontinued.

1965 – 413 Wedge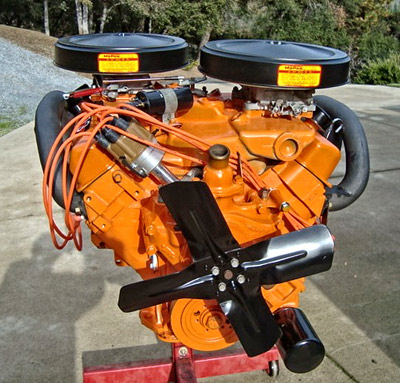 With the introduction of the 426 Max Wedge in 1963, the 413 Max Wedge was dropped from the Dodge and Plymouth lines, but the 413 in milder states-of-tune remained available in Chrysler cars. For 1963, you could order a single four-barrel 413 developing 340 hp at 4600 rpm and 470 pounds-feet of torque at 2800 rpm. Compression ratio was 10.0:1. There was also a dual four-barrel setup that developed 390 hp at 4800 rpm and 485 pounds-feet of torque at 3600 rpm.
The engine powered almost all Chrysler New Yorker and all Imperial models, and was also available on the lesser Chryslers, Dodge Polara, Dodge Monaco, and Plymouth Fury as an alternative to the B-block 391 and/or the A-block 318.
There were three 413's to choose from in 1964. The single four-barrel unit had the same specs as the year before, except for a slightly higher compression ratio of 10.10:1 There was also another four-barrel 413 with 360 hp at 4800 rpm and 470 pounds-feet of torque at 3200 rpm. The dual four-barrel 413 suffered a drop in compression to 9.6:1, but it still pumped out 390 hp and had a higher torque rating than even the 426 Max Wedge.
The dual four-barrel 413 was dropped in 1965, leaving two 413'S with single four-barrel carburetion. Horsepower and torque readings were the same as the year before, but Chrysler fiddled with the compression ratio again, returning to 10.0:1. This was the last year of the 413's production.
In the 1959 Chrysler 300E the 413 wedge was fitted with inline dual 4-barrel carburetors; it was factory-rated at 380 brake horsepower (283 kW) at 5000 rpm and 450 lb·ft (610 N·m) at 3600 rpm.[2] In 1960, a long-tube ram induction system was made standard on the Chrysler 300. It continued as standard on the 1961 300-G, and remained on the option sheets for Chrysler 300s through 1964. In 1962, a special version known as the "Max Wedge" was made available for drag racing and street use; this version produced 420 bhp (313 kW) at 5000 rpm. The 413 remained in use in medium- and heavy-duty trucks until 1979.
Ratings:
1963: (1×4) 340 bhp @ 4600 rpm, 470 lb-ft @ 2800 rpm. (2×4) 390 bhp @ 4800 rpm, 485 lb-ft @ 3600 rpm.
1964: (1×4) 340 bhp @ 4600 rpm, 470 lb-ft @ 2800 rpm. (1×4) 360 bhp @ 4800 rpm, 470 lb-ft @ 3200 rpm. (2×4) 390 bhp @ 4800 rpm, 485 lb-ft @ 3600 rpm.
1965: (1×4) 340 bhp @ 4600 rpm, 470 lb-ft @ 2800 rpm. (1×4) 360 bhp @ 4800 rpm, 470 lb-ft @ 3200 rpm.

1964-1971 – 426 Hemi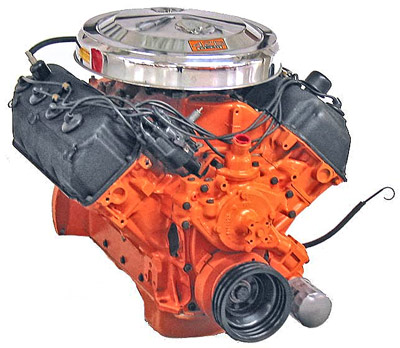 The hemispherical bowl shaped combustion chamber allows the valves to face each other across the chamber rather than opening side-by-side.
A hemispherical engine had been produced by Chrysler since 1951, but the 426, in 1964 was the start of the best.
Just 11,000 Hemi engines were produced, due to their high cost and sheer size. Nicknamed the elephant engine, it was the biggest engine in racing at the time.
February 23, 1964, three Hemi-powered Plymouths and a Hemi-powered Dodge swept the Daytona 500 for the first 4 places.
The 426 Hemi was not allowed to compete in NASCAR's 1965 season due to its unavailability in production vehicles sold to the general public.
The street Hemi was introduced in 1966. The street and race Hemi had the same cast iron, stress-relieved block with a bore and stroke of 4.25×3.75 inches. The forged, shot-peened and Nitride-hardened crankshaft was the same for both street and race Hemi, as well as the impact-extruded pistons, crossbolt main bearing caps, forged connecting rods, iron cylinder heads and mechanical lifters.
The intake and exhaust manifolds were the difference.  The Race Hemi in 1964 and 1965 was a conventional aluminum dual-plane, single four barrel manifold. he track Hemi of 1966 used an aluminum plenum-ram single four-barrel manifold. For drag racing, the 1964 Hemi used an aluminum dual four-barrel plenum-ram manifold. The 1965 drag Hemi used the same manifold, but it was cast in magnesium; and to reduce weight even further, it used aluminum cylinder heads. The exhaust manifolds on the race Hemi were naturally of the header type, using 2 1/2-inch-outside-diameter tubing with steel castings or plates bolted to the cylinder heads. Length varied from thirty to forty inches.
The Race Hemi's used a single four barrel carburetor.
The Street Hemi came with dual Carter 4-barrel carbs mounted on an aluminum dual-plane intake manifold. he compression ratio was reduced to 10.25:1 and cast iron heads were used instead of aluminum. The camshaft had both intake and exhaust durations of 276 degrees, compared to the 1966 track Hemi's 328 degrees.
The 426 Hemi received several changes over its lifetime. In 1968, the 426 Hemi was strengthened with a slightly longer-duration cam, new valve springs, and revisions which reduced oil consumption. Its 425 bhp rating was left unchanged. 1970 saw the addition of hydraulic lifters, instead of the previous solid tappets. The Hemi stayed fast in 1971, when MOPAR detuned several of its other engines, but that would be its last year.
Ratings:
1966 – 1971: 425bhp @ 5000rpm, 490 lb-ft @ 4000 rpm.
Installation:
1966 – 1970 Dodge Coronet/Plymouth Belvedere
1966 – 1971 Plymouth Satellite
1966 – 1971 Dodge Charger
1968 – 1971 Dodge Super Bee
1968 – 1971 Plymouth GTX
1968 – 1971 Plymouth Road Runner
1969        Dodge Charger Daytona
1970        Plymouth Superbird
1970 – 1971 Dodge Challenger
1970 – 1971 Plymouth 'Cuda
1970        Monteverdi Hai 450
Special Order:
1968 Dodge Dart
1967 – 1969 Plymouth 'Cuda
Total Production:
Approximately 10,000.
Mopar still make the 426 Hemi as of 2012.
Dodge debuted a Mopar Customized Dodge Charger "Redline" that featured a modern 426-cubic-inch (7.0 L) HEMI V8 engine rated at 590 hp (440 kW; 598 PS)
Fastest Muscle Car Engine Stats.
Donate To Fast Muscle Car
We spend a lot of time bringing you muscle car content. If you would like to donate something to help us keep going, that would be fantastic.