Best Muscle Cars
The Best Old School Classic Chevy Muscle Cars
By
|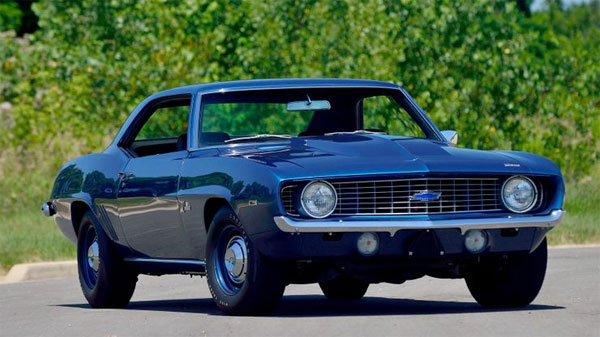 Being one of America's most celebrated and popular auto brands, explore some of the best classic chevy muscle cars that'll get your heart pumping.
Did you know that Chevy's first year of production was in 1912? Chevrolet, later on, went on to make some of the most popular muscle cars in history. We have put together this guide to help you explore some of the best classic chevy muscle cars ever created.
Keep reading to get that need for speed adrenaline going.
Chevelle SS 454
The Chevelle was a classic during the 60s and 70s. It became known as an innovative design because of its 360 horsepower rating. If you own one of these muscle cars nowadays, you might have some people trying to buy the car from you because it is one of the most desired vintage cars out there.
If you still pull out this classic from your garage every once in a while you might want to add some privacy with window tint. You won't have to worry about ruining the classic look of the car with these window tinting tips.
Monte Carlo SS
The Monte Carlo was one of the classic muscle cars of the 80s. This Chevy car has a V8 engine in it but it is still pretty lightweight. People that were racing for pink slips love the Monte Carlo because of its 256 horsepower right out of the production line.
This is a big collectible car and was the reason that NASCAR chose to drive Chevys as their cars of choice in the early 80s.
Chevy Biscayne
When the Biscayne first came out in 1958 it was actually a lightweight car with no-frills. In 1966 Chevy came out with a new model that featured a Big-Block 427 V8 and a 7.0-liter engine.
This made the Biscayne a super-fast muscle car with 425 horsepower under its hood.
Chevy El Camino
This classic car was launched in late 1959 as an answer to the Ford Utility coupe called the Ranchero. In 1964 a new El Camino came off the production line with a new body and in 1968 the El Camino SS396 model was released.
The 1968 model had a 6.5-liter V8 engine, and in 1971 Chevy made it with a 7.4-liter V8 LS6 engine. The 1971 model came off the line with 450 horsepower, ready to ride.
Shelby GT350
In 1965 this legendary car was released and it was so powerful that some buyers during the first year felt it was too hardcore. In 1966 Shelby either deleted, replaced, or made some things optional such as the fiberglass hood, the adjustable Koni shocks, and the fully locking Detroit Locker rear differential.
Shelby GT500
The GT 500 Shelbys came with 355 horsepower right off the production line in 1967. This was a faster Mustang that ran a quarter-mile in the mid to low 14-second bracket.
GT 500s offered more fun under the hood compared to the GT 350s. The 350s were light and simple which was perfect for the track, but the 500s were the car you wanted back then if you wanted to win a drag race.
Chevy Camaro IROC-Z
During the 80s the Camaro line had become unpopular but the 1985 Chevy IROC-Z was widely accepted as one of the best muscle cars of that time. It's fast acceleration, quick handling, and fun driving experience made it popular.
Although there have been plenty of other Camaro's created in history, the fact that this specific model was accepted during a time no one wanted Camaro's is a big deal.
Chevy Nova SS
The Chevy Nova was a smaller car but it was loaded under the hood. The base model started with a 2.5-liter engine that only had 90 horsepower but in 1968 a new model was released with a 6.5-liter V8 engine. The 1968 model came off the lot with 375 horsepower and Chevy made suspension and transmission updates as well.
Although the Nova was not as sought after as the Camaro it was cheaper and less expensive to insure even though it was available with the same 375-hp solid-liter L78 396 like the Chevelle and the Camaro.
The L78 Nova's are rare because Chevy only built 667 of the L78 models in 1968. In 1969 they brought production up to almost 5000 because of the demand. The Nova was underestimated but it could sneak up on a 428-powered Ford and beat it.
Corvette
We can't have a list of Chevy classics without mentioning the Corvette. This is as American muscle car as you can get. The Corvette was first introduced in 1953 and since then has seen many different changes and versions.
The 1966 model came with a 7.0-liter engine and the 1973 model moved up to a 7.4-liter engine. In 1967, the L88 version capped the horsepower at 430.
Chevy Impala SS
In 1967 the Impala SS had a new design update along with some safety updates. At that time the Impala only had 5 horses more than the Corvette (390 horsepower) even though it was much heavier and much bigger.
In 1968 Chevy decided to drop a 425-hp, iron-block L-72 427 into the Impala which was the same engine that powered the 1966 Corvette. You can opt for a Turbo-Hydramatic 400 three-speed automatic or a Muncie four-speed.
COPO Camaro
Chevy stepped in with this Camaro in 1966 when the Ford Mustang was rising in popularity. The COPO was created when Dave Yenko put in a 7.0-liter engine that had 435 horsepower. This is a sought after classic because only 201 were made.
Which of These Classic Chevy Muscle Cars Is Your Favorite?
Now that you have the best classic chevy muscle cars ever made, do you have a favorite? These cars might not have all the bells and whistles of GPS navigations, self-parking, etc but they will forever be remembered.
Did you enjoy our post today? Please bookmark our site for all things car-related.
Donate To Fast Muscle Car
We spend a lot of time bringing you muscle car content. If you would like to donate something to help us keep going, that would be fantastic.