Best Muscle Cars
The 5 Best Muscle Cars Throughout History
By
|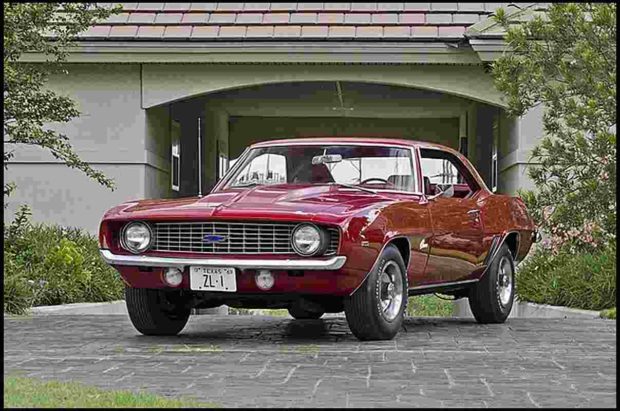 Whether you're a serious collector, enthusiast, or dreamer, you will love this selection of the best classic muscle cars. They may not be your top five favorites, but you'll probably agree that they're pretty special. 
If you're in the market for a classic muscle car, you're going to need the right kind of insurance that will understand your vehicle's unique needs and provide you with a custom policy. We'll cover that after we highlight the five best muscle cars that classic car owners will want to know.
#1 – 1969 Chevrolet Camaro ZL1
Cost: $1 million+
Pros: 427 cubic-inch engine, 500+ horsepower
Cons: Incredibly rare
There were only 69 built, making this one of the rarest, most desirable, and most expensive muscle cars of all time. Even though Camaro wouldn't officially sell a Camaro with an engine over 400 cubic inches, they filled an order for a dealer, Fred Gibbs, for this unique high-power, low-weight engine installed in 50 1969 Camaros. 
Later, they manufactured 19 more to round the total out to 69 '69s.
#2 – 1971 Plymouth Hemi 'Cuda Convertible four-speed manual
Cost: $5.75 million+
Pros: Four-speed manual transmission, 425 horsepower
Cons: Cost, rarity
Only 119 Plymouth Hemi 'Cudas were produced in 1971. Of that number, 12 were convertibles, and only three were equipped with A833 four-speed manual transmission. When one of these three hit the auction floor in 2021, the high bid of $4.8 million wasn't enough for the owner to sell. 
#3 – 1973 Pontiac GTO
Cost: About $18,700
Pros: Affordable, secure handling, disc brakes
Cons: Gas mileage
Finally, we included a classic muscle car that the average collector may be able to afford. You might even be able to find one that needs some work for under $10,000. This popular car is as fun to drive as some far more expensive muscle cars, and you can enjoy your time on the road knowing you won't lose a multi-million dollar investment if something goes wrong.
#4 – 1965 Ford Mustang Shelby GT350
Cost: $400,000+
Pros: Racing engineered suspension, front disc brakes
Cons: Cost, rarity
Only 562 Ford Mustang Shelby GT350s were produced in 1965. The scarcity of this product contributes to its value. Its racing stripes complete its classic 60s look, and exhaust and lightweight upgrades contribute to its excellent performance.
#5 – 1970 LS6 Chevy Chevelle
Cost: $125,000+
Pros: 450 horsepower, 454 cubic-inch engine, popular in movies, availability
Cons: Clutch durability, cost
Chevrolet produced 4,475 1970 LS6 Chevelles, which isn't that many. When you compare that to the production numbers of others on this list, though, it seems like a lot. The Chevelle's racing stripes are a favorite among enthusiasts as is the classic design.
Insurance for Classic Muscle Cars
When you have a special, highly sought-after, expensive muscle car, you need a special kind of insurance policy to go with it. The standard car insurance policies aren't adequate for the unique needs of classic cars.
There are a few different companies that specialize in insurance cars with high and increasing values. If your muscle car is in the lower cost range, you may be able to use a standard insurance company, but if your vehicle is pushing the $100,000 price point, you'll be better off with a specialty insurer.
Melanie Musson writes and researches for the auto insurance comparison site, AutoInsurance.org. She strives to help people understand their insurance needs so they can protect their finances and future financial stability.
Donate To Fast Muscle Car
We spend a lot of time bringing you muscle car content. If you would like to donate something to help us keep going, that would be fantastic.