Readers Rides
The Super 2005 Mustang GT
By
|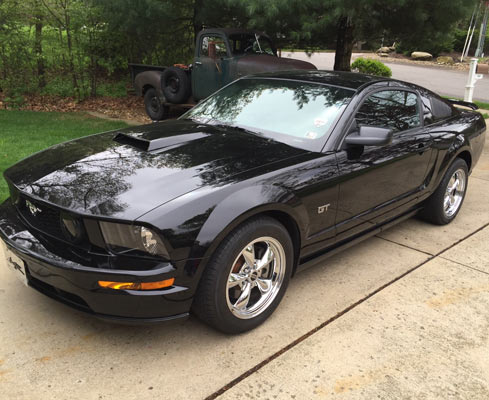 By Mark Weisseg
Here's one you do not see much. It is a 2005 Mustang GT. The reason the model is so cool is that it's the first year after the redesign.
Mustang sales were stagnant and someone at Ford redesigned the '05 after the ever popular '67 and '68 models. Now the car has a 4.6 liter engine rather than the 5.0. For some odd reason Ford did this and it was a dumb idea. Ford lovers desire the 5.0 because it was drilled into everyone's head that if you had a V8 you wanted a 5.0 like the Fox Body Mustangs.
The real interesting thing about this beauty is that it is mine. I will give you the short version of the story. I was looking for an 05 and found it in Lombard Ilinois. I dispatched brother number two out there to give it a once over. He loved the car except it had a scratch on the passenger door. I called the owner and after some emails and phone calls decided to fly to Chicago to look it over. Brother number one picked me up and took me to Lombard where I sat in this guy's dining room with his wife. We had a great conversation on many topics and eventually we made a deal. I gave him the money and on Easter Sunday several Suns ago we drove it home. Seven hours in the car and I could have gone longer. But, when I got it home I had a friend paint the entire right side of the car so it would match perfectly. We added a hood scoop, new tires and wheels, a Bama tuner, a cold air intake, and a few other gizmos. The car became a monster on the road. It sat in the heated garage in the winter and sat covered up in the summer. I found a guy selling the side louvers and the car really got a new personality.
For a time it sat in a museum near Youngstown Ohio but I missed seeing it and driving it so I brought her home. I was averaging about 300- 400 miles a year and every mile was a pleasure.
This past winter I stuck it in my 94 year old Mothers garage under the careful attention of my Brother in law. He treats this car as if it was his. He now is in the process of a deep detailing session with the car. However a month or so ago he brought it up to our local Friday night show. He parked it next to my Road Runner and I was in heaven. At the end of the evening he tried to talk me into switching cars but I declined.
I wanted him to do that deep detail on the paint as it is like a mirror. I love this car and cannot ever see selling it. Three years ago I toyed with the idea but my brother number two brought me to my senses. Now, it's stays as long as I stay. Gadzooks, few cars I have ever owned have brought me such joy. It was a family affair getting it to be mine and now it stays. It's already the middle of August so after it gets detailed and readied I will drive it a little this year. However, next year I intend on driving it much more.
It is loud, it's fast, it's cool looking and most of all I just love that car. I know most of you can relate to that so that is why I decided to share my love of this car. I hope all of you at some point find the car of your dreams no matter what it is. Cars and women come and go in life. This one is a keeper.
More Muscle Cars For Sale – http://fastmusclecar.com/muscle-car-for-sale/
Donate To Fast Muscle Car
We spend a lot of time bringing you muscle car content. If you would like to donate something to help us keep going, that would be fantastic.
The Super 2005 Mustang GT

,