Best Muscle Cars
Steve McQueen: In His Own Words Book Review
By
|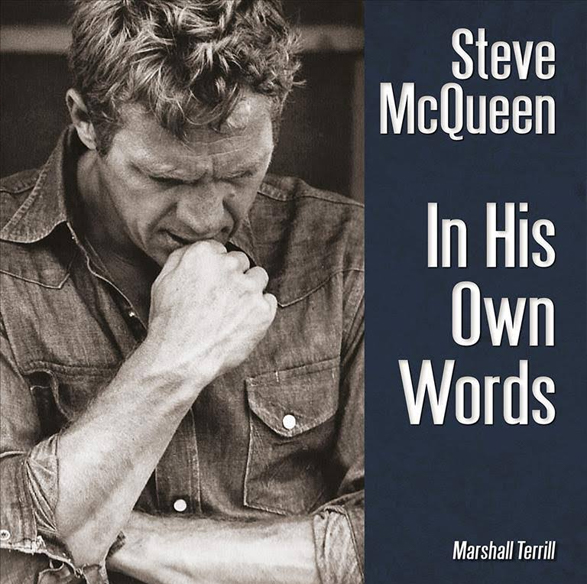 By Dave Ashton
Steve McQueen In His Own Words, researched and written by Marshall Terrill, is a huge compendium of images, in-depth stories, and quotes about the world-famous actor. The book is a stunning visual representation of the life and times of Steve McQueen, with many of the images never seen before. If you prefer more visual storytelling, this book is ideal.
When I was asked to review a copy of a Steve McQueen book, I thought it would be an ideal way to catch up on the movie star's background. I was one of those periphery fans who had watched a bunch of his movies, knew he had more than a passing interest in sports cars, but not much else, I confess. Therefore, I was coming at the book from a more or less neutral standpoint. Somebody who wanted to be won over by the contents of the book, rather than a diehard fan's take on things.
Initial Impressions
I thought it was pertinent to outline the initial impressions of the Steve McQueen book, as it was nothing like what I expected. Essentially, I thought I would be receiving a small hardback book, mostly text, with a few images, dropped in along the way. When the book arrived, weighing more or less the same as a dumbbell from the gym, the book was nothing like what I expected.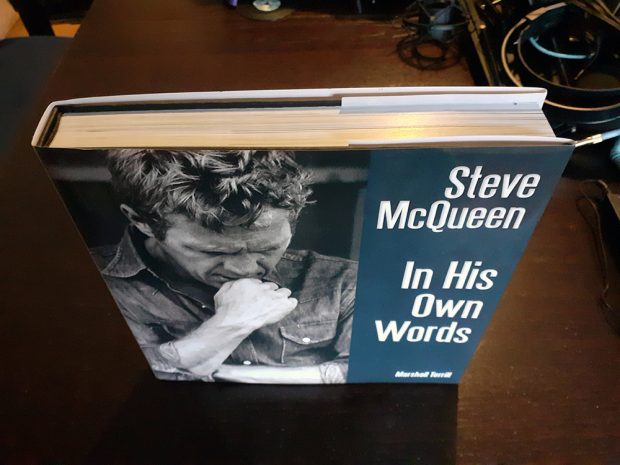 As you can see from the image above, this book is more an encyclopedia than a pocket-sized paperback. Every page in the book features official and behind-the-scene images starting from Mr. McQueen's earliest years to his final days. The images featured also show specifics from his life. On page 11 there is even an image of the original window frame from the Claude Thompson home where he grew up.
The other surprise was the layout and structure of the book. The book is image-rich, to say the least, with enough details and descriptions to fill in the gaps for somebody like myself who only had a passing familiarity with the man. For a visual thinker like myself who thinks an image is worth 1000 words, the structure was a nice surprise. The book is easy to skim and scan or if you want to read more in-depth, there is still enough information for those who want to dig further.
How the book will come across to those very knowledgeable about Steve McQueen who already know his past history and have seen many of the images, I don't know. But for someone like myself getting up to speed with his past history, the structure and layout were ideal. I'm sure some of them never seen before images will be enough for even the diehard fans. The letter on page 336 from McQueen to Mr. Robert Kierman, Jr. asking to sell the 1968 Ford Mustang GT fastback from the movie Bullitt back to him, is insightful about the man.
Polite but to the point, 'I would be happy to try to find you another Mustang similar to the one you have if there are not too many monies involved in it. Otherwise, we had better forget it.'
Steve McQueen In His Own Words Overview
Steve McQueen's early upbringing, to his military service, acting career, and more than passing interest in cars and motorcycles are all in there. The behind-the-scenes images were the most fascinating, with plenty of descriptions and quotes from the man himself to keep the story going.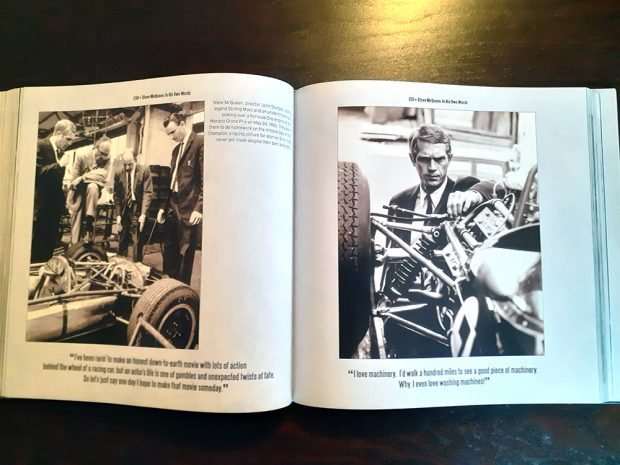 The quotes from Mr. Mcqueen which are on nearly every page provide a short and concise look into the man's personality. For instance on page 113, 'I'm not out to win any popularity contests. I'm out to do a job. All the nice guys I know in Hollywood are standing in the unemployment line.' From a man with a past in the Marines and a relatively hard upbringing, the book paints a certain picture.
There is obviously glitz and glamour, behind-the-scenes shots for the car fans out there, and some unexpected images like the one of Steve in a Paisley shirt at Woodstock on page 350.
In Summary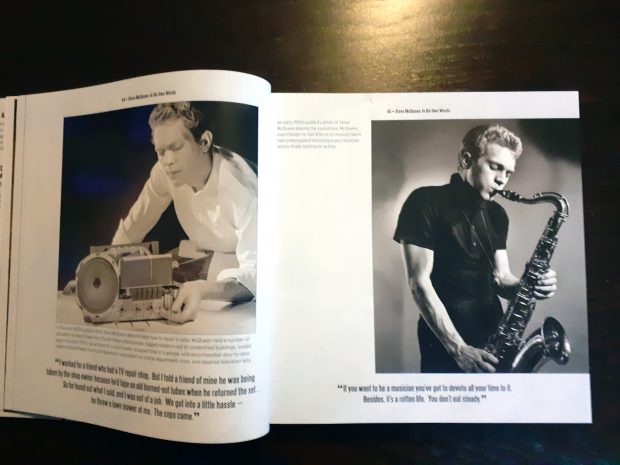 The book Steve McQueen In His Own Words is a nice balance between visual storytelling, direct quotes, and a well-researched background to the man himself. If you only saw a screenshot of this book you could easily see it as just a comprehensive photo album. However, the book is much more than that, being an easily digestible story of the man's life, with fantastic candid shots. Considering there are over 500 photographs and 450 quotes in the book, it paints a picture of a complex movie icon with a solid work ethic.
The layout and structure of the book was a wonderful surprise. It's the type of book you can dip into on a regular basis, rather than read once then stick on a bookshelf. More than anything, this book is a quality item, which could easily live on your coffee table for years to come and will appeal to those who only have a passing interest in one of the Hollywood greats.
In summary, this book is worth its asking price in weight alone. After showing this book a few people, everyone was impressed with the sheer quality. If you're at all photography minded, the multitude of images is exemplary, adding to the storytelling better than thousands of words.
Steve McQueen: In His Own Words (Queen's Policy Studies)
Donate To Fast Muscle Car
We spend a lot of time bringing you muscle car content. If you would like to donate something to help us keep going, that would be fantastic.
Steve McQueen: In His Own Words Book Review

,