Best Muscle Cars
Spotting Fake Muscle Cars
By
|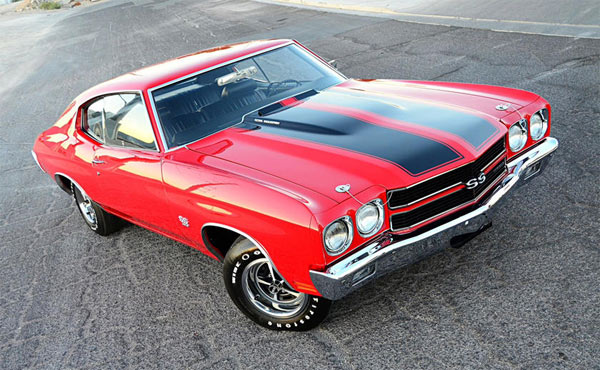 By Dave Ashton
In the classic car world there is money to be made from the right vehicle. This means there will always be scammers wanting to pass off a regular car as an expensive rarity and the uninformed will always pay the price. Initially, this article was inspired by a post on Hemmings which detailed 2 scammers who were caught trying to pass off a 1970 Chevelle SS 396 and a 1966 427 Corvette. The Chevelle had a fake build sheet, while the 'Vette had a fake VIN tag as identifiers.
So let's say you are interested in buying a vintage muscle car. How do you check it's authentic and it is exactly as the seller describes? In the Hemmings example above, the Chevelle wasn't spotted until the owner's wife used an online VIN decoder. The 'Vette's true nature was spotted when judged at a car show to have the wrong lettering font on the VIN tag for the year, even though the digits were correct.
Title and VIN Number check
The first piece of advice from the Hemmings article above is to peform a Title check. Ask to see the title of the car. Make sure everything is in order and if you have the slightest doubt, ring the National Motor Vehicle Title Information System. Make sure the seller is on the title and it's not listed as being salvaged or rebuilt. Make a call to check the title anyway as checking twice doesn't harm.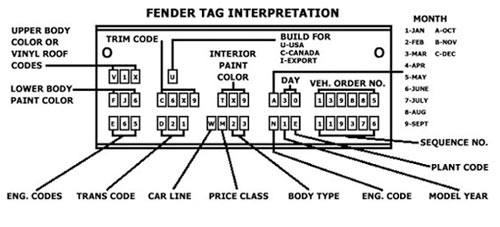 Check to see if a vehicle has any lien attached to it. Basically, any loans or outstanding payments on a vehicle. Autoblog have a thorough article on the subject here.
Checking the VIN number (vehicle identification number) and if it's authentic is needed. The VIN number is a 17 digit ID for every vehicle and the location of the tag will depend on the make and model year. In the case of the 'Vette above, the numbers were correct on the tag, but the font was incorrect for the year. Only an expert with knowledge of these things and a keen eye would spot this area.
There are paid for services like Carfax and Autocheck. VINCheckPro have a free and paid for service. Make sure to ask if they can provide you with a comprehensive report, which usually comes from the paid for services. Dealer or private seller, ask if they can perform a VIN check. Many dealers would be able to do this quite easily through Carfax, but it will also add to the integrity of a private sale.
Research, research….
A little research goes a long way. Like the 1970 Chevelle above, read up on VIN codes for the model year, engine types, badging, anything that makes that years vehicle standout. Also, common prices for the model and options for that year model. You can simply make a tick list of identifiers and even ask the seller to send you pictures of these.
Books. Those paper things we all used to read before tablets, are great sources of information. Cartech have a good range of books from their 'Cars in details' series for many models such as this one which has lots of information about each model and plenty of identifiers.
Get in the experts
It doesn't hurt to ask in forums or at local car clubs about a specific make and model. Enthusiasts are always happy to help out their brethren. Provide as much information as possible along with images if possible. Facebook groups are always a good start point and feedback is usually the quickest.
Depending on your make and model, there are online experts set up to verify different muscle cars. Galen Grover is well-known for covering Mopars, while Marti reports cover Fords. These are paid for services and can take time. However, paying for the ideal of an in-person inspection is always worth it, especially on a very expensive vehicle.
Up close and personal
Nothing beats viewing a car in person and especially when you have somebody with you who is equally knowledgeable. Compare verified original images with your potential purchase. Check serial numbers on things like engines and transmissions match and are as per the model year. Many muscle cars have replacement powertrains, so the seller needs to be upfront if things are original or replacements. Ask questions on all areas of the car, lots of questions. What are original or OEM parts? Can you check and cross-reference these numbers? What's the back history to the car? Can you contact the original owner?
Knowledgeable people helping you evaluate a car can be invaluable. Those fellows who know a 1970's taillight from a 1969 version, engines hoses or a distributor cap that are incorrect can all be tell-tale signs of a non-unoriginal. For example, a Mopar enthusiast friend who was eyeing up a listed unrestored and original Dodge Challenger, got out a small magnet, hovered the thing over the body and found out most of it was full of Bondo from front to back. A quick engine number check and the numbers didn't match either. A morning wasted, but better that than thousands of dollars.
Some people may simply not have the time or inclination to perform all this research. If that's the case, you will have to opt. for a paid for service to check everything is correct on your proposed vehicle. Even so, getting to know as much about a car as possible is no bad thing. A quick VIN code check online can be a good starting point.
There are also some other general rules with car buying. If it's too good to be true, it usually is. If a 1970 Chevelle SS 454 in mint condition is $25k below market price, ask why. Also, if your in doubt, walk away. A car may seem the buy of a lifetime, but parting with cash for a car that isn't what it says it is hurts more.
The whole point here is to make sure you buy what it says on the tin and all information is as it should be. Muscle cars are usually bought by enthusiasts and those who have saved for a long time to acquire their ultimate ride. In this regard, you always need to perform your due diligence on any vehicle. It's not an option.
More Muscle Cars For Sale – http://fastmusclecar.com/muscle-car-for-sale/
Donate To Fast Muscle Car
We spend a lot of time bringing you muscle car content. If you would like to donate something to help us keep going, that would be fantastic.