Best Muscle Cars
Smoky Mountain Traders: Muscle Car Experts of The South!
By
|
Smoky Mountain Traders: Muscle Car Experts of The South!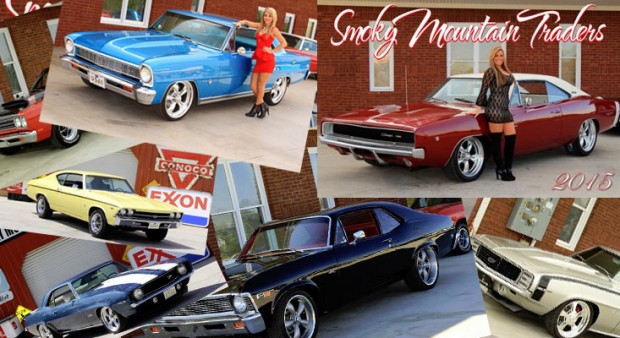 I spoke with Devvin Howard recently, the son of Keith Bledsoe who is the owner of Smoky Mountain Traders.
If you haven't come across Smoky Mountain Traders before, they are unique in the classic muscle car world of being enthusiasts, a family run business and true muscle car fans, who just so happened to sell cars.
I ran some questions past Devvin to see what daily life was like surrounded by great muscle cars and any tips he could pass on to muscle car fans.
When did you start your interest in muscle cars and your business?
The business was started a little over 10 years ago, but as far as the interest and hobby, we've been in the business all our lives.
My dad was born in 69 and his favorite car has always been a 69 Camaro.
We always messed with cars on the side as a hobby, so when the economy got bad, we pulled out of contracting and we turned our hobby into a full-time job.
10 years later, we have an 80 to 90 car inventory and we love what we do!
We started with 20 or 30 cars, with everything from $5000 car to a $30,000 car, we have grown every year to reach the inventory we are at now.
Why is Smoky mountain traders better than the rest?
We pride ourselves on customer service first and foremost, we are a family owned business, from top to bottom we are a tightknit group, the main three people here being the owner keith Bledsoe, Daniel and myself pretty much work as the nucleus from the get go.
Daniel has always restored cars, ran a Ford parts division for a long time, so he's always been around classic cars and muscle cars, also a painter by trade.
I brought a kinda different element with the Internet and marketing side and my dad is pretty much the visionary.
We have always tried to keep our margins down, we are not big believers in marking up the cars a whole lot, we just want to be able to turn a profit and do the thing we love, day in and day out.
A lot of our competitors have a large markup, we try and have lower prices and better quality.
We don't go out and buy a car just because it's cheap, it's actually a pretty big negative sign to us. We personally go out and drive these vehicles and inspect them.
Every car is owned by us and we don't do consignments.
The business can change every six months, so we try and stay at the forefront and always have bigger goals of where we want to be at as a company and organization, down to the people working on the cars, the detailing of cars and whatever position that may be.
Whats your favorite muscle car and why?
The obvious answer from my dad would be a 69 Camaro, the year he was born. His dad bought one brand-new from the dealership, so he's always been a big 69 Camaro fanatic.
Me personally, if I had to choose my favorite muscle car I will probably have to go……………that's such a hard question………..as I love all of them really………I'm a bigger guy so I choose a 70's Chevelle, a unique body style so it's quite a unique piece and the fact they had the 454, the big King of the muscle cars.
Do you have any tips for buying a muscle car?
The best tips I can give anybody about buying any classic muscle car, Street Rod or even any car in general, be educated, do your research and really understand what the market is doing nowadays.
The market is always changing, but you can put the effort into going seeing cars and this is a hobby, it's not just a purchase and drive like a new model car. You have to understand that each and every car is different, they can be very unique to their own self, so go out and see the cars, ideally with a professional.
We pride ourselves on having the highest quality possible for the money, but it's not unheard of for someone to spend $200,000 on a car which at the end of the day, is still only worth $70,000 from some sellers.
Restoring these cars is a hard thing to do, so I recommend looking for a car and finding a car which is pretty much all the way done, as you will probably spend a whole lot more money restoring it than you can ever buy it for.
So, that's my biggest recommendation. Educate yourself and personally check the car out, whether you have an outside professional person looking at the car, us or any other dealer or any other individual for that matter.
Can you recommend a great muscle car for under $25,000 dollars?
I have cars that fall into that category, depending on what you're looking for you are really looking at the $25-$35,000 price range, that's my honest answer on that. It's still a hard thing to do as the quality of a car really speaks volumes and you really can't get a high-end car for much under $40,000 nowadays.
You can get into something like a 74 Mustang and odd years, but a true muscle car, first-generation – your Camaros, your Chevelles, your fastback Mustangs, cars like that, you're in the $30,000 and up range for a pretty decent car.
My best recommendation on a very nice muscle car is to start around $35,000. That's really what I feel is a quality muscle car. That's a car you will be able to get in, turn the key, drive and enjoy right away.
At $20,000 what you going to be looking at is good solid cars, but will probably need some interior work, paint work, may need some electrical work.
If your around Maryville, stop by!
Smoky Mountain Traders
2520 S Carver Rd
Maryville, TN 37801
Tel:
865-988-8088  Office
423-807-0600  Daniel
865-256-2366 Devvin
OFFICE HOURS
MONDAY  & TUESDAY   9 – 5
WEDNESDAY – FRIDAY  9 – 5
SATURDAY            9 – 5
SUNDAY           – Closed
http://www.smokymountaintraders.com
Donate To Fast Muscle Car
We spend a lot of time bringing you muscle car content. If you would like to donate something to help us keep going, that would be fantastic.