Best Muscle Cars
Pontiac Banshee: The Muscle Car That Almost Was
By
|

By Dave Ashton
It's common for car manufacturers to produce concept cars or prototypes before deciding on a final model. But it's not so common for a concept car to be around for decades which influenced the rest, but never saw the light of day. That title can definitely go to the Pontiac Banshee.
From 1964 to 1988 there were four versions of the Banshee. All very futuristic looking, but they never got full priority to hit production. A bit sad for a model that had all the potential, but never quite made it for a number of reasons.
Banshee I
The first Pontiac Banshee, the XP-833 was to take on the Ford Mustang, well before the release of the Camaro. John DeLorean, Pontiac Motor Division head approved funding for the design in 1963, initially being influenced by the Corvair Monza GT show car and it's rear-mounted transaxle. For an extensive mechanical rundown of the XP-833 check out this article over at Motor Trend.
What it did have was a 1966 released 230ci. overhead-cam six, but with a tame one-barrel carb. As the concept was meant to be an affordable, two seater sports car, there was going to be an extensive option list, which even resulted in a second XP-833 being built with a 326 V8. If the designers got their way, they would have dropped in Pontiac's top 421ci. V8. However, when the XP-833 was shown to top GM executives, the whole project was stopped. Some say it is because the XP-833 could have trodden on the toes of the Corvette, while others say is because the sports car market of the early 60's was nowhere near as mature as it should have been. Luckily, both vehicles were tucked away and saved from the crusher and remain now as ultra collectors items.
Banshee II
When you have a good idea about something, it's hard to let it lie. This was the case with the 1968 Pontiac Banshee II. A fibreglass outer skin sat over Firebird innards, cut down glass, low ground clearance and housed a 400ci. V8 engine. In 1969 it was given a lick of white paint and graphics and the name Firebird Fiero, which was borrowed later on for its own model.
You don't like this one GM execs.? Okay, back to the drawing board….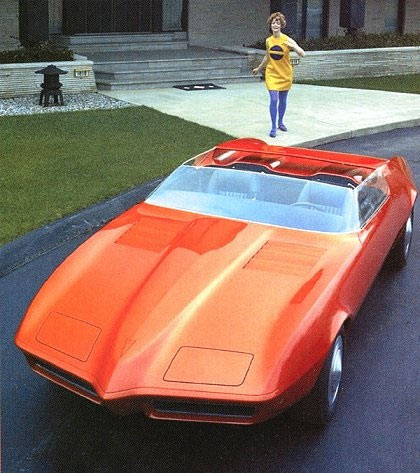 Banshee III
In 1974 the third incarnation of the Banshee was put together. It looks like a sort of squished Trans-Ams from the front because it was based on the Pontiac Firebird platform. A very sloping front end and almost 'Vette like rear, the design was to improve aerodynamics, with a soft face bumper system, quartz halogen headlamps, electric toll window and red leather upholstery. Under the hood was a Pontiac 455ci. Super Duty V8 all finished off in metallic maroon. The car had additional updates in 1976 and 1978.
Looks-wise the Banshee III is like a mash up between a Corvette and a Trans Am.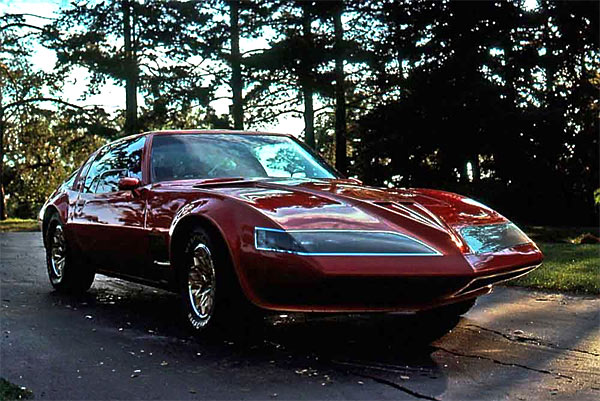 Banshee IV
The last version of the Banshee came out in 1988. By now the Pontiac designers had probably resigned themselves to the Banshee only being a concept car, so why not build the ultimate one? The Banshee IV looks like a spaceship even in 2019 with a fibreglass body, tubular steel frame, triangular hood, flush mounted glass and doors, no door handles and a futuristic interior. The doors even opened via an infrared wristwatch sized device.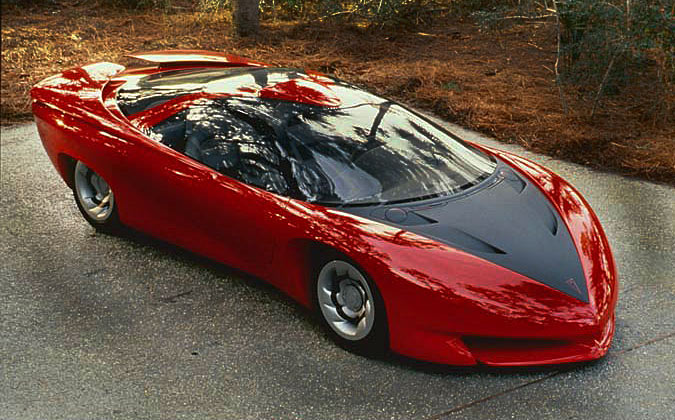 A 4.0L, dual overhead cam V8 with 230HP ran through a five-speed manual transmission. Inside was a head-up display, under which was a virtual image of the analog cluster, steering wheel controls, television monitors for rear view traffic, headrest mounted radio speakers. Other tech. like memory switches, electrically tilting steering column and memory adjustable front seats all added to the futuristic concept.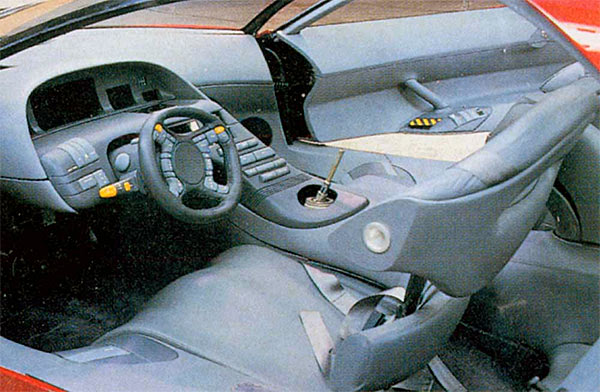 Ultimately, the Banshee IV influenced much of the fourth generation Firebird and fourth generation Camaro. But the concept car also influence the mainstream. A Banshee IV model was produced by Revell and Hot Wheels, it was in the 1993 movie Demolition Man and also appeared in the 1989 movie Back to the Future II.
So, the Pontiac Banshee was ultimately one of those vehicles which the powers that be didn't want to go into production, but were quite happy to borrow all the ideas from.
Me hopes a Banshee V will one day come out, with ridiculously futuristic tech., something like Tony Stark would create to go with his Iron Man suit made out of nano tech., but with Pontiac now a name in a draw somewhere, we can only look back at these wonderful creations and what they influenced.
Donate To Fast Muscle Car
We spend a lot of time bringing you muscle car content. If you would like to donate something to help us keep going, that would be fantastic.