Muscle Cars
A Perfect Garage Find!
By
|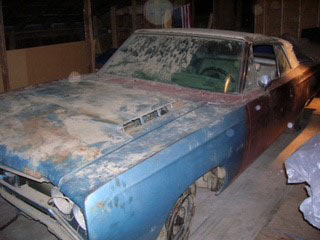 By Mark Weisseg
Jeepers, when I saw this story about this car being found it got me excited. There were only a few pictures and most were blurry. It's a car that has been sitting since the early 1980's. The interior is in need of replacement as are a few engine parts. As for the body it appears pretty solid for sitting so long.
It's amazing how different any barn find will be once you drag it into the daylight and power wash the years of dust off. That will always give you a better sense of what lies ahead. I have been involved in several finds and in the garage it's usually dark and dank. The air seems bad and the lighting is always poor if there are any sources at all. We all know the car might fire with the help of a new battery and good fuel but that is very short term.
All in all the fuel needs to be flushed out and that is just the tip. All the fluids need to be flushed. All brake lines and fuel lines may need to be replaced. Once you manage to get the wheels off the brakes are easy to inspect but figure on new wheel cylinders. Rear end fluid must be changed as well. Then, start taking the interior out. Look for mice, raccoons, rats, snakes any other animal that could have made a second home. Nests can be found almost anywhere. Those little buggers can be very inventive.
More than likely you will want to pull the engine and rebuild it. Same with the transmission whether it's a automatic or standard shift. That in it's self is a major under taking but critical. If it's a convertible the top will be ruined. More than likely the motor for the top and wiring will be bad. The exhaust is likely to be bad too. Mice also like to crawl into the pipes and work themselves into the muffler areas. They like dark and cramped places for some reason.
Wiring. It could be an issue if anything ate the wires. If no animal got the wires most will be dry rotted and in need of replacement. The tires will be dry rotted so four new ones will be needed. Oh, the paint might be faded too. Who knows why someone just parked the car. Was the engine bad? The trans? You will find out in due order and it might be ugly. Prepare yourself for bad news and have a budget ready to repair or replace big items. I have done all these.
I landed up rebuilding an engine, doing all new brake and fuel lines, gas tank, new glass, new interior and more. What I thought would be a straight forward affair turned bad news and more bad news. My restorer would call and say he has bad news or just send me an email and tell me what I needed to buy. At times it seemed it never would end. When it finally did I was thrilled, so much so I bought another one and started all over again. I could not help myself because the second one was a long time coming. I don't want to scare you but I wanted to be honest. TV shows seem to show you that you pull the car out and jump start it and with a few minor things you are on the road to Pebble Beach. That situation is very, very rare. The process will emotionally drain you and your wallet. However, I still hunt for barn finds. Now when I find them I pass them on to friends. That is unless it is something very very special. Then, I go for number three and get my head examined.
More Muscle Cars For Sale – http://fastmusclecar.com/muscle-car-for-sale/
Donate To Fast Muscle Car
We spend a lot of time bringing you muscle car content. If you would like to donate something to help us keep going, that would be fantastic.