Best Muscle Cars
Muscle Car Web Resources
By
|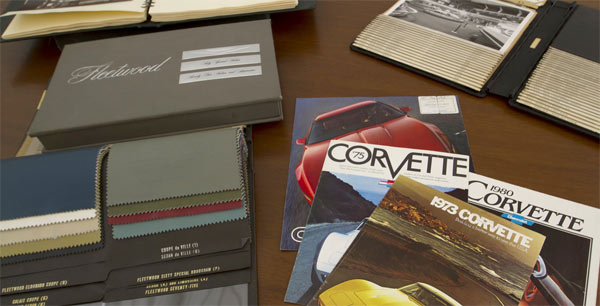 By Dave Ashton
We are lucky to live in a time where we can just jump on our computers and find out information about more or less anything to do with muscle cars. The problem however is finding those sweet spots online which seem to have all the information in one place. The websites below are a good addition and starting point to find any information you need to do with muscle cars which will complement our site.
General Motors stuff
GM started on September 16th, 1908 in Flint, Michigan and eventually rose to be one of the biggest automakers in the world. Like many carmakers they have had their ups and downs over the years, but there is no denying they made some the best muscle cars to ever burn rubber. If you check out the GM Heritage Center's reference collection you will find over 250,000 documents relating to everything built by GM over years from the likes of Chevrolet to Oldsmobiles. For those interested in Buick vehicles, check out sloanlongway.org.
Old Car Manuals and Brochures
Old car manuals and brochures are getting harder to find, especially sites which holds them all in one place. This website set up by Hans Tore Tangerud – Love to Accelerate has hundreds of brochures from vintage muscle cars from all makers. You don't just have a wide variety of muscle car information here, but also Canadian and European vehicles if that is to your liking. It's a great start off point for doing your own research.
Mopar
Mopar is strictly the parts division for Fiat Chrysler Automobiles, but is more commonly termed to associate with any vehicle from the groups Dodge, Chrysler, Plymouth, Imperial, DeSoto or Dodge Trucks/Ram. Depending on what information you're after, a good bounce off point is mymopar.com and allpar.com, which has loads of information, particularly about Dodge.
Hamtramck-historical.com contains loads of dealership books, advertising and everything inbetween which Mopar built in Hamtramck and Los Angeles. Check out the virtual library and vintage advertising page for simply loads of information.
Ford and Mustangs
If mustangs are your thing, then Mustangtek.com is a great start point for all types of vintage Ford muscle cars. You can find loads of Ford and Shelby publications here aswell as tech. books, service handbooks and past magazine articles which should keep any Ford fan ongoing for some time.
Historical car documents
If you regret throwing away any past car manuals, brochures or any other type of printed material, you may just find it here at the Automotive History Preservation Society. The website is dedicated to the collection of all printed automotive materials and has everything from press releases, brochures, magazine articles and everything in between. Everything is in high quality and can be downloaded. Its a great historical record, which is ever-growing, so keep your eye on this one.
Paint database
PaintRef.com has an extensive list of all automotive paints from 1922 to present day. That's over 35,000 pages of information. There are also tons of car brochures which you cannot find anywhere else, giving you a glimpse into the design and sales techniques from back in the day. As an aside, vintage guitar lovers can find their favorite paint colors from back in the day here, as most used vintage car paints for their instruments, especially Fender.
Remember to also use our site search facility, under 'search muscle cars' to find the information you want. I hope the sites above can give you a good jumping off point for starting your own research into this wonderful world of muscle cars.
More Muscle Cars For Sale – http://fastmusclecar.com/muscle-car-for-sale/
Donate To Fast Muscle Car
We spend a lot of time bringing you muscle car content. If you would like to donate something to help us keep going, that would be fantastic.