Muscle Cars
Muscle Car Talk: The American Restoration Dream
By
|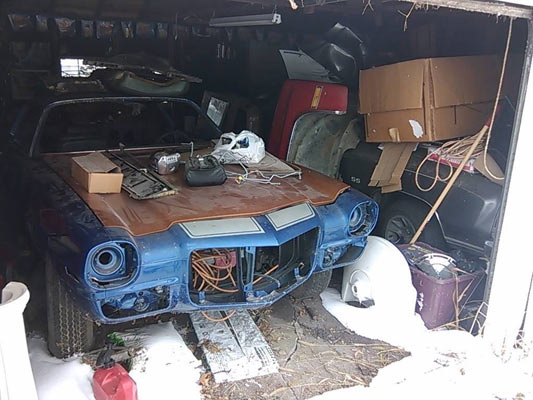 By Mark Weisseg
Garages across our nation are filled with fast muscle cars like this one. Somehow we get the terrible desire to buy or own a specific car and we buy it. Then the dreaming starts about how to make it better.
The car goes into the garage and we start tearing it apart to see what lies under the first layer. The progress is swift and lots of fun. Then it seems many of these projects come to a standstill for a variety of reasons. The real horror starts. We start piling stuff on top of the car, on the sides of the car and it becomes very difficult to walk around in the garage.
A long ago neighbor had a car like this. It was a '36 Chevrolet and it was his fathers. The car is solid and all I ever heard is that one of these days he would begin restoring it. In the time I lived across from him I saw that car outside once. He pushed it out, tinkered with some items and pushed it back in. I moved out of that area a long time ago but I will bet you that car is still sitting there with boxes on top of it.
I have one of my classics in a garage at home and it bothers me to no end that it needed to sit all winter. I refuse to store anything on top of it and I am careful around it. The car had a fitted cover and was winterized. I count the days until I could get this car back on the street.
That takes me to another car I have in another garage. It to is covered up and ready. I just get depressed when I see my cars just sitting and waiting for me to wake them up.
And so that is the story as I see it. I don't understand and I guess I never will how anyone can just let a car sit. At one point the owner was full of dreams and started the project but somehow got off the rails and never got back on. But at least it's in a garage.
The real bothersome ones are outside in a field rotting away and the owner refuses for some odd ball reason not to part with them.
A few years ago I had a Nash Metropolitan and parked it on the side of my house near the woods for three days. After three short days I brought the car around the front of the house and opened the trunk to find chipmunks had started building a new home already. After only three days. Now imagine a car sitting on a farm for years. My truck – 33 years sitting. My Model A – 25 years in a barn.
I can assure you there were plenty of issues with both due to just sitting. So, if you know of someone who has a car or truck just sitting for no good reason, print this and give it to them.
Dear Classic Car owner. Please sell me your car so that I may bring this car back to life and make you proud and me poorer. Signed, over my head in debt…..
More Muscle Cars For Sale – http://fastmusclecar.com/muscle-car-for-sale/
Donate To Fast Muscle Car
We spend a lot of time bringing you muscle car content. If you would like to donate something to help us keep going, that would be fantastic.
Muscle Car Talk: The American Restoration Dream

,