Best Muscle Cars
Muscle Car Spotting: A Plymouth Superbird
By
|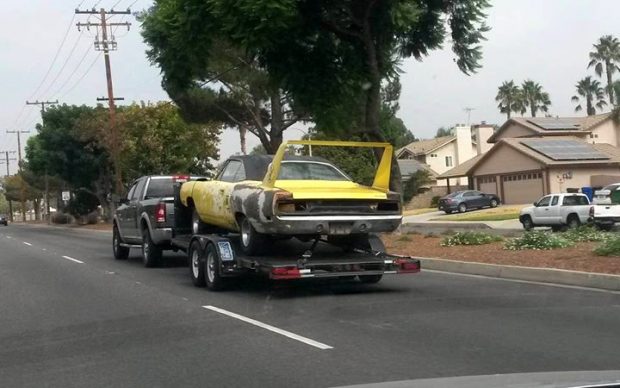 By Mark Weisseg
I wake up Sunday morning with many things on my mind. Before we leave the house to go to a antique show I flip open the old iPad and zingo I see this picture. Suddenly the sun shines brighter, the sky is blue, the white clouds are puffier, and I feel like I won the powerball. To see a pick up truck pulling a trailer with a Superbird on the back is a lovely scene.
You know that it is not going to the bone yard. You know it's going to a place to be worked on. We don't know who this belongs to or what the plans are but we hope it's all good.
This Plymouth Superbird is an investment car for those of us that love fast muscle cars. I also found it really cool the owner did not cover the car up while in transport. The fact that everyone can see it going down the road is perfect. I have a Superbird and you don't type thing!
You can bet many people whipped out the camera phone and took pictures. Then, the email race was on. Many people probably got a snap shot of this with a short email burst. I have friends and family that do that for me. Now, for you older guys, remember the days when we didn't have camera phones? We certainly did not carry around a Kodak insta Matic 110 with us with the four flash bulbs. Nope. If you saw something like this you just gasped and told your friends later.
However, when I first started working in the field I did carry a 35 mm camera with me. Too many times I saw something that I wanted to capture forever. Thankfully today the problem is solved.
So, I hope you saw this picture and it made your day a bit brighter. The chances of owning one for most of us is slim but it sure feels good to know another one is being lovingly restored.
For all muscle car parts – http://fastmusclecar.com/muscle-car-parts/
Donate To Fast Muscle Car
We spend a lot of time bringing you muscle car content. If you would like to donate something to help us keep going, that would be fantastic.