Best Muscle Cars
Muscle Car News: Auctions, Stripes, Power and Reliability
By
|
By Dave Ashton
The world keeps spinning, the world keeps turning. The same is true for the muscle car world, both old and new. This week hasn't seen any new muscle cars drop, but there is at least a muscle car inspired SUV, a groundbreaking auction and a good bunch of custom builds available. So, let's have a closer look at the latest muscle car shenanigans and if it gives any indications of any future trends.
1971 Plymouth 'Cuda With Patina May Hit $1M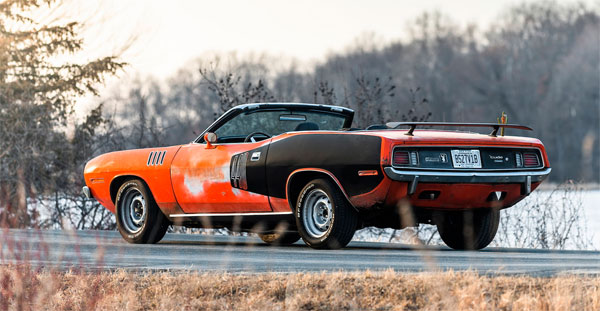 Topline muscle car auction fair is usually required to be as pristine as a surgeon's table to fetch top dollar prices. In this case, an restored 1971 Plymouth 'Cuda convertible is bucking the trend as there are only 17 examples of this rare muscle car. To also up the ante, its only 1 of 2 produced to be an export car.
This 'Playboy Cuda' which got its name from its bunny icon on the rear valance, has standout features which include a V-Code 440 6-BBL V8 engine, an A727 Torqueflight automatic transmission, EV2 Tor-Red exterior and power brakes. Although there's not much information about the car's back history, it was apparently in storage for over 35 years, having the drivetrain and mechanicals refreshed a few years ago to make it driveable. The rest of the car is as it rolled out from the factory.
The estimated value is $500,000 – $700,000, but whispers say that to the right buyer, the price could hit anywhere near the $1M mark. If this particular Mopar takes your fancy, check out the auction listing here.
Dodge Durango Hellcat
Ok, the 2021 Dodge Durango SRT maybe an SUV, but before this current generation is phased out, it will feature the supercharged 6.2L Hellcat V8. 2021 is a bit too far away for some, so the guys at Vector Motorsports made their own version from the 6.4-liter Hemi V8 factory edition and added a ProCharger blower.
The ProCharger is a centrifugal type supercharger, which uses belts instead of exhaust gases. Which means the power isn't as instant as found on a roots or twin-screw type, but the ProCharger can still produce gobs of power. This setup producing more than 700hp to all four wheels.
To cope with the extra power, other goodies have been added, such as a full Motion Control Suspension and other engine upgrades. You can check out its performance at the Michigan's Gingerman Raceway in the video below.
Hennessey's 1,012 HP Dodge Charger Hellcat
The widebodied Dodge Charger Hellcat may please most, but that hasn't stopped the guys at Hennessey Performance performing their usual wizardry and producing more power. Their new upgrade package ramps up the regular 707 hp version to 1,012 hp and 969 lb-ft, of torque.
This equates to 817 hp and 730 lb-ft at the rear wheels and according to Hennessey translates to a 60 mph time of 2.8 seconds and a quarter-mile in 9.9 seconds at 141 mph.
For some truly custom muscle car work, Hemi Autoworks and Ellsworth Racing have teamed up to produce a Hybrid of a 1970 Dodge Challenger, with a Dodge Viper chassis and Hellcat engine. A Kong Performance supercharger has also been fitted, but to stretch the Viper chassis over the Challenger body, a total rebuild was needed, which you can check out from the link above.
Why the Stripes?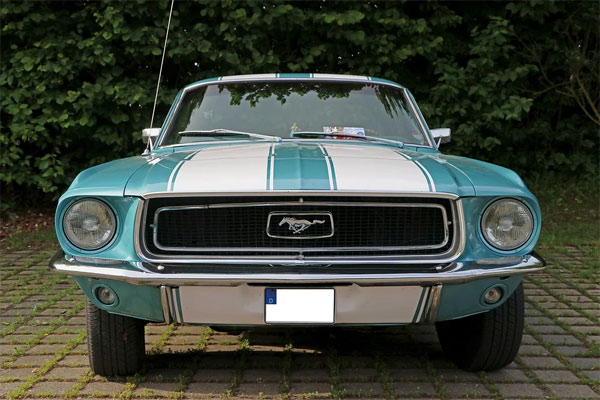 The ubiquitous stripes that run down the length of a muscle car obviously increase the power 10 fold, but where did they originate? It's a feature we more or less take for granted these days, but racing stripes played an important part back in the early days of racing.
These days, racing stripes are mainly used to increase the visual appeal of a vehicle, but back in the day they were an essential visual cue to differentiate one car from another in a race. Back in the day before by the second video coverage and multiple monitor viewpoints, pit crews had to use their own built-in optics to spot their cars. Stripes made this job far easier, along with adding a touch of panache to the car's look.
Slapping a single or double stripes down the length of the car was the first stage, with variations to the theme added by different manufacturers. For instance, the Corvette 1996 Grand Sport had two small red hash marks or small stripes on each fender, which echo'ed the 1963 Corvette Grand Sport with the same markings. These were originally duct tape, with the color red being just a happy accident.
Modern muscle cars may charge big for the stripe option, but at least now you know it's not just a vanity thing, but based on racing car history.
Dodge Hit Big in Quality Survey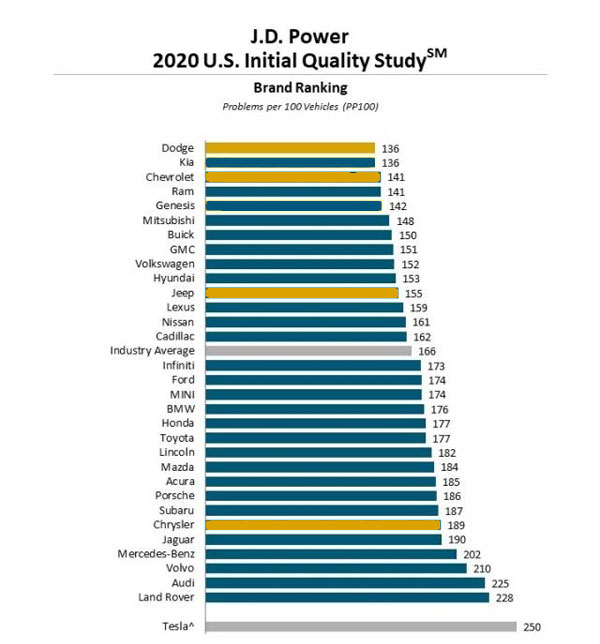 Dodge have hit the top spot of the J.D. 2020 US Initial Quality Survey which ranks problems with domestic brands in the first 90 days of owning the things.
Dodger owners only encountered on average 1.4 problems, while the likes of Tesla had 2.5 problems per vehicle.
Donate To Fast Muscle Car
We spend a lot of time bringing you muscle car content. If you would like to donate something to help us keep going, that would be fantastic.