Readers Rides
Is a Muscle Car Ever Beyond Saving?
By
|
'Yes' or 'Depends on the car in question' or depends on who you ask…………(I'm never been known to give a straight answer!)
Some will only pass by a junked muscle car if it has reduced to a pool of iron oxide, while others wouldn't even take on a car if it only needed a bit of Bondo work (Bondo is a magic material that makes holes go away…).
Let's pretend we are stood in a junkyard, in front of a junk 1969 Dodge Charger.
It's in terrible condition. The quarter panels are rusted through, deep rust under the window seals, parts of the sub frame have holes, the engine needs replacing, the list goes on………. you know in mint condition a 69 Charger can fetch a handsome price, but should you buy?
There is no clear answer until you fully inspect the car, then decide how much it is worth to you.
The problem with buying a car that looks in junked condition, is that even the most experienced professionals can be caught out. You only have to watch some of the restoration shows to see that some cars they choose on the surface seems repairable, but once they get into the guts of the car, it will either cost too much to repair or the car is just simply beyond.
But even then, it really will depend on the vehicle in question. The rarer the car, the more it is worth restoring.
It used to be the old rule that you would buy an old car as long as the bodywork was sound. Engines, transmissions and other parts could be replaced. Bad bodywork usually equals bad car. But if you have a fully fitted workshop, even the most terrible jobs are do'able. Basically a case of the more restoration resources you have, the more straightforward a restoration. If you only have two wrenches and a bit of Bondo, a rags to riches scenario is still possible, you just may have to give it a few years restoration.
This brings us onto these examples found on eBay.
From the listings, decide if you would buy as a possible restoration project or you would simply pass the car by as simply too much time, work and money.
1969 Dodge Charger
Engine: 383
'Front Frame Rails Are Good Back to Centre but the Kick Outs to the Rockers Are Gone and Most of One Rear Frame Is Gone. The Other Side Is Bad from Bumper up about Three FT. Rockers Lok Good and Top Even Though IT Looks Bad. Only Rust Holes Is in Rear Window Corners. One Door Is Good. Front Valance Looks Good and Inner Fenders. Rear Seat Floor Area Good. The Rest of Cars Panel Have Some RUSTHOLES. Good Glass. Good Title.'
If like me, the first sight of this 69 Charger is, 'buy it, it's a Charger!' you will be forgiven.
On closer inspection, this Charger is severely wounded.
Those rusted away rear quarter panel's don't look happy, rust round the window seals mean it goes a lot deeper – the list goes on.
A hammer and screwdriver are tools of choice for inspecting this vehicle.
If I was serious about this car, I would have to visit in person.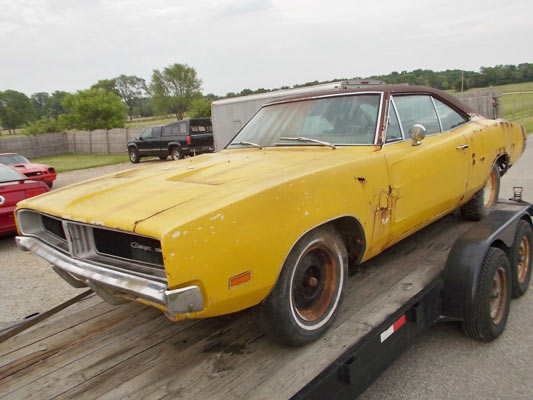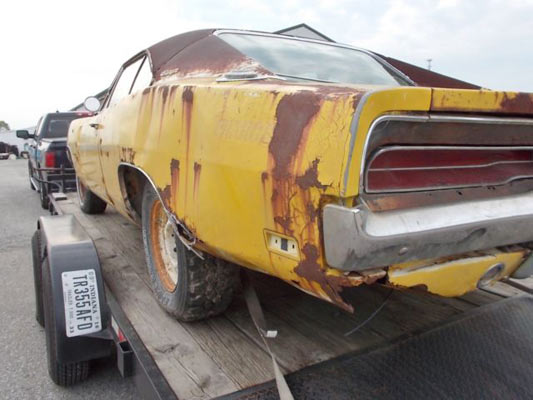 Buy Now On Ebay.
1969 Plymouth Roadrunner
Engine: 383 V8
Transmission: 727 Automatic
Big Block Air Grabber
Do any the electrics work? No.
That engine either looks dead or needs a very dedicated restorer to bring it back to life.
But if you look closely you will see at the bottom of the rear quarter panel there is a big line of rust holes, not good.
The interior at least doesn't look like chickens have been living there for the last few decades. It actually looks pretty good.
Not surprisingly, it doesn't come with a warranty!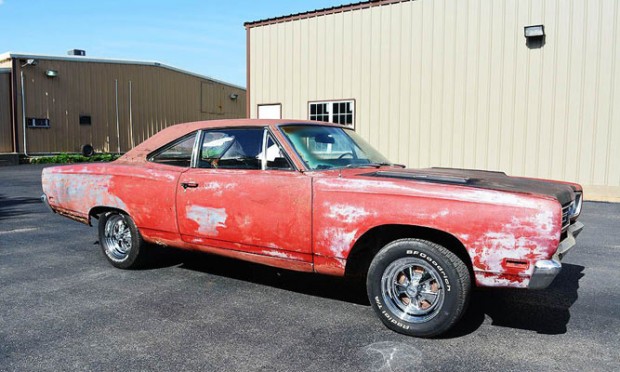 Buy Now On Ebay.
1972 Dodge Challenger
'Originally a 1972 Dodge Challenger VIN JH23G2B 318 automatic car with deluxe interior, light blue on white bucket seat interior. Lots of rust in the usual E-Body places, overall it is a good parts car or restorable condition. RH fender is decent, missing the LH fender and grille. Rear axle is a 8-3/4. Floor pans and trunk floor rusty. Most stainless mldgs are there and decent, some good glass. Factory air conditioned car.'
A 72 Challenger listed for $2900 buy it now price??? Once you see the condition of the car, you can see why!
This Challenger looks like it is more from 1572 than 1972.
Although it looks like no part of the car is untouched by rust, it's unclear how deep the rust goes.
Either way, to get this car into any type of drivable condition is going to take a hell of a lot of work.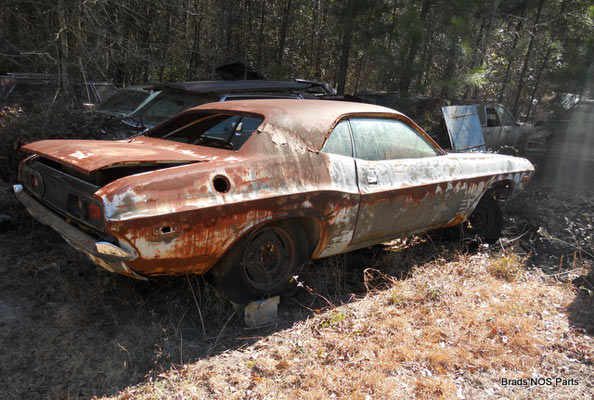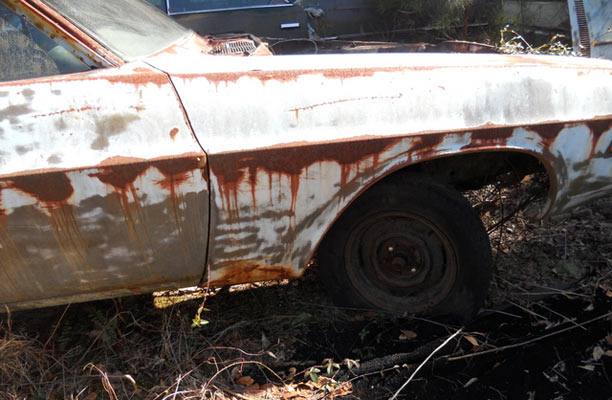 Buy Now On Ebay.
Vintage Car and Truck Collection 500 Vehicles.
This could be an interesting find.
This guy seems to have collected over 475 vintage cars, mostly pre-60s, but all rusted up finds.
The listing is for selling a DVD containing all these cars.
The car field may be an ideal place to visit so you can take your pick of the crop and hope some muscle cars are within his lineup.
Cavalier, North Dakota, seems to be the location of the listing, so presumably the cars are in the same area or nearby. Contact the ad. owner if you are interested.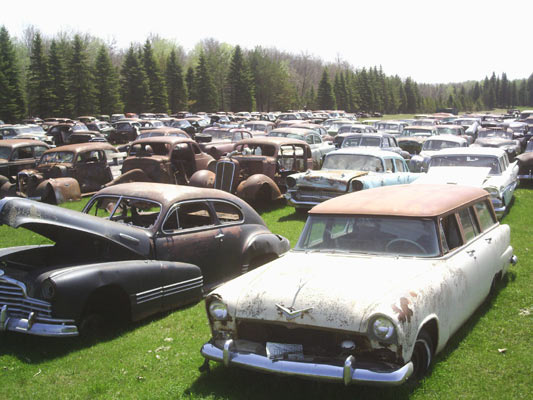 Buy Now On Ebay.
To restore or not to restore
Would you choose one of the vehicles above as a possible restoration project, walk away as they all require too much time, money and effort or just simply buy a part or fully restored car?
The decision is really down to how much you think the car could potentially be worth after YOU restore it and is it worth the time and effort?
Simply, if it isn't worth the time and effort to you, go for a part of fully restored car, but bear in mind that these seemingly junk vehicles are not going to be around forever.
No matter what condition they are in, someone will see their value, it's just if they are valuable to you.
Click for More Muscle Cars For Sale – http://fastmusclecar.com/muscle-car-for-sale/
Donate To Fast Muscle Car
We spend a lot of time bringing you muscle car content. If you would like to donate something to help us keep going, that would be fantastic.
Is a Muscle Car Ever Beyond Saving?

,