Muscle Cars
How to Stop a Thief: 9 Ways to Keep Your Classic Car Safe
By
|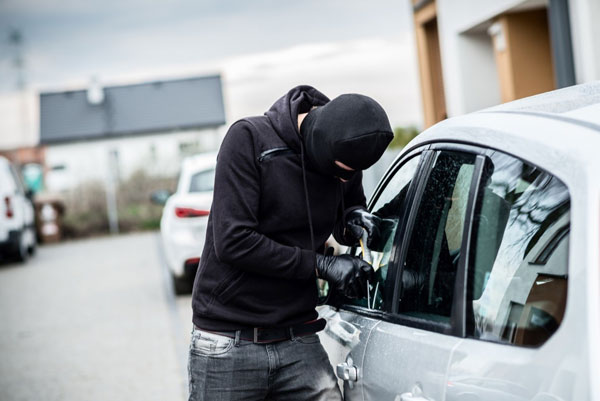 Muscle, classic, and vintage cars are attractive targets for car thieves. Here are a few tips on how to stop a thief from laying a hand on your prizedSimi
While the rate of car theft has gone down a little over 3 percent in the last few years, it's still far too high to take any chances.
In 2018, about $6 billion was lost due to motor vehicle theft. The average came to about $8,407 per loss. That year, 748,841 vehicles were stolen.
So, if you're wondering how to stop a thief from making your muscle car a target, that's no surprise. Cars get stolen at a rate of 228.9 per 100,000 people—and classic, vintage, or muscle cars are undeniably attractive targets. Why take an average Honda Civic when you can get your hands on a Chevrolet Bel-Air?
This is especially worrisome when you consider that some classic cars are more accessible to break into than newer models with modern security systems. Plus, vintage parts come with higher price tags during resale.
That being said, what can you do to lower your odds of losing your precious ride to a greedy thief? Here, we outline some crucial tips for keeping your car safe from theft.
Install a Car Alarm or Security System
Outfitting your car with a car alarm, Viper car alarm remote, or other types of security systems dramatically reduces the odds that it'll be an easy target. Modern cars have security systems installed already, but as you know, classic cars don't.
If a thief were to grant access into your car, the subsequent alarm would be enough to at least make them think twice, and hopefully, move on.
Insure Your Car to Its Current Value
What classic car owners need is Guaranteed Value® coverage—while this doesn't guarantee your vehicle won't get stolen, it offers peace of mind that you'd recoup every cent of your car's insured value. This policy even forgoes depreciation.
If you don't have an insurance policy taken out yet, now's the time.
Always, Always, Always Lock Up (And Take the Keys With You)
This tip on how to stop a thief may seem obvious, but it's worth noting—especially when you consider how common it is to do otherwise.
You'd be surprised how often this type of theft occurs. Every day from January 1, 2016, through December 31, 2018, at least 209 cars were stolen because drivers left their keys inside. Don't make your muscle car an easy target.
Whether you're driving the car and going inside to run a quick errand, or you're keeping your vehicle stored (whether at home or elsewhere), you always need to lock the car and take the keys with you. There's no room for trusting the goodness of strangers—or leaving your keys on the passenger seat or in the ignition.
Consider Installing a Hidden Transmitter
You may consider having someone install a transmitter or GPS device in your car.
While this doesn't exactly guarantee your car won't get stolen (unless it's not hidden), it can help you locate the vehicle in the event it does get taken. This significantly increases your odds of getting your car back in your possession and out of the hands of thieves.
Tint the Windows (Or at Least Keep Valuables out of Sight)
Similar to leaving the keys in a visible spot, leaving valuables in a visible place is like asking to have your car get broken into.
Thieves look for accessible opportunities. If you've done a day of shopping, place shopping bags in the trunk. The same goes for other valuables you may have with you while driving around—even purses or wallets.
If you're not against tinting your classic car, this can also help hide the insides of your vehicle, keeping it off the radar.
Put a Sticker on the Window as a Deterrent 
Just as a security sticker on your home helps protect your belongings there, a sticker on your vehicle can also help deter thieves.
Place the label on the window to preserve the integrity of your car's paint job. Plus, this is an extremely affordable and quick solution, especially if you don't have time or funds (yet) to enact the other suggestions on this list.
Contemplate How Safe Its Storage Is 
One way to protect your vehicle itself is to secure what's holding it. Whether that's an off-site storage unit or your garage at home, you can start taking precautions there.
First, don't store your vehicle in a place with a noticeable lack of security. If there's no locked gate or fence, no on-site security or check-in employee, no cameras, etc.—it's worth it to look elsewhere.
If you store your vehicle at home, consider precautions such as alarm systems, garage locks, and the like. You can even install video cameras in visible locations, place security stickers outside of the garage door, and make sure to keep the door closed at all times, unless you're moving, washing, or using the car.
If Storing Long-Term, Consider Removing the Battery
One surefire way to keep your car from getting driven away by a thief is to prevent them from driving it all together!
If you're storing your vehicle for long periods, you may consider removing the battery completely and storing it at home.
Install an Immobiliser
Immobilisers are electronic security devices that stop a car from being started unless a specific digital key or token is present, like on your person.
This device prevents your car from being hotwired as well because it won't start without its key. Immobilisers disable at least two or three components of your vehicle that make it move. These components include things like the ignition, fuel system, or starter motor.
Now That You Know How to Stop a Thief, Take Action
The sooner you take the necessary precautions to secure your classic car, the safer it'll be. Don't wait until you're on the phone with the cops to think, "I really should've done something."
You know how to stop a thief now. Follow any (or all) of the tips on this list to keep your valuables safe. Don't let a greedy, undeserving thief get their hands on your precious ride.
For more auto-related articles and advice like this, keep scrolling our page—after you've taken some safety measures first.
Donate To Fast Muscle Car
We spend a lot of time bringing you muscle car content. If you would like to donate something to help us keep going, that would be fantastic.