Muscle Cars
How to hack up a Great Classic Muscle Car
By
|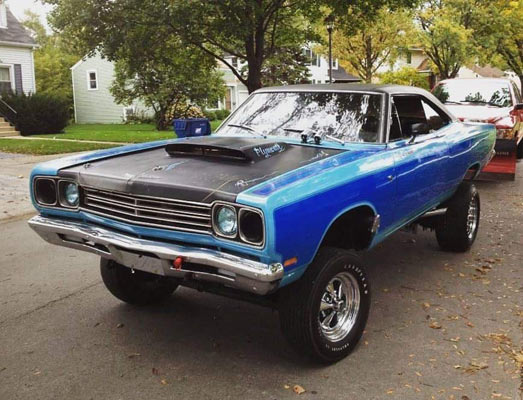 By Mark Weisseg
When I see examples like this I want to tear my hair out or tear the hair out of whoever did this.
These cars are getting harder to find in good condition and someone comes along and hacks this car up. I hope someone comes along soon with half a brain and can spend the time and money required to get this classic back to its roots.
I know we live in a country that allows us to do a lot of things many of us feel are crazy but, it makes angry when I see stupid things like this.
There is nothing remotely likable about this car. The value of doing this to any type of classic drives the value into the ditch. Imagine all the hard work and money spent on this only to lose money. Sure, some will find it cool or interesting but why someone would take a body like this and stick it on top of a four wheel drive truck is down right dumb.
I wish someone somewhere along the line could have stopped this foolishness and figured out a way to go the other route. We all agree even if you do not like Mopar's that the car is much more valuable in its original setting. Even if the numbers did not match the car has value.
A few years ago I went to a somewhat remote location to look at an old wooden phone booth to buy. I was getting out of my car and noticed two young Einsteins at a garage next door that were doing this very thing to a 70 Nova.
So, after looking at the Phone booth I walked over to talk to the boys and the project. They advised me that they had a donor truck, found the Nova just sitting and wanted to try to do the conversion. They promised I would see this vehicle all over the place as soon as they were done. I want to note I never have.
I told them the Nova was worth a lot of money if they just restored that car and flipped it. Dead silence. They did not know that and were only interested in having something nobody else had. An ugly, ruined 1970 Nova. I believe they got to a point where they got over there heads and pushed it into the garage and walked away. I tried to stop them but these two youngsters were having fun and were convinced of the fact they would have a one of one.
How awful it was knowing what they were doing and there was no way of stopping them. I think they stopped themselves and someday someone will discover this crummy job and either scrap the whole mess or if really motivated, get the body off and really work to restore the Nova to its glory. That is my hope for this car in the picture too. Hopefully, nobody else does this foolish work.
More Muscle Cars For Sale – http://fastmusclecar.com/muscle-car-for-sale/
Donate To Fast Muscle Car
We spend a lot of time bringing you muscle car content. If you would like to donate something to help us keep going, that would be fantastic.
How to hack up a Great Classic Muscle Car

,