Muscle Cars
The Ford Mustang Cobra II/PU
By
|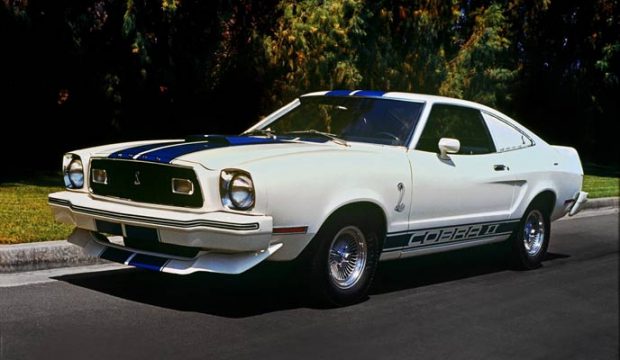 By Mark Weisseg
You want to talk about a car that is lost in time- this is it, the Ford Mustang Cobra produced between 1973–1978. I remember when these came out and even with the 302 V8 the car was headed nowhere. Yes, I am aware there are clubs out there singing the praises of this car. For heavens sake, the 302 is quick. But drive one with a four banger like I did for a while and you will see. What will you see? Garbage trucks will pass you as will street cleaners. The car was horrible. It leaked oil and I always thought it would have been a great car to tar and chip the back roads with all the oil leaks.
So, the 302 was an answer for some but for most of us we just groaned. What did Ford do to our beloved Stang? The styling wasn't bad but the car was terrible. To put a Cobra badge in one was a joke. Sure it was a light car and yes it had racing stripes but the car was awful. Ford like everyone else got pushed around by the EPA on the emissions crap. So, take a lousy car and make it worse. Sales were not good and most of us consumers started thinking the end was near. It wasn't until Ford wised up and hired an outsider to fix the issues. It took them too long but when they introduced the 2005 version car based on the 67 and 68 models ( Bullit anyone) sales went up and up and up. They have stayed up as Ford now remembered what a pony car should be.
Make models for the masses to have a fast car with the bells and whistles. Then make another Mustang for the power heads so they have bragging rights. Thy did and we do. The new GT and the GT -R are stunning. I have never read a bad word about these new Mustang hot rods. The only bad words I have read from the big magazines is that they want one in their own driveway right now. I had the pleasure of viewing a GT 350 a month ago with about 3O miles on it. I was hooked. Th guy bought it the day before and then drove it to our show. The car blew away the Boss 302 models there and it had crowds around it all night. The owner told me he was a long time Mustang owner and has never bought one like this one. The only other car at the show that night he liked was ironically my Shelby. I was in love with his new car yet he was endeared by mine. But we shared some horror stories and this Cobra came to mind. As did the older Mustangs with the crappy 4 cylinder engine. My parting words are if you are going to buy a performance car of your liking buy big. Resale if you do sell it always goes to the big boys. Can you imagine having a four or six cylinder Camaro or Challenger?
More Muscle Cars For Sale – http://fastmusclecar.com/muscle-car-for-sale/
Donate To Fast Muscle Car
We spend a lot of time bringing you muscle car content. If you would like to donate something to help us keep going, that would be fantastic.