Best Muscle Cars
Facts You May Not Know About The Ford Mustang
By
|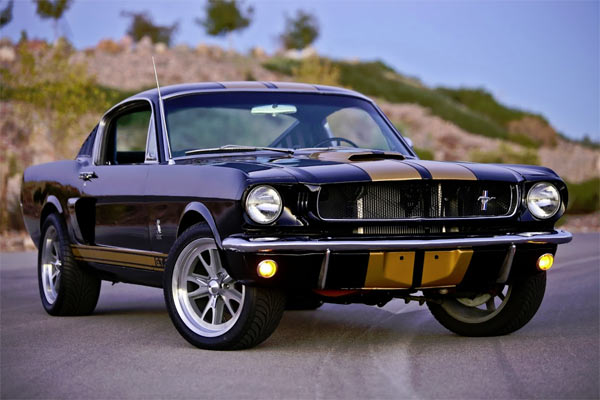 By Dave Ashton
The Ford Mustang is arguably one of the most iconic American cars, being born in 1964 and still going strong today. The Mustang is now in its sixth generation and having appeared in over 3,000 movies and television shows from Gone in Sixty Seconds to the Fast and the Furious, the car seems like it will be around for another 50 years.
A vehicle having been around this long has a lot of facts and numbers attached to it. Below are some you may or may not already know.
– Chief designer of the Mustang, John Najjar named the car after the World War II fighter plane the     P-51 Mustang. The horsey association was just a great coincidence.
– The Mustang is now in its sixth generation, first being produced for the 1965 production year. The earliest models were known as '1964½ models.'
– The Mustang has had 50 years of production without a missed production year.
– The 1964 Indy 500 used the Mustang as a pace car.
– Red and blue exterior colors are the most popular for the Mustang.
– The 1970 Mustang Boss 429 is still one of the most potent vehicles of the classic muscle car era.
– A Mustang appeared in the James Bond movie Goldfinger in September 1964.
– The original price of the Mustang was US$2,368.
– Ford forecasted only 100,000 units sold in the first year. 1 million were eventually built after 18 months of production.
– The fifth generation Mustang (2005-2014) went back to the original fastback stylings of the late 60s.
– Steve McQueen drove a 1968 Ford Mustang GT 390 fastback in Highland Green for the 1968 Bullitt movie.
– In 1966 Hertz rental cars allowed you to drive a 1966 Shelby GT350H Mustang, with only 1,001 Produced.
– The Mustang ushered in the term 'pony car.' A small, sporty and fast car that could hold four passengers.
Check out our Muscle Car T-Shirts! – http://fastmusclecar.com/muscle-car-t-shirts/
Donate To Fast Muscle Car
We spend a lot of time bringing you muscle car content. If you would like to donate something to help us keep going, that would be fantastic.