Video
Dodge Demon vs. Hellcat Redeye vs. Cherokee Trackhawk
By
|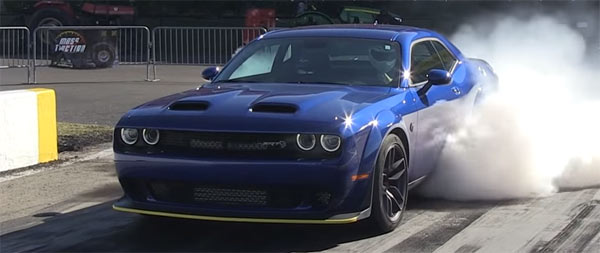 By Dave Ashton
This drag race video should appeal to the Mopar crowd, especially as it has three heavyweight contenders from Dodge in the form of a Dodge Challenger Demon, Hellcat Redeye and Jeep Grand Cherokee Trackhawk. All three vehicles have over 700hp at their disposal, so this drag race isn't so much about who beats who, but who gets down the strip in the most spectacular way.
On a side note, it's ironic that this video is brought to us by High-Tech Corvette. At the least they have been kind enough to be bothered to make a video featuring a rival team, that's vehicle equality for you. Anyways, without giving away any spoilers any of these vehicles matched up against each other is going to be an interesting race.
All these vehicles have ridiculous amounts of power. The Dodge Challenger Demon has 840hp and 770 lb-ft of torque, can run on race gas and has the engine tune and suspension setup specifically for this environment. The Redeye is no slouch featuring a Hellcat-based engine with 797hp, 707 lb-ft of torque, a TorqueFlite 8HP90 eight-speed automatic and can be almost seen as a street version of the Demon. Last but not least is the Jeep Grand Cherokee Trackhawk. A Hellcat based engined SUV with 707hp, 645 lb-ft of torque with the ability to drive the crew, family and all the groceries home afterwards.
Going off horsepower alone, nothing should be able to touch the Demon, but the car takes more setting up than the other two. All we will say about the Demon and Redeye race is that it is very close. There's no mention of if the cars are stock or modified, but on paper the Demon should be able to do a 10.8 second quarter-mile and 60 mph in 3.4 seconds. The Dodge Redeye on paper should be able to do the quarter-mile in 10.8 seconds at 131mph and and 60 mph in 3.4 seconds. The super heavy weight here, the Jeep Grand Cherokee Trackhawk should be capable of doing an 11 second quarter-mile. An SUV with this type of power, straight from the factory is still remarkable to watch.
As with any drag race the same caveats apply such as the individual drivers, car setups and temperature on the track, so treat this as a very informal matchup.
In someways, it would have been a good comparison if a regular Dodge Challenger Hellcat was featured in the race, even if it was just to show the full Dodge lineup. No matter the winners and losers here, all three vehicles are ridiculously potent and fulfill everything could need from a modern-day muscle car.
Donate To Fast Muscle Car
We spend a lot of time bringing you muscle car content. If you would like to donate something to help us keep going, that would be fantastic.