News
Do Muscle Cars Cost Too Much?
By
|
In general, the value of muscle cars has risen significantly over the last few years.
Great news for existing muscle car owners, but it also means that if you're in the market for a classic muscle car, you will have to pay more now than you ever have done.
It's a double-edged sword.
We all want classic muscle cars to be more popular and more valued, but the downside will always be there will cost more to buy.
In an article by Hot Rod magazine, they show a good few muscle cars that have been sold at the Barrett Jackson auctions recently and how auction houses like Barrett Jackson potentially can drive up the prices of muscle cars, especially with a global TV audience.
Auction houses themselves are in business to sell an item for the highest amount possible for its owner and to make some profit themselves. Auction houses have always been this way.
If an owner of a muscle car wants to get the biggest and widest exposure for their vehicle and to get the best price, the best vehicles will obviously be auctioned or sold to the biggest audiences and that will mean not just being advertised at auction houses but also on the biggest car selling websites.
So, I don't think it is auction houses per se that are wholly driving up prices in the market. They have a big hand in setting the highest prices, but it is also the market in general.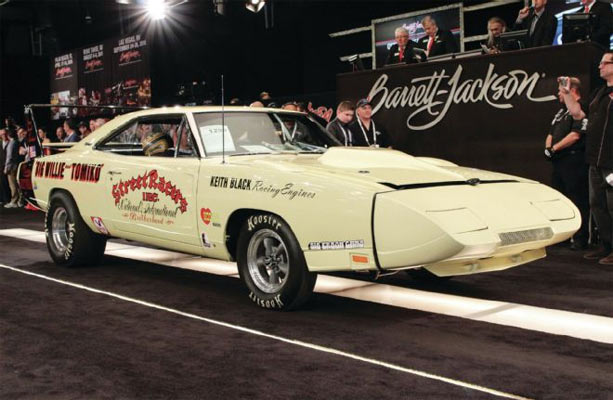 It is a common scenario in life where we want something we are passionate about to be appreciated by as many people as possible. But once everybody knows how valuable that something is, everybody wants a piece of it and it becomes more valuable and costly.
It's that dilemma where we want something to be popular and valuable, but not too popular and valuable, as it then becomes out of most people's reach.
The Rolling Stone Is Gathering Momentum.
Like all markets, muscle car prices may continue to increase, may plateau out or may decrease again, but the likelihood at this point is that the prices will continue to increase for some time.
By how much and for how long is only speculation, but like a rock band that has suddenly become very popular and everyone wants a piece of them, there is usually no going back….. That's until they split up!
But the fact is the word is out on the worth of highly optioned and rare muscle cars and the rarest models will continue to be the poster boys for the potential worth of all muscle cars.
The Bargains Are Out There.
This doesn't mean that if you want to own a muscle car you have to lay down your life's savings.
You can still find good examples at reasonable prices, they may need work, maybe lots of of work, but they are still out there in one form or another.
It just now requires more research and hunting, but you can if you dig deep enough.
Click for More Muscle Cars For Sale – http://fastmusclecar.com/muscle-car-for-sale/
Donate To Fast Muscle Car
We spend a lot of time bringing you muscle car content. If you would like to donate something to help us keep going, that would be fantastic.