Muscle Cars
Considering A Convertible Muscle Car
By
|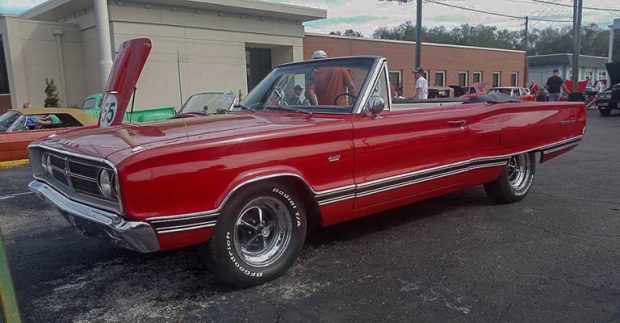 By Mark Weisseg
I may have missed my opportunity to buy a car exactly like this one recently in favor of another hardtop car. But why go for another hardtop when these convertibles are so cool.
In our area of the country we just cannot depend on solid great sunny weather for more than maybe five months or so. I just cannot bring myself to buy a convertible and really not use it as often as it should be. So my reasoning is a convertible will be used as much as a hardtop.
Now, on the other hand a few years ago we were in Scottsdale Arizona in March and rented a drop top Camaro. We were all excited about driving the rag top in March there as we knew we could not do that at home at that time of the year.
Well, we wheeled out of the rental car joint and headed down the road on our way to see the sites. You guessed it in that about two hours we had to put the top up and turned on the air conditioning. Why? The obvious is that the sun was very hot and we were boiling. We northeast folks were as white as cotton and if you expose yourself to the hot sun right away you will boil like a lobster. So, top up and cold air out the vents. Very frustrating for sure but it taught us a lesson for later on.
So, for now I had to pass on what I wanted. I desired the 440 engine and 727 transmission so I could just drop it in drive and cruise down the road with the top down. Now, the top is not easy up and down like today's rag tops. It takes more effort and ability than today's cars where you just push a button. But, I was willing to go through the work just for the satisfaction of driving this car on a summers evening.
You see, I love this car. It's big, it's powerful, it's cool looking and I thought by now in my life I would own one. There is still time but as long as we live in the colder climate I will buy hard tops. I assure you we are looking for ways to get to a warmer climate and when not if but when we do its convertible season for me.
It's a shame I did so much homework on this car and really pinned my hopes and money on a car that for me is forever cool. But, the right side of my brain kicked in and over ruled the left side on the practical side. I remembered the last few years at the car shows when a sudden cloud burst appeared and opened up on us down below. The guys with the fake AC Cobras with no tops got soaked and the cars very wet inside. The guys that could take the tops off like on a older T Bird paid the price several times as well. So, even though the top would go up in time I could not bring myself to do it.
So, a convertible is for you if you don't mind the extra work and you possibly live in sunny areas, but the temptation is still great.
Even for those few times with the top down, it still may be worth it.
More Muscle Cars For Sale – http://fastmusclecar.com/muscle-car-for-sale/
Donate To Fast Muscle Car
We spend a lot of time bringing you muscle car content. If you would like to donate something to help us keep going, that would be fantastic.